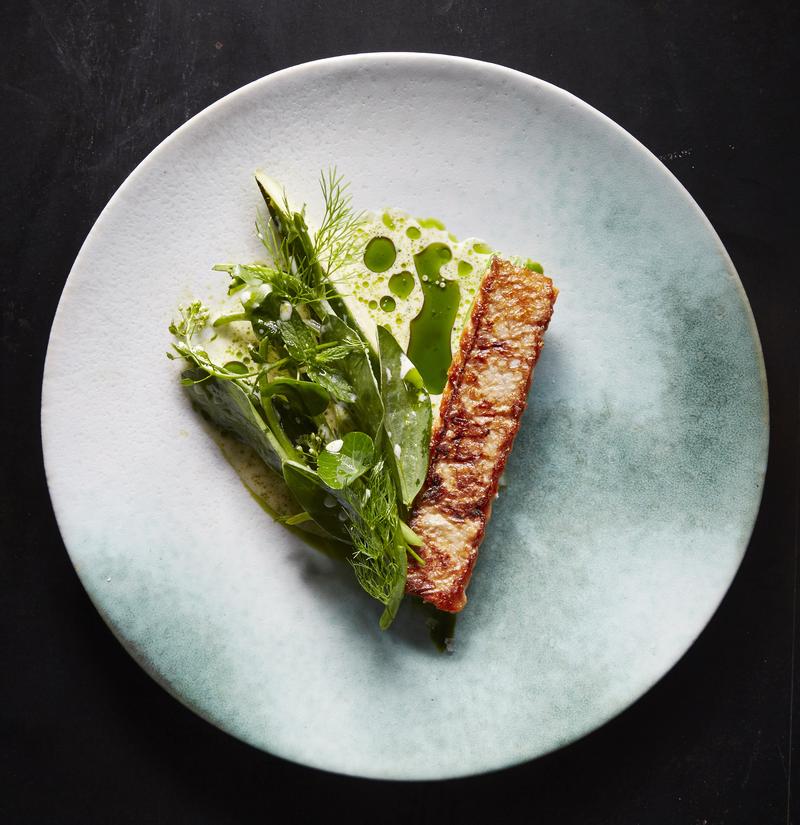 Mads Refslund, co-founder of the Danish restaurant Noma, and Tama Matsuoka Wong, a renowned forager for chefs, join us to discuss their new cookbook Scraps, Wilt & Weeds: Turning Wasted Food into Plenty. The book offers dozens of recipes that use the scraps from vegetables, fruits and animal proteins that would normally be thrown out. Recipes include Carrot Tops Pesto, Roasted Cauliflower Stalks with Mushrooms, and Brie and Pork Ribs Glazed with Overripe Pear Sauce.


Check out these two recipes from the book: 
Crispy Salmon with Skin
This dish makes salmon the way it should be, with crispy skin, never dried out, since it cooks the layer of fat next to the skin and about one inch of flesh. Serve with Charred Wrinkled Cucumbers (page 120) and Brined Cucumber Peels (page 120).
Ingredients:
Skin of 1 salmon steak or fillet, roughly cut off,
leaving 1 inch of flesh
Kosher salt and freshly ground black pepper
Fresh herbs, such as dill or mint, and peas in the pod
Directions:
Preheat a grill (or oiled saucepan) to medium high.
The alternative to a grill for this recipe is to pan-roast the salmon, since there will be no risk of it drying out. The skin seals in the moisture and the omega-3 oils from the subcutaneous (under the skin) fat.
Season the salmon skin with salt and pepper.
Place it on the hot grill (pan) skin side down first, for 5 minutes, until the skin is crispy and edges turn up. Turn the salmon and grill for another 3 minutes, until the flesh is tender and flaky. Serve with fresh herbs or peas.
Makes one steak per person / Time: 15 min
Kale Pulp Pasta with Torn Kale Sauce
Ingredients:
3 cups all-purpose flour, plus additional for dusting
¼ cup Kale Powder (page 73)
1 teaspoon kosher salt
3 whole large eggs plus 3 yolks, beaten
1 tablespoon olive oil
Semolina flour, for dusting
Torn Kale Sauce (page 73)
Fresh herbs, crumbled feta cheese, nuts, and freshly
cracked black pepper, for serving
Directions:
In a medium bowl, combine the flour, kale powder, and salt. On a lightly floured surface, make a well out of the flour mixture and pour the eggs and oil into the center. Gradually incorporate the sides of the well into the eggs, working in more flour until the dough is moist but no longer wet. Knead the dough by hand for about 20 minutes, until firm to the touch, adding flour if the dough is too sticky and drops of water if too dry. (Or use a food processor or standing mixer with a dough hook and knead for 5 to 10 minutes.) Wrap the dough in plastic and chill in the refrigerator for at least 30 minutes.
Dust 2 baking sheets liberally with semolina flour.
Cut the dough into quarters and press flat.
Roll each quarter (keeping the remaining quarters of dough wrapped) several (about 3) times through a pasta rolling machine, starting at the thickest setting, and adjusting to progressively thinner settings, until 1⁄ 8 inch thick (on most pasta machines, either the last or second-to-last setting is best).
Cut long strips of pasta about ¾ inch wide. You may leave them long or cut into diagonal or other shorter lengths. Gently toss the cut pasta in the semolina flour so they stay separated and coated.
Repeat with the remaining dough quarters.
Bring a large pot of salted water to a rolling boil. Add the pasta and cook for 90 seconds, until still chewy. Drain.
In a large bowl, toss the pasta with the kale sauce.
Taste for seasoning. Finish with herbs, feta, nuts, and a few turns of freshly cracked black pepper.
Serves 4 / Active Time: 1 HR /
Inactive Time: 30 Min
Kale Powder
In general, powders are a great way to preserve and concentrate flavors and waste less. If you get used to dehydrating wasted parts and set up a storage pantry to keep them, you can grind and make your powders with minimal time before using. Experiment with your powders as if they were an edible chemistry set. Kale powder can be used as a vegetable spice to sprinkle over potatoes, chips, salads, and pasta.
1/2 pound kale pulp (about a 1/2-gallon bag),
left over from home juicing or from a local juice bar
Use a dehydrator, or if you don't have one, preheat the oven to the lowest temperature, preferably 110°F.
Spread the pulp out in a thin layer on a flat baking sheet or screen. Dehydrate at 150°F for 4 hours, or overnight in the oven at 110°F, until completely dry and crispy.
Store in an airtight container without direct exposure to light. When ready to use, grind in a spice or coffee grinder into a fine powder.
Makes about 1 cup
Active time: 15 Min
Total time: 4 HRS or overnight
(depending on your dehydration process)
Republished from the book Scraps, Wilts, & Weeds. Courtesy of Grand Central Publishing.