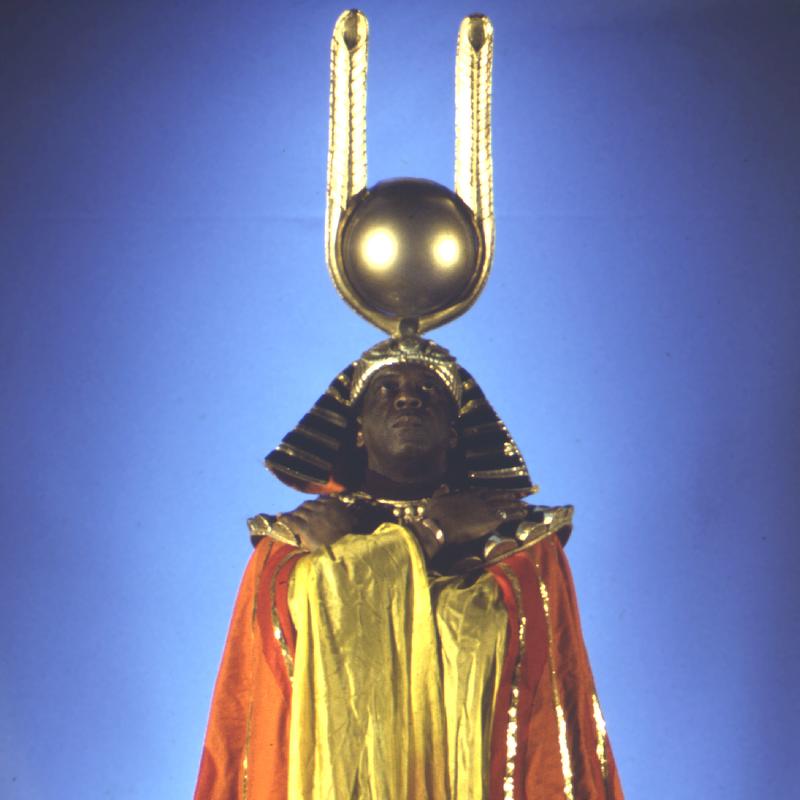 New York Comic Con is happening this weekend, and starting today, the city is full of even more aliens and space cadets than usual. Fortunately, no matter what kind of music these beings enjoy, there's a science fiction song for them.
While this list merely scratches the surface, it does cover rock, rap, jazz, opera, and musical theater. But what it does not cover is the world of TV and film music – mainly because if we started down that road, with Star Wars and Star Trek and the score to The Shape Of Things To Come or The Day The Earth Stood Still, we wouldn't have room for any songs at all. As it is, our list is representative without being exhaustive. So put on your tin foil hat, superfans, and let's blast off.
Richard O'Brien, "Science Fiction Double Feature" from Rocky Horror Picture Show
Well if we're gonna leave out all the sci-fi movie themes, we can at least start with this song that name-checks all the classics, and sets us up for the shenanigans in this enduring romp through futuristic camp and feel-good music.
---
Janelle Monáe, "Many Moons" from Metropolis: Suite I (The Chase)
Janelle Monáe, who introduced herself to us as the Arch-Android in her 2010 full-length debut of that name, had been working on her self-empowerment-in-space storyline for several years, and in 2008, had produced a short film built around this song from her EP, Metropolis: Suite I. Here the android/human split echoes both the underground and city dwellers in the Fritz Lang movie Metropolis and America's slave-owning past. Curiously, the song is an irresistible dance number driven by some '60s-style organ playing.
---
David Bowie, "Starman" from The Rise and Fall of Ziggy Stardust and the Spiders from Mars
The guy who wrote the playbook that Janelle Monáe has been studying could appear numerous times on this list: there's "Space Oddity," of course, but also "The Supermen," all of Diamond Dogs, and most of Ziggy Stardust. I'll go with "Starman" from Ziggy Stardust because it's so explicit in its storytelling: "There's a starman waiting in the sky / he'd like to come and meet us / but he thinks he'd blow our minds." Plus Bowie's performance of this song as a kind of glam-rock visitor from another world, on the BBC TV show Top of the Pops in 1972, was a life-changing moment for something like a third of the British population.
---
Parliament, "Mothership Connection (Star Child)" from Mothership Connection
Throughout the 1970's, George Clinton's stable of related bands, usually referred to as Parliament/Funkadelic, or just P-Funk, answered the apparently burning question on everyone's lips: what would funk sound like on Saturn? The fate of the mothership, the large Apollo-shaped construction that was central to P-Funk's famous live shows, remains a subject of rumor and conjecture. At least we know where the music is.
---
Sun Ra, "Space Is The Place" from Space Is The Place
Now this is what funk – or at least a funky brand of jazz – would sound like on Saturn. Oh sure, the killjoys will tell you that Sun Ra was born someplace mundane like Alabama. But fans of the late jazz bandleader and composer know better. Sun Ra told us he came from Saturn. And he brought with him cosmic musical forces that he shared with his band and his audience… the former only slightly smaller than the latter. Space Is The Place is also the name of the documentary film made about this singular figure in American – uh, Solar System-American – music.
---
Blue Öyster Cult, "Astronomy" from Secret Treaties
This 1974 song from the Long Island rockers, not yet famous for "Don't Fear The Reaper," is part of a sci-fi story about an altered human who goes on a voyage through history with his alien guides. This is from the album Secret Treaties. But the band would record it twice more, and Metallica also took a crack at it, too. Stephen King called the song "A bedtime story for the children of the damned." Pretty catchy chorus for all that.
---
Genesis, "Watcher Of The Skies" from Foxtrot
A visitor to future Earth ponders an empty world. "Creatures shaped this planet's soil / Now their reign has come to an end / Has life again destroyed life? / Do they play elsewhere, do they know more than their childhood games?" The British art-rockers, led by Peter Gabriel, recorded this majestic but somber tune back in 1972 and it quickly became a memorable part of the band's stage show.
---
Tod Machover, VALIS, Finale
Tod Machover is a composer who works in the far reaches of musical technology, having invented a set of hyper-instruments that combine acoustic and computer-generated sounds. He's developed music technology for Peter Gabriel and Prince, among others. This 1987 opera features a small, largely electronic ensemble instead of an orchestra, and is based on Phillip K Dick's book VALIS, which posits a Vast Active Living Intelligence System – a kind of gnostic vision of God, orbiting around the planet – perhaps in company with Bowie's "Starman." This is the opera's grand finale.
---
Deltron 3030, "The Return" from Event 2
This hip-hop supergroup -- featuring Del the Funky Homosapien (best known as the rapper on the Gorillaz song "Clint Eastwood"), turntablist Kid Koala, and producer Dan The Automator -- released its ambitious futurist record, Deltron 3030, in 2000. After many false starts, the trio returned to its dystopian but still groovin' future Earth in 2013 with its follow up Event 2. (Watch Deltron 3030's live performance on Soundcheck.)
---
Magma, "Hortz Fur Dëhn Štekëhn Ẁešt" from Mekanïk Destruktïw Kommandöh
This French prog-rock-jazz-classical band, led by drummer Christian Vander, put out a whole series of albums in the 1970's that followed the story of the Kobaians. The Kobaians were refugees from a dying Earth who develop their own culture on the planet Kobaia (including their own language, which most of Magma's albums are sung in) and then come in conflict with more recent refugees from Earth. I think. Sun Ra meets Carl Orff's Carmina Burana and maybe King Crimson in this track from its finest album, Mëkanïk Dëstruktïẁ Kömmandöh.
---
Queen, "39" from A Night At The Opera
Science fiction gets pretty close to science fact in this song written by Queen's Brian May -- who in addition to being a guitarist is also a respected astronomer. Here, the song is built around the idea that space travelers, if they do achieve light speed and reach other planets, would return to Earth to find that hundreds of years had passed. May sings lead, meaning it's a rare opportunity to hear the late Freddie Mercury in a supporting role.
---
Klaatu, "Calling Occupants Of Interplanetary Craft" from 3:47 EST
Seriously, what were we thinking in the '70s? Maybe it was all that Star Wars stuff, but this 1977 song is the seventh on our list from that decade. This one came with an interesting and very terrestrial rumor: that Klaatu was in fact The Beatles, re-formed and trying to pull a fast one on the public. This rumor ended when people heard the record, since it sounded nothing like The Beatles. But it's a well-produced song from a Canadian band named after the robot in The Day The Earth Stood Still. So our list ends the way it began, with a call out to an old sci-fi classic.