SchoolBook
School Safety Incidents Vary, Depending on Who Counts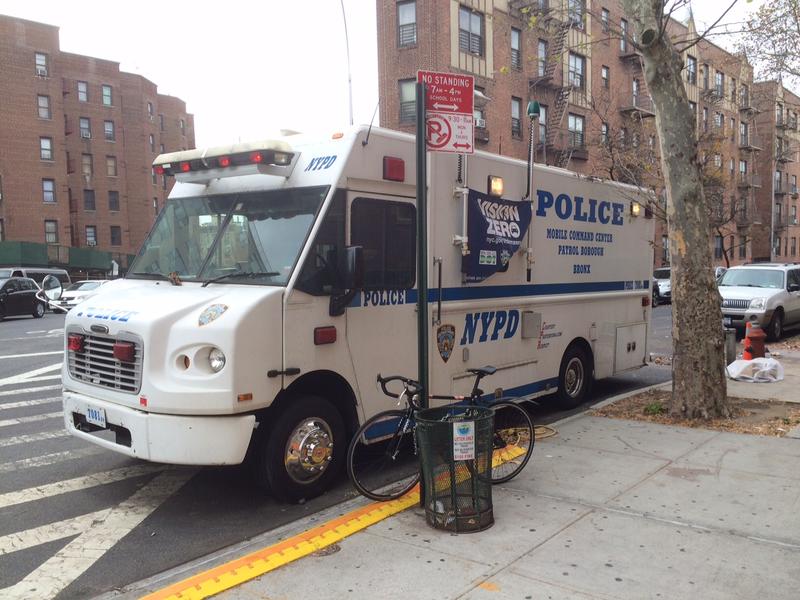 State data shows violent incidents in the city's public schools are rising compared to the previous year, contrary to city claims, according to data analyzed by the advocacy group Families for Excellent Schools.
The group, a frequent critic of Mayor Bill de Blasio's education policies, briefed reporters on Wednesday ahead of a Thursday press conference.  WNYC analyzed the same data and confirmed the trend, which is tracked on the state's Violent and Disruptive Incident Reporting system (VADIR), as required by federal law.
In the 2014-15 school year, New York City's district and charter schools reported more than 15,000 violent and disruptive incidents to the state. These included assault, robbery, arson, sex offenses and weapons possession.
That's an increase of almost 23 percent from the 12,978 violent incidents reported to the state during the previous school year.
Jeremiah Kittredge, chief executive officer for Families for Excellent Schools, said that doesn't square with data released by the city's  Department of Education which reported a total of 6,875 major felonies, other crimes and incidents in the 2014-15 school year.
"It's just impossible to reconcile the city's account with the reality of what it is, itself, reporting to the state," said Kittredge. He noted that the state reported 7,141 assaults with physical injury, alone - higher than the city's total number of incidents.
The Department of Education said the data was misleading.
"The total number of incidents at NYC public schools decreased nearly 8 percent last school year to historic lows," said spokeswoman Toya Holness, adding "crime, arrests and summonses are down across the board. Our top priority is to provide a safe and supportive environment for every student, and we are committed to doing whatever it takes to keep our students safe."
The department suggested that the state's reporting system included a wider range of incidents, not all of which are violent. It said schools input incidents into the city's system, and then staff compile them for the state's system. But the city's own annual numbers are reported by the NYPD and only track incidents involving police.
The city made a similar argument last year after an audit by State Comptroller Thomas DiNapoli claimed the city didn't properly report all incidents.
But the discrepancy between state and city safety data has been growing. WNYC confirmed that in 2005, the city counted more than 16,000 incidents compared to about 11,000 violent incidents in the state system. This trend reversed itself a few years ago, with the gap increasing since de Blasio took office.
WNYC found certain types of incidents rose more than others in the state's register. There were 1,675 more reports of assault with physical injury without weapon in 2015 than in 2014, which is the single biggest category of violent incident.
Kittredge accused the city of painting an inaccurate picture despite "unprecedented" increases in safety incidents reported at the state level, and said parents should know the truth. He also questioned how de Blasio could boast that crime has dropped 29 percent in the schools since 2012.
It's important to note that not all safety incidents rise to a criminal level. The city schools classify three types of incidents: major crimes against persons and property, other crimes such as misdemeanors plus non-criminal incidents such as disorderly conduct and loitering. Crimes in schools dropped 11 percent in the last year, according to the New York Police Department, enough for some groups to advocate removing metal detectors.
Johanna Miller, advocacy director for the New York Civil Liberties Union, said that the state's reporting system was "notoriously flawed," something former Education Commissioner John King also acknowledged. She said it set up "perverse incentives" to over and under report incidents, because it's used to determine which schools are labeled persistently dangerous. Some schools might inflate their incidents to be labeled as dangerous, in order to obtain more funds, while others may under report them to avoid losing staff and students.
Miller, who sits on a state task force that's been trying to improve school safety, said the gap between what New York City and the state report underscores the need for "a smart, unified, reliable system" to know what's going on in the schools.
A spokesman for the New York State Education Department acknowledged there was "some degree of subjectivity" involved in the reporting process and there is panel working to revise the categories and definitions of violent or disruptive behavior.
"The goal of the workgroup is to make reporting less complicated and to place greater emphasis on violent offenses," said Jonathan Burman. "There is literally nothing more important than protecting our children, and it is critical that we all have a clear and consistent way to track and compare the level of safety in every school."