SchoolBook
A School Paper Exposes Turmoil Over New Principal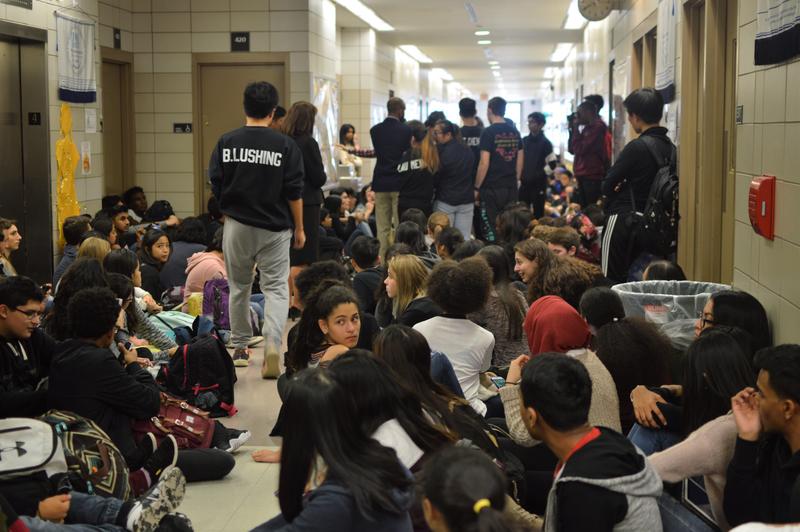 Outcry over Townsend Harris High School's interim principal, Rosemarie Jahoda, has intensified this month with students, parents and alumni calling for her removal. They raised concerns over what they call a combative management style and said they were alarmed by years-old grievances filed by teachers at her previous school, and substantiated by an arbitrator, which accused her of harassment.
Opposition to Jahoda, who started at the selective high school this school year, has led to an online petition, a student sit-in and strongly-worded resolutions from both the PTA and alumni association. Their objections have caught the attention of the news media, including Chalkbeat, the New York Times and CBS New York.
But the outlet most closely documenting the issue as it unfolds is Townsend Harris's own paper, The Classic.
"It's incredibly nerve-wracking, but it's the best teaching that I'm doing," said Brian Sweeney, the paper's adviser and an English teacher at the school. "The idea that they're learning how to do this on the job, and it's my job to make sure that they get it right, is terrifying and rewarding."
The managing editor of the paper declined to be interviewed, stating that she did not want to detract from The Classic's work. 
The paper covered the response to changes in school policy that sparked early grumblings among students and faculty; it live-streamed the student sit-in, including an intense exchange between the student council president and a deputy superintendent. 
A recent article exposed that a handful of teachers expressed their intentions of leaving the school should Jahoda stay. Reporters also obtained, and posted, an audio-recording of the principal's conversation with a staff member, in which Jahoda used foul language explaining why it was not her leadership style to stand in the hallway and greet students. Opinion pieces and open letters from the Townsend Harris community have weighed in on the situation. 
Jahoda and the superintendent, Elaine Lindsey, did not respond to requests for comment. A spokesman for the Department of Education, Will Mantell, said education officials were listening to community feedback and the official interview process for the principal position had not yet begun. He would not disclose whether Jahoda was a candidate, citing confidentiality rules.
Sweeney said The Classic has a history of hard-nose reporting. The paper is covered by a charter — signed by the principal, including Jahoda — ensuring student journalists are allowed to operate independently, without censorship.
Sweeney said students were reluctant to cover early complaints about Jahoda without concrete policy changes to point to. He said reporters made a decision not to cover the history of grievances filed against Jahoda from teachers at her former school, the Bronx High School of Science, when Jahoda first started at the school in August.
But, by early December, Sweeney said The Classic staff knew it had a story about procedural changes at the school.
"They did it right," said Sweeney. "They spoke to as many teachers as they could," along with an interview of Jahoda.
Sweeney added, "It showed that they were willing to cover the controversy that was there but not necessarily sensationalize it."
The article was the first to publicly illuminate frustrations among staff and students that had been simmering for months. It was quickly followed by the student sit-in and PTA involvement and, subsequently, more robust coverage from the student paper.
The coverage is getting attention. Sweeney said the paper's website typically receives about 5,000 to 7,000 page views per month. This month, The Classic is up to more than 34,000 views.