SchoolBook
School Investigation Sheds Light on Avonte's Disappearance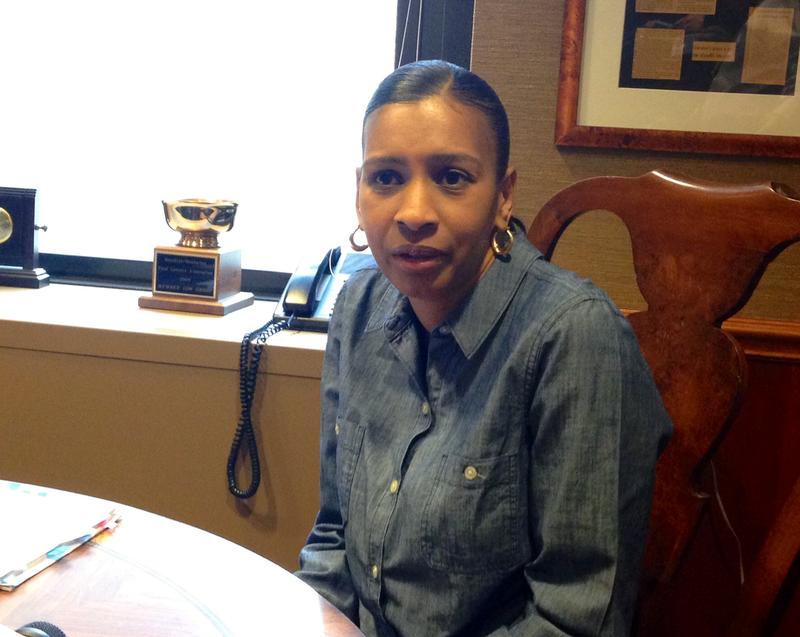 Avonte Oquendo's classroom teacher knew the autistic boy's mother worried he might run away, but the teacher never shared that information with the school's administration, according to city investigators. The 14-year-old boy's remains were found in January, three months after he disappeared from his Long Island City public school for children with special needs.

The Special Commissioner of Investigation for the New York City Schools released a report finding a Riverview School classroom teacher, Julie Murray, had sent her own form to parents asking for additional information about their children. Avonte's mother, Vanesssa Fontaine, responded in writing that Avonte needed to be watched because "he likes to run," and she requested one-to-one supervision.
At a press conference Thursday, she said she expected the school to act on this document.
"You fill that out assuming that she's asking this question because she wants this information to share with the rest of the teachers to help your child out," she said, at her attorney's office. "Everyone was to look out for my child. Not just her."
But the investigation said the teacher sent out the parent survey without the school's permission and never told the principal about what Avonte's mother wrote. Nor was it a binding document. If Avonte's family wanted to change his special education plan, they would have needed to wait until it was up for review in November of 2013.

The report also shed light on conflicting statements about what the school security agent observed on Oct. 4. According to interviews and a review of videotapes, investigators determined the security agent did see Avonte in the lobby. She told them she saw him enter a stairwell. But she was distracted by another student at her desk at the moment Avonte exited through an open door.
However, Avonte's family attorney, David Perecman, remained skeptical. "It seems to me to be a sort of bureaucratic effort not to deal with the issues at hand," he said.
He pointed to the Department of Education's own internal review, in which the agent said she saw Avonte go upstairs - when he obviously did not.
Richard Condon, the Special Commissioner of Investigation for the New York City School District, said the belief that Avonte was still in the building prevented staffers from searching outside the school.
"So really, the search in the early stages centered on the school when he was gone within two or three minutes of having gone downstairs."
He said there should have been more than one security guard on duty at that ground floor location because of its proximity to multiple exits. There were normally two guards, but one was off-duty at the time Avonte disappeared. The school now has three, he said.
Avonte walked out a side door that was left open that day. Surveillance showed a man walking out shortly before Avonte disappeared, but Condon's office was never able to determine his identity.

The investigators also confirmed that staffers had difficulty accessing the school's video surveillance system immediately when they couldn't find Avonte. He broke away from his classmates after lunch when he was in a group of 12 children and three staff members.

The principal of the Academy for Careers in Television and Film, a high school that shares the same building, also did not request a soft lockdown after Avonte's disappearance, which would have included announcements about the missing student.

The report has been referred to Chancellor Carmen Fariña for any potential disciplinary action, and to the Queens District Attorney. Unlike previous cases, the Special Commissioner did not recommend any disciplinary actions.
The chancellor's office released the following statement:
"The situation was truly tragic. Our school communities mourned. And today, we learned more about what happened on that fateful day. We are reviewing the report closely and are committed to working diligently to prevent another tragedy like this from ever occurring again. Our thoughts are with Avonte's family."
The teachers union did not respond to a request for comment on the Special Commissioner's report. But Chiara Coletti, a spokeswoman for principals union, said:
"The death of Avonte Oquendo was an enormous tragedy. The D.O.E. has made no decisions yet based on S.C.I.'s report, but we believe that system wide safety procedures should be revisited, not once, but frequently."
Last fall, former Chancellor Dennis Walcott made some tweaks to school security policies after Avonte's disappearance. The child's family is planning to file a wrongful death suit against the city. The Medical Examiner's office was not able to determine the cause and manner of his death.
With reporting by Sarah Gonzalez