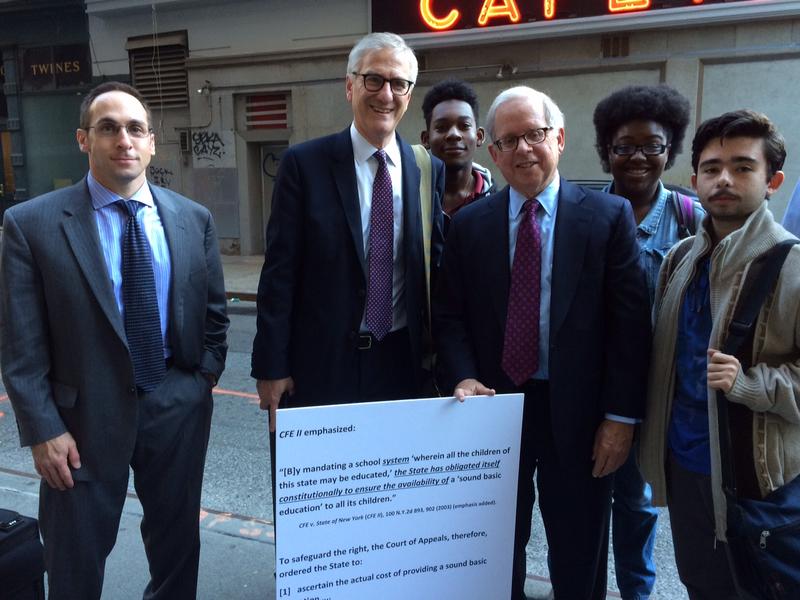 Nine years after the state's highest court found Albany failed to provide New York City with enough school aid, the case went back to court on Wednesday with plaintiffs arguing the state never lived up to that 2006 court order.
The original case, brought by a group called the Campaign for Fiscal Equity (CFE), was a landmark in education law. The Court of Appeals found New York violated its constitutional guarantee of a "sound, basic education" through a funding system that didn't give the city enough money to meet the needs of its students.
But just what the court ordered the state to do about it is now in dispute.
The current plaintiffs, including original members of CFE plus parents and school leaders from other districts, claimed a legislative remedy from 2007 should still be applied.
"The court deferred to the legislature," said Michael Rebell, an attorney with New Yorkers for Students' Educational Rights, in his argument before State Supreme Court Justice Manuel Mendez.
Rebell, who also argued the CFE case, noted that in 2007 then-Gov. Eliot Spitzer and legislative leaders agreed to provide all of the state's school districts with billions of dollars in additional aid, to be phased in over time. They also created a new funding formula to ensure that at-risk children in every district, such as English Language Learners, would get enough money to meet their needs.
But the funding slowed down after the 2008 financial crisis. The plaintiffs claimed school districts were owed about $4.8 billion annually under that legislative formula.
"The state is not complying with its obligation to have a needs-based funding process in place," argued Rebell's co-counsel John Vassallo.
But assistant state attorney general Alissa Wright accused the plaintiffs of trying to distract the court by claiming an eight-year old piece of legislation "somehow trumped the Court of Appeals." She said the court's ruling only applied to New York City, not the rest of the state, and that it called for $1.93 billion in additional school aid for the city.
"That is the only number that was ever endorsed as a constitutional minimum by the court," she said, adding that the state had already exceeded that amount.
Wright also said the plaintiffs couldn't prove the state has failed to meet the needs of New York City or any other districts.
The plaintiffs accused the state of delay tactics.
"The Constitution doesn't get put on hold because there's a recession," said Rebell. He argued that instead of simply cutting funds, the state could have worked with districts to find a more cost-effective funding formula that still provides a sound, basic education.
Several high school students sat in the courtroom during Wednesday's hearing. Tylah Willis, 18, a senior at Bronx High School for Writing and Communication Arts, said her school deserved more money because it lacks basic supplies.
"Being that my school is a writing school, we are depending on a lot of paper," she explained. "And for two years in a row, we have not had enough paper for any classes. We've been recycling papers."