The Takeaway
Despite Winter Weather, Unity Remains at Standing Rock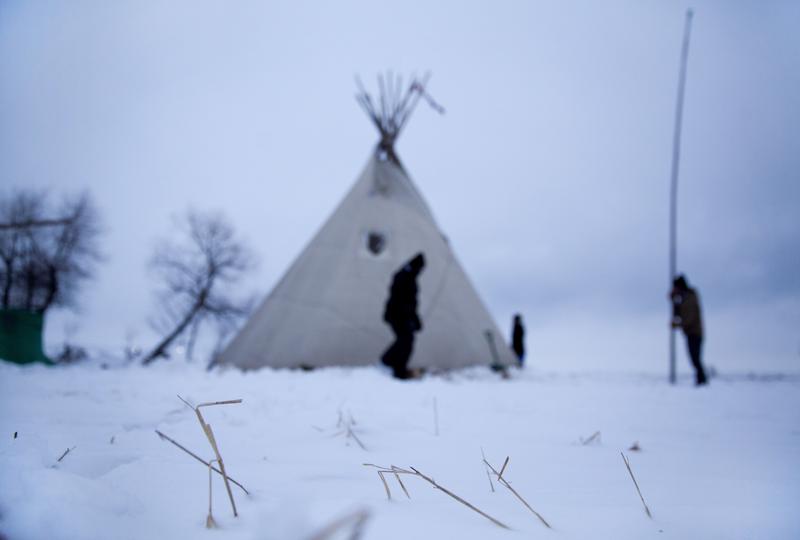 Click on the 'Listen' button above to hear this segment.
Despite heavy snowfall, extremely windy conditions, and evacuation orders from state and federal officials, thousands of people continue their resistance to the Dakota Access Pipeline.
The protesters call themselves water protectors, and say the $3.8 billion pipeline threatens the water supply of the Standing Rock Sioux Tribe. Federal officials have told protesters they must evacuate the area by Monday, a call most are ignoring so far.
Doualy Xaykaothao is a reporter for Minnesota Public Radio, and she brings us this dispatch from a camp about 50 miles south of Bismarck, North Dakota.
"There's all kinds of temporary structures that have been built here in the last few months, and there are probably about 7,000 people here," she says. "The first winter storm hit us early this week and dumped six inches, and yesterday [there] was just brutal winds picking up snow, just whipping around. It's only about 30 miles per hour, but it feels much, much worse. It feels like blizzard conditions, but to North Dakotans, this is a light winter since it's not even 40 degrees below zero."
Despite the cold, protesters maintain a strong community at the camp. 
"People are making this place their home," Xaykaothao continues. "They want to be a witness to the protesting, to the prayers. And it is actually [being] called a 'spiritual war.'"
In the background of this "spiritual war" looms the Monday deadline for protesters to pack up and go.
"The Morton Count Sheriff's office and governor have declared they are going to try to close the camp and evacuate this area but the reality is, that's not happening," she says. "It's basically them making a statement about safety issues, about how emergency vehicles cannot get through here. At the end of the day, they have backtracked on some of this — there are no physical blockades, but they are fining people who are attempting to bring in wood or large supplies into the camp. So many water protectors say the government, the U.S. Army Corps, is trying to starve people from supplies or food here, and officials are saying, that's not the case." 
Xaykaothao spoke with Melaine Stoneman, a medic from the Sicangu Lakota tribe. Stoneman came to Standing Rock from Rosebud, South Dakota, and she told Xaykaothao that she's not going anywhere.
"We're not doing anything wrong. We don't have any guns. The weapon we do have is our prayer," Stoneman says.