Sandy Repair Program Designed to Protect Homeowners Frustrates at Least One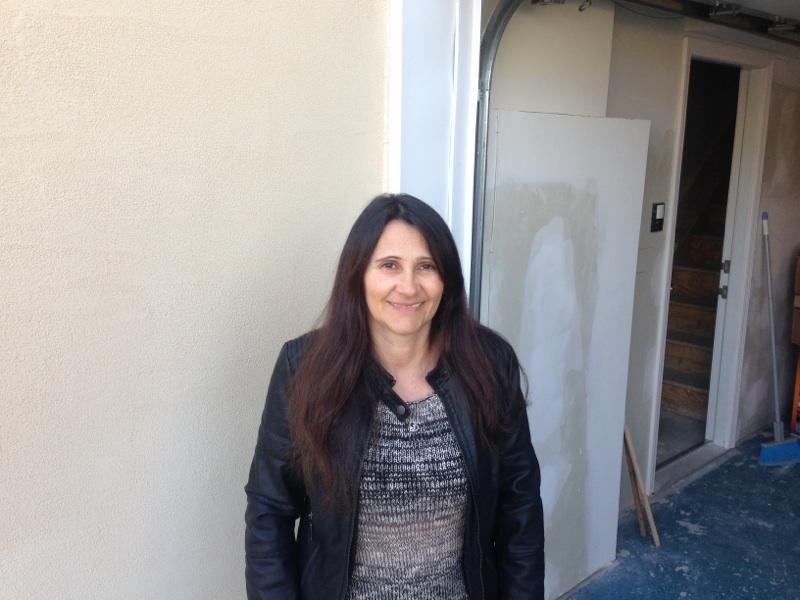 After months of delays in the city's Build it Back program, Eleni Stavrakos-Ocampo thought she was lucky. She learned in March that she would be the second person to see repairs begin on a Sandy-damaged home.
City officials were also excited to break through the bad press the program had received, and, with her permission, gave out her phone number to reporters. Her story appeared in the Staten Island Advance.
But as a crew began to work on her garage, the quality of the work fell well short of her expectations. During a visit to her home in mid-April, at about the time the job should have been completed, she showed WNYC plaster that had already peeled from the ceiling, uneven drywall, and an area on her driveway where she said workers had discolored the concrete in order to clean up stucco they had spilled.
She complained to the workers, the supervisor and, eventually, Build it Back.
She told them, "It's a bad example of what you are doing. You should have made my home, a good example. " 
At first this case may appear to be a typical homeowner-contractor dispute. The owner of the subcontractor, Youssef Estefan, told WNYC that Stavrakos' real problem was the fact that his workers, who are Egyptian, do not speak English well.
"This is how it is when you deal with homeowners" he said. "You have people that like you. Some people don't like you personally."
Stavrakos said she just wanted to be able to communicate with the workers, to tell them to be neat — and that they were speaking English to one another, just not to her.
And that's what makes the dispute more than just a disagreement between homeowner and contractor: Build it Back homeowners are not supposed to talk to the work crews. They are supposed go through Build it Back.
The Bloomberg administration designed the program so the city would hire and supervise contractors directly. The system was meant to make sure no homeowner gets swindled or squanders the money, but it adds a whole layer of complication and bureaucracy. (By contrast, New York state instead gives homeowners a series of checks they use to pay eligible contractors they hire.)
The tensions between contractor and homeowner are likely to come up again as Build it Back works its way through nearly 20,000 applications for assistance. So far, just 36 jobs are underway. Three others have been completed, according to the city.
Amy Spitalnick, a spokeswoman for Build it Back, said the de Blasio administration is exploring changes to the contracting system, but already has in place "key quality control measures, including inspections, to ensure that no contractor gets paid and no project closes unless the work meets our standards."      
The city allows homeowners to pick their own contractors, though it would still act as the boss. But Stavrakos' contractor of choice did not want to go through the trouble of applying to that system. Instead, the work fell to Volmar Construction, a mid-sized Brooklyn firm that was one of three contractors chosen for Build it Back repairs last year. Volmar referred questions to the city.
Volmar stands to make $150 million dollars from Sandy, which comes from the federal Sandy aid bill. According to its contracts with the city, Volmar expects to pass 85 percent of that amount along to subcontractors, such as Sphinx Construction.
A city official said that the Stavrakos job has generated the most complaints of any work site so far, and that it has failed inspection twice. As a result, Volmar will get docked $500 of its payment and be forced to fix the problems, the official said. The city closed out the job earlier this month, but Stavrakos said, while some issues have been addressed, others have not.
The case also raises questions about whether the front-line workers are being paid enough to do quality repairs. Contractors and subcontractors receiving federal funds are generally required to pay their employees prevailing wages, which are close to union scale. But an exception for projects involving buildings with fewer than eight units means that about a billion dollars of work under the Build it Back program can be done for as little as minimum wage.
Estefan said he pays his workers between $10 and $12 an hour. That is about a quarter of the prevailing wage for drywall tapers, according to the state Department of Labor.
But Estefan said he has a permanent crew and does not hire off of the street. Another resident whose family home is being repaired by Estefan's firm praised the workers.
"They are all very professional and very courteous," said Alfonso Martino, who lives in Dongan Hills, Staten Island.