Sandy Rebuild's Invisible Victims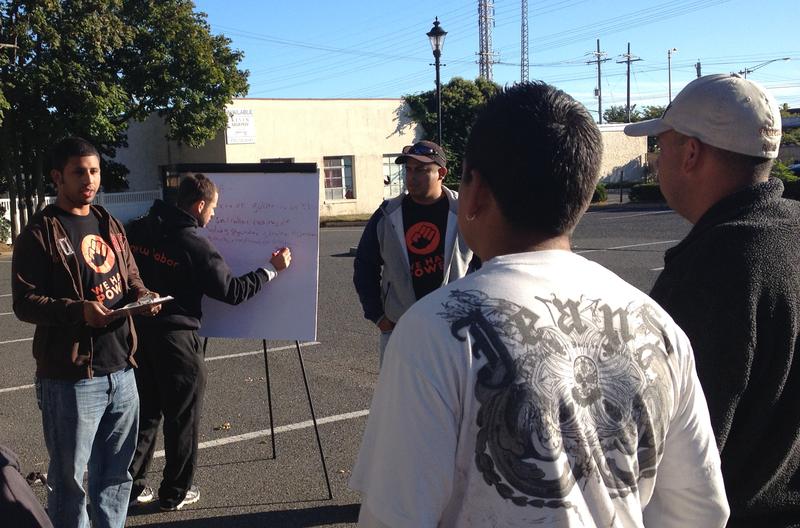 Marcelo, a day laborer working on clean-up after Sandy, suffered an injury when he was hit in the head with a hammer. The hospital bill came to $1000, but his employer told him he wouldn't pay for it.
"He said, 'That's impossible.  I don't know you.  You don't have legal documents to work for me.  I can't help with that.  You're on your own right now,'" Marcelo remembered.  So he ended up scraping up the money to pay the bill himself.
After any major disaster, day laborers are often among the first to report to the front lines of the cleanup and recovery effort, drawn by the increased demand for work and the promise of picking up extra hours.  Sandy was certainly no exception.  But a new report from the City University of New York's Baruch College School of Public Affairs found that disasters, by their very nature, tend to create additional occupational hazards and safety issues for both workers and employers, for which there is often little training. 
In addition to potentially unsafe working conditions, many day laborers working on the Sandy recovery have also faced problems with being underpaid or – in some instances -- not paid at all for work they've done.
"What it is is a chaotic environment into which you're putting a big, ad hoc workforce," said Patrick Reilly, Director of the Department's Wage and Hour Division for Southern New Jersey. 
"And they're trying to get work done quickly and trying to get people's lights back on and the water running again and all the utilities going, the streets open and so forth," Reilly said.  There's an immediacy to it that may lead employers to say, 'Well, I'm not going to worry about the labor standards.  I need to get this done.'"
Hernán (like Marcelo, he didn't feel comfortable giving his last name) arrived in New Jersey from Guatemala shortly after the storm. Even now -- a year later -- he still keeps pretty busy doing cleanup work up and down the coast.  But all this has come at a cos
"There were many poisons and chemicals.  We didn't know that things could be that dangerous until our bodies started to show the effects," he said, echoing accounts from fellow workers who reported rashes, allergies, vomiting, respiratory problems and a variety of on-the-job injuries. 
"For example, it's not good when we're working where there's been standing water mixed with sewage because it's contaminated with bacteria," he continued, speaking through a translator.  "In the end, it's the workers who suffer the most.  I think that that wasn't taken into consideration."
The US Department of Labor said the Occupational Safety and Health Administration (OSHA) has so far conducted 140 Sandy-related inspections in New Jersey and found 110 violations, levying penalties totaling more than $570,000 (though it's unclear how many of those violations involved day laborers).  But critics claim OSHA is under-staffed and ill-equipped to provide effective regulatory oversight in the aftermath of disasters of the magnitude of Sandy.
Still, despite what at times seems like an uphill battle, groups like Casa Freehold and New Labor continue to advocate on behalf of immigrant workers, supplying them with protective equipment like gloves and masks, giving them occupational safety and wage theft prevention training and teaching them their rights as they continue repair work up and down the Jersey Shore.
On a recent weekday morning, actives from New Labor showed up where day laborers wait for work in Red Bank, erected an easel in the corner of a church parking lot and began an impromptu teach-in for all those assembled.
"We're an organization of normal people like you, and we're doing things that we can't do on our own," said Jonas Mendoza.
 Such efforts are becoming commonplace throughout the region, with hundreds of thousands of dollars of grant money from OSHA and the Robin Hood Foundation going to fund similar programs in other Sandy-affected areas.