Sandy Minute-by-Minute: Commuting by Sea at 6:30 AM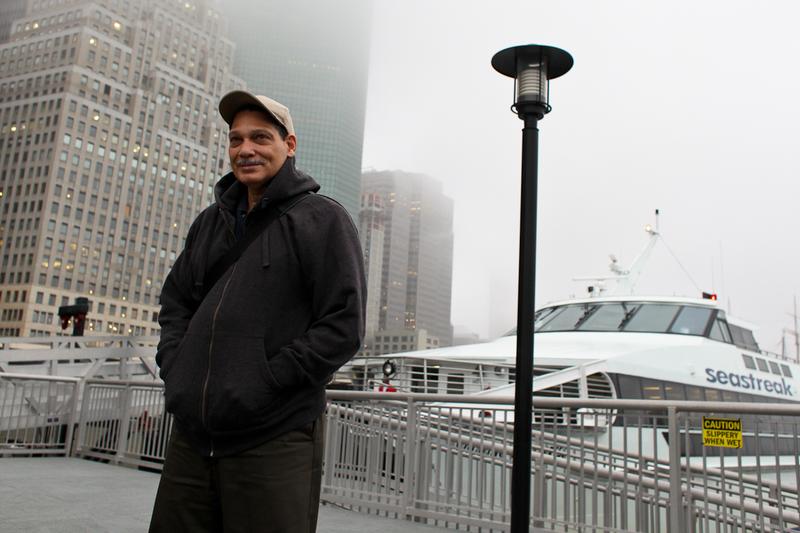 Life changed for thousands in our region almost a year ago when Sandy blew in. For Raul Romero, a resident of Rockaway Beach, that change is most evident every morning when he boards the Sea-Streak Ferry for his morning commute.
Romero, 61, drove to work before Sandy, but the storm destroyed his car. So he got a job in the city and became a commuter. "As far as water is concerned, the water is not a drama to me," he said. "I live in a little island that's only 3 blocks wide so there's water everywhere. I happen to love water. I'm a cancer."
As soon as Romero sits down he makes sure to send his wife a text message. "I let her know I'm on my yacht," he said. "She gets a kick out of that. It'd be nice if it was a real yacht."
To listen to Romero's story, click on the audio link.
The Seastreak ferry departs regularly from Rockaway Beach, Queens and makes stops in Brooklyn and Manhattan. (Stephen Nessen/WNYC)
Rockaway resident Raul Romero taking a ferry to work every morning from Rockaway Park, Queens to Lower Manhattan. (Stephen Nessen/WNYC)
View from Seastreak ferry under the Verrazao Narrows Bridge heading to Lower Manhattan. (Stephen Nessen/WNYC)