Contest Finalists Envision New Barriers for Regional Storm Protection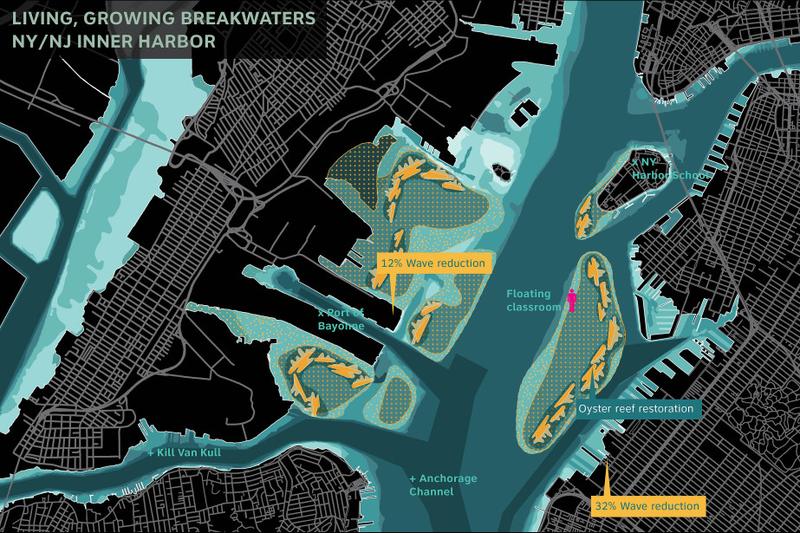 Organizers of a design contest devised to better prepare Sandy-devastated regions for future storms have announced the competition's 10 finalists.
Projects were judged by their affordability and likelihood of being implemented, as well as public response. Funding and local priorities will determine whether communities will actually adopt the proposals.
The U.S. Department of Housing and Urban Development says Rebuild by Design is unprecedented in its scope. The competition initially received 148 applications. Forty-one of the proposals were open to public comment while on display in New York and New Jersey last month. President Obama's Hurricane Sandy Rebuilding Task Force originally launched the contest.
Several finalists in the competition are on view below. Information about the other proposals is available at http://www.rebuildbydesign.org/
The Big "U" (Manhattan)
The Big Team
The Big Team's proposal involves creating an eight mile 'U' shaped protective barrier around Manhattan. Stretching from West 54th St. down to the island's southernmost tip and back up to East 40th, the designers view the accessible infrastructure as an important coastal defense system, as well as usable urban space.
Tailoring the design to individual neighborhoods is another major focus of the plan.  "How can we manifest the requirements of a 'Robert Moses' hard infrastructure with the local community-driven sensitivity of Jane Jacobs?" the designers ask on the website for the contest.
The Big Team includes the Bjarke Ingels Group, One Architecture, Starr Whitehouse, James Lima Planning + Development, Project Projects, Green Shield Ecology, AEA Consulting, Level Agency for Infrastructure, and the Parsons School of Constructed Environments.
Living, Growing Breakwaters: Staten Island and Raritan Bay
SCAPE / Landscape Architecture
The designers behind  "Living, Growing Breakwaters" want to use natural resources to combat coastal erosion on Staten Island.  Their proposal relies on the restoration of oyster reefs, which once protected Raritan Bay from exposure to waves.  The designers are interested in working with local residents to incorporate their plan into ongoing work along the bay's shoreline.
The design team is comprised of SCAPE/Landscape Architecture, Parsons Brinckerhoff, Dr. Philip Orton / Stevens Institute of Technology, Ocean & Coastal Consultants, SeArc Ecological Consulting, LOT-EK, MTWTF, The Harbor School, and Paul Greenberg.
Hunts Point Lifelines (Bronx)
PennDesign/OLIN
An abandoned marine transfer station would serve as the headquarters for training and infrastructure improvements under one design team's plan for the Bronx neighborhood of Hunts Point. The proposal includes plans for a stormwater intercepting canal and a green roofs initiative that could help reduce flooding by storing rain. The designers also emphasise the importance of supporting vital links to a community's food supply during an environmental disaster.
PennPraxis, HR&A Advisors and eDesign Dynamics also assisted with the project's design.
Resist, Delay, Store, Discharge: A Comprehensive Strategy for Hoboken (New Jersey)
OMA
For their entry, design firm OMA prepared a four-point strategy to protect Hoboken, N.J., from flash floods and storm surges. The proposal combines infrastructure improvements, policy changes, increased reliance on drainage supporting water pumps, and soft coastal landscaping.
The plan was developed by OMA with help from Royal HaskoningDHV, Balmori Associates, and HR&A Advisors.