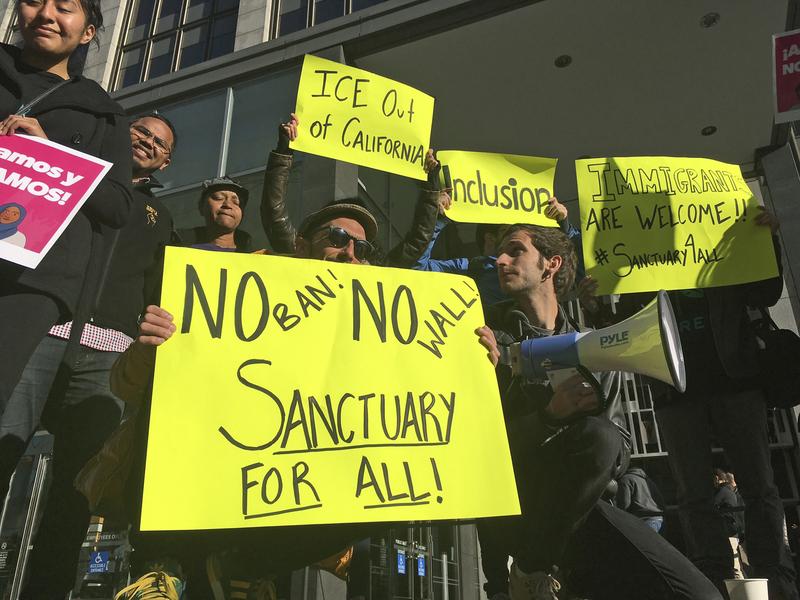 Click on the 'Listen' button above to hear this segment.
Last week, a federal judge in San Francisco blocked President Trump's plan to punish sanctuary cities. U.S. District Judge William Orrick ruled that Trump had exceeded his presidential authority when he signed an executive order on January 25th that ordered federal funding to be withheld for the more than 300 cities that qualify as "sanctuary" jurisdictions — a term that describes local governments that have limited their cooperation with federal immigration officials.
"Today I am urging all states and local jurisdictions to comply with all federal laws, including 8 U.S.C. Section 1373," Attorney General Jeff Sessions told reporters back in March. "Moreover, the Department of Justice will require jurisdictions seeking or applying for Department grants to certify compliance with Section 1373 as a condition for receiving these awards."
Judge Orrick ruled that the determination to withhold all funding was unconstitutional, and some state lawmakers in California agree.
"You just can't with a signature with a pen say, 'I'm going to punish San Francisco, Los Angeles or any other city,'" said Democratic California State Senator Kevin De Leon. "The reality is this: It's illegal and it's unconstitutional."
Leon Fresco, a former deputy assistant attorney general at the Justice Department and the former head of the the Office of Immigration Litigation under the Obama Administration, has the details on the ruling and what it means for cities around the nation.