New York at Center of Very Profitable, Very Illegal Ivory Trade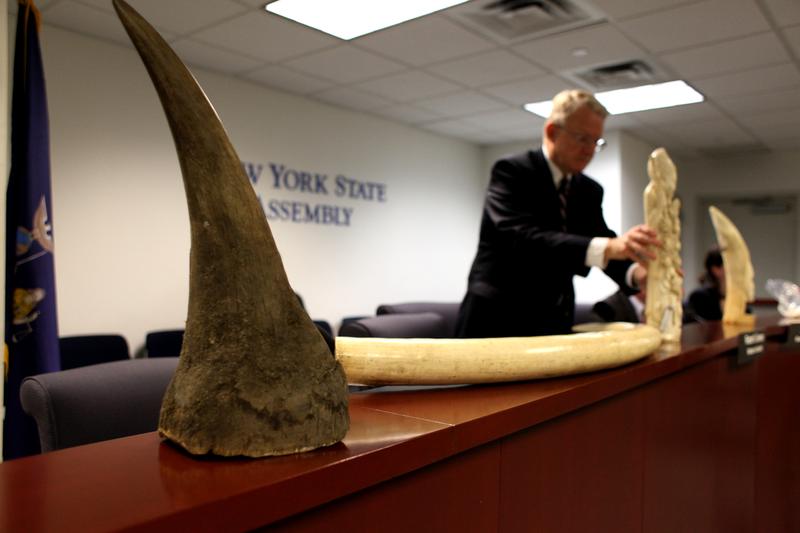 The penalty for selling illegal ivory in New York state is about as punitive as the penalty for being drunk in public, according to state officials: a fine up to $250, or a maximum of 15 days in prison, about the same as disorderly conduct.
State lawmakers held a hearing Thursday to examine how to crack down on the illegal ivory trade. New York City is one of the country's main hubs for illegal ivory and rhino horn sales and distribution, according to state and federal officials.
William C. Woody, Chief Officer of Law Enforcement with the U.S. Fish and Wildlife Service told members of the New York State Assembly that legal loopholes that allow for the possession of ivory, and selling it with a permit, make cracking down on back-room traders difficult.
Possessing ivory is not a crime, and selling antiques made of ivory is allowed as well.
Woody told lawmakers the ivory arriving in New York is coming from organized criminals in large volumes. "When you're losing 30 to 35 thousand elephants a year right now to poachers, it is not your typical 'go out and shoot something and bring it back," said Woody. "It is a large scale commercial operation, is what's going on."
In 2012, officers seized a ton of ivory worth $2 million in New York City.
The UN Ambassador to Tanzania also gave tearful testimony about his country's dwindling elephant population. The Wildlife Conservation Society believes there has been a 76 percent decline in elephants worldwide since 2002.
While New York City is one of the main destinations for illegal ivory, there are only 25 officers dedicated state-wide to enforcement of all environmental crimes.
Officials say illegal ivory is often disguised as an antique. The only way law enforcement can prove it doesn't date from the pre-ivory ban is through carbon dating. (Stephen Nessen/WNYC)
Ivory that arrives in the U.S. is often carved, making it difficult to prove when and where it was acquired, according to law enforcement officials. (Stephen Nessen/WNYC)