Hundreds Mourn Firefighter Killed in Brooklyn Blaze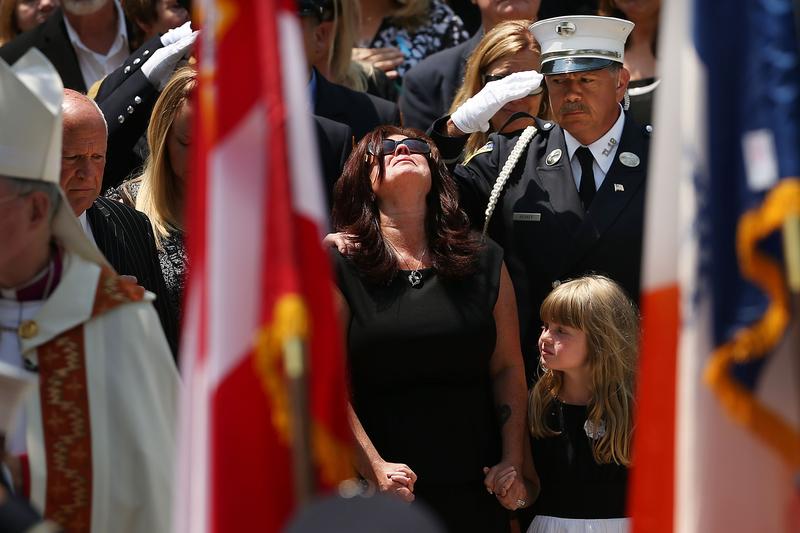 Colleagues, city officials, friends, family and local residents all paid their respects on Staten Island Thursday  to Lt. Gordon "Matt" Ambelas, a firefighter who died last week while fighting a blaze in Brooklyn.
Mayor Bill de Blasio, Fire Commissioner Daniel A. Nigro and hundreds of Ambelas' fellow firefighters were at Ambelas's funeral, held at the Church of St. Clare in southeastern Staten Island. 
The mayor said the 40-year-old Fire Department of New York veteran was dedicated, hardworking, kind and, above all, a family man."When you think about the things that make a hero, it's all those things," he said. "And of course he was so fundamentally brave, reaching a level of bravery that few citizens could imagine."
The husband and father of two was recently honored for his efforts to save a little boy from a roll-down gate in Brooklyn. Outside the church, the boy's father stood amid hundreds of firefighters, who saluted Ambelas' coffin as it was loaded onto a fire truck and carried away.
Staten Island resident Rochell Papagni didn't know Ambelas but said she attended the ceremony to show solidarity as a member of the firefighter community.
"As a fireman's wife and mother of a fireman, I feel I have to be here to pay my respects to the family — to the fire department," she said. "They're the bravest."
Ambelas, who had been a firefighter for 14 years, died on Saturday from severe burns and smoke inhalation while searching a one-bedroom unit for survivors in Williamsburg, Brooklyn. He was the first New York City firefighter to die in the line of duty in more than two years. 
With reports from the Associated Press.