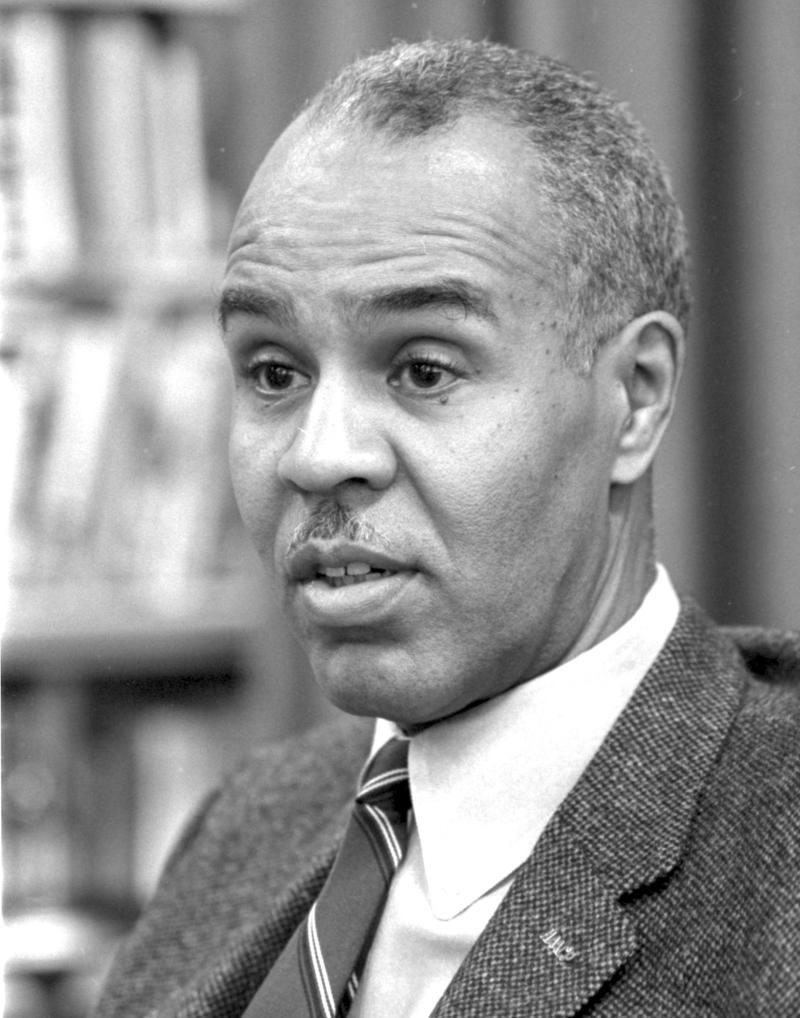 This episode is from the WNYC archives. It may contain language which is no longer politically or socially appropriate.
Wilkins, Executive Secretary of the NAACP, answers questions from a panel of international reporters on integration and desegregation.

Moderated by Col. Joseph M. Murphy.

Panelists: Krishna Balleraman of the Hindu of India, Levon Kashishian of El Aharam of Cairo, and Jovan Schekish of Radio Belgrade.

Questions:

Mr. Eisenhower wants to enforce the Supreme Court decision, but so little of the machinery available to the White House on a non-force basis have been brought to bear to influence public opinion. Harry Truman would have been more direct than Eisenhower. If a bi-partisan commission is not appointed, Eisenhower will hold several conference, which is a step forward from the President's past pronouncements. Once the conferences are called, it will be up to the citizens to make the most of it. The open-end contract gives offenders leeway to move slowly. A time limit could have allowed for adjustment. Leaving it open allows people to take as long as they like - except that the NAACP will be in with lawsuits before them. Federal School Aid Bill says funds will only be made available to schools complying with the Supreme Court decision.

The NAACP has no formal relationship with liberation groups in Africa. On good terms with leaders in Nigeria, the Gold Coast, Liberia; some contact with Abyssinia, liberation movement in Libya, Rhodesia, Kenya, and "that new federation over there."

The use of the term Negro in the US is "one of those questions we could talk about for the rest of the broadcast. The term grew up here ... it has a peculiar American flavor. The Negroes here were never thought of as Africans, say, after the Civil War." In many countries, it's not regarded as accurate, doesn't have a good flavor. Relationship between the NAACP and similar groups in Europe and the rest of the world is informal. Before WW2, some contacts in northern European countries. Cordial relationship with France.

Montgomery Bus Boycott has been studied by Negro delegations from other states, and the idea is probably being turned over in their minds now as to how they can use that weapon. It would have to be adapted to each area.

Balleraman explains the Indian people's interest in the bus boycotts: it is similar to the movements led by Ghandi. MLK did use the words of Ghandi; passive resistance. South Africans refusing to abide by the separate car loads there.

Wilkins has not been permitted to visit South Africa (American Negroes are seen as too independent and spoiled with contact with democratic theories; "they regard us as the protagonists of the equality theory")

American government has not ratified the convention of genocide; this is not, as the reporter suggests, because of the problem of lynching. Doubts that they consider - they consider - lynching a form of genocide. Oppression and violence directed towards Negroes, but not the kind of lynching that used to occur.

The Negro in this country is very concerned with political action and securing his rights. NAACP started its work in 1915. There are a million more Negroes voting in the South than in 1940.

Stevenson's "unfortunate" remarks that Negroes should be satisfied to gradually gain their rights; this word means "never" to Negroes.

Soviet press "makes the most" of the coverage of discrimination.
Audio courtesy of the NYC Municipal Archives WNYC Collection
WNYC archives id: 72260
Municipal archives id: LT7093