The Takeaway
Feminist Icons: From Rosie the Riveter to Beyoncé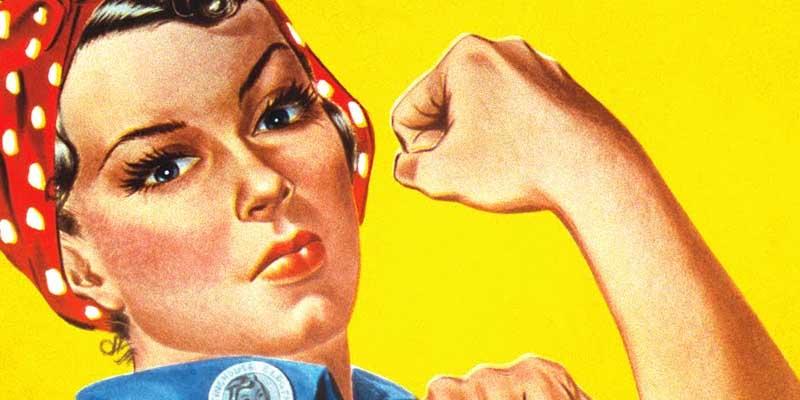 Before she was associated with a stern but feminine face flanked by that fist and iconic red bandana, Rosie the Riveter was a song. Specifically, a 1942 composition by Redd Evans and John Jacob Loeb praising the working factory woman helping with the war effort that quickly became a hit. 
There's no shortage of real-life "Rosies." Depending on who you ask, she was Rosie Bonavitas manufacturing airplanes in San Diego, or Rosalind Walter, working the night shift in New York, or Rose Will Monroe, building B-24 bombs in Ypsilanti, Michigan. 
But the iconic image that we've all come to see as "Rosie"—that jutting chin, sassy bandana, and no-nonsense flexed arm—was the work of a Pittsburg ad man by the name of J. Howard Miller. He was hired to create posters for the war effort and to inspire a generation of women to get into the work force.
One of those women was Idilia Johnston.  She told her story in an interview preserved in "The Real Rosie the Riveter Project" at NYU's Tamiment Library.
"One day I was downtown all dressed up in my best clothes and I went into a store front that was hiring for defense plant work and I said I wanted a job at the factory and they said you don't fit in the factory," Idilia Johnstson says in the NYU oral history project. "And I said, 'Why not? That's where the best money is. I want to work in the factory.'"
The daughter of strict Scottish immigrants who settled in Cleveland, Ohio, Johnson chafed at her father's insistence that women belonged at home. When she got a job at the Ohio Crankshaft Company during the war, it allowed her not only to support the war effort but also to become her own person for the first time. 
"Being independent and knowing that I could think for myself—I didn't need my mom and dad to tell me what to do—I became self-sufficient," she said. "I came out of my shell. Before that, I had been meek, mild. If somebody said 'boo,' I jumped. I became a person unto myself and I loved it."
Miller's image of Rosie posing below the words "We Can Do It" has become a popular modern symbol of feminism, so much so pop icon Beyoncé posted a photo of herself in Rosie-garb this week, and the image made something of a splash. 
But just how flawless of an icon was "Rosie" herself?  And is it time we put aside the propaganda and found some new feminist icons? 
Samhita Mukhopadhyay, former Executive Editor of the website Feministing.com, weighs in.