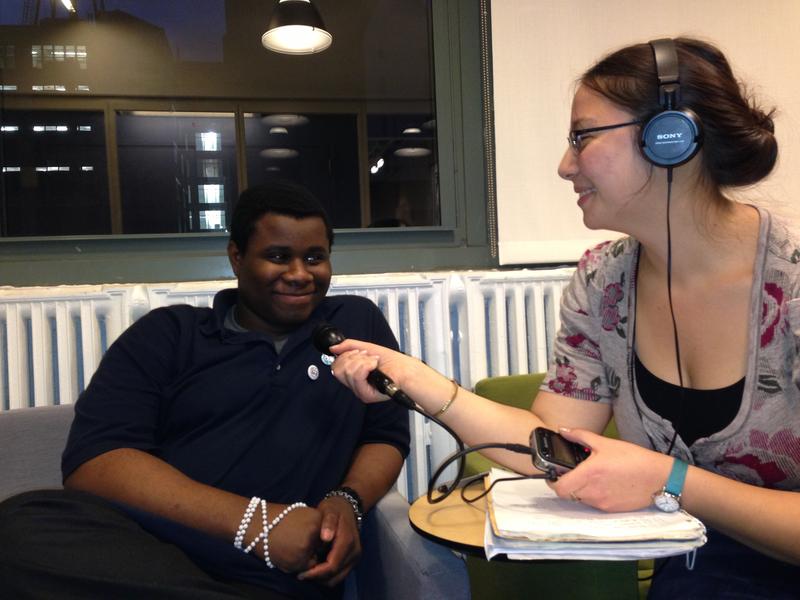 Meet Cam Johnson, one of five students in Radio Rookies Short Wave multimedia workshop. Cam is a student at Facing History High School. For the past eight weeks, he's been hard at work producing a story about the personal cost of bullying.
Recently, Cam sat down with Emily Kwong from Radio Rookies to talk about what it means to report with confidence and how it feels to be a regular at WNYC. 
Emily: So Cam, how did you learn about Radio Rookies?
Cam: Courtney (Stein, our Associate Producer) came to my school saying that she was running a program for teenagers like me to have stories on the radio about their experiences. I turned in my application really late. But, I'm here now and recording my story.
Emily: Tell us a little bit about your story. 
Cam: Basically, I'm telling the tale of being bullied and being the bully. I gained the confidence in myself to not put others down and understand the pain of someone who went through the same thing as me.
Emily: What was the first interview you did with Radio Rookies? How did it go?
Cam: My first interview with Rookies was actually with my mom. She was in the school that day. It's kind of hard to be professional when you're talking to a parent. I was kind of shy during the interview and panicking a lot. Learn from my mistakes people!
Emily: You've definitely learned a lot since then! You just did an interview with your middle school art teacher. How did it go?
Cam: It started off like the first one. I was shy and nervous, but after awhile I loosened up and finally had the interview that I dreamed of on the first day of the job. 
Emily: How did you know you did a good job? 
Cam: Because I didn't have any knots in my stomach and I was really, really focused and on point with everything. 
Emily: What was it like to work with your two Radio Rookies instructors, Andrew Mambo and Shia Levitt?
Cam: Every experience I had with Andrew and Shia was a learning experience with the radio business. Last month, I went with Andrew to Union Square to do some "vox pop," which is basically going up to strangers and asking them to be interviewed. At first, half the people looked like they didn't really like kids. Andrew helped me overcome my fear. Then, I saw my fellow Rookies really going out there and interviewing people, so that gave me even more of a confidence boost in myself.
Emily: What's been the hardest part of doing your project?
Cam: The hardest part so far would have to be getting a script together. I don't see how movie people do it! It takes so long and you have to go through so many edits to get it right.
Emily: That's very true. And what's been the best part of this whole process?
Cam: The best part? Coming to the station for the very first time. Meeting people and finding a job. Because, honestly it feels like I work here and everyone here is my co-worker. They always give me smiles and ask me how my piece is going.
Emily: How does it make you feel, knowing all these people are going to be listening to your point of view?
Cam: I feel…ecstatic. I've never gotten an opportunity like this before. It's the first time. I'm happy about that. We need more teenage views on things because if you have only an adult point-of-view, you're arguing with no one but yourself. If you have a teenager and an adult, you can have both sides of the cookie, both points of view.
Emily: Thinking about the lessons you've learned at Radio Rookies, how do you hope to apply them in the future?
Cam: Well, I hope I can record things. One of my big YouTube dreams is to become a voice actor. Make funny voices and stuff.
Emily: I bet you'll be awesome at that Cam. Okay, last question. Imagine that in this room are next year's Radio Rookies students. They've never done the program. It's their first day. What message do you want to give them, or advice?  
Cam: You don't need to be afraid to ask questions. Just go for it. Don't hesitate.