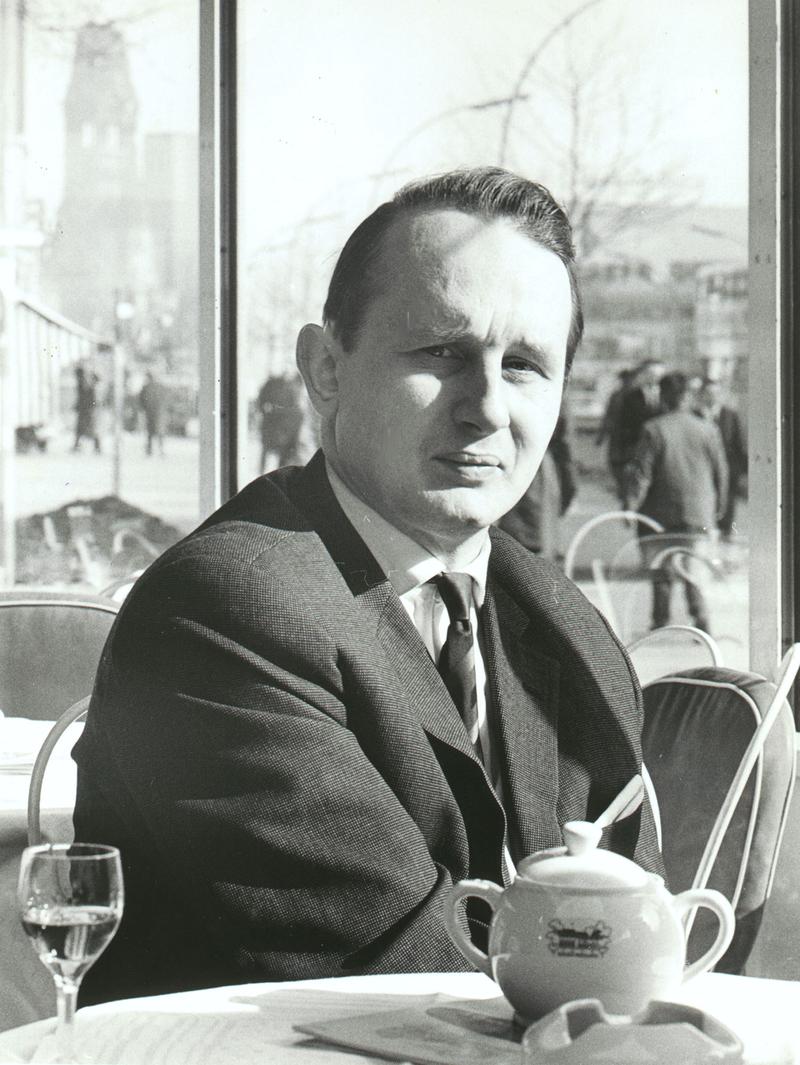 Summary
This episode is from the WNYC archives. It may contain language which is no longer politically or socially appropriate.
[From Municipal Catalog]: Rolf Hochhuth, author of The Deputy, and its producer, Herman Shumlin, answer questions. Monseignor John Oesterreicher is also present to answer questions. There is a heated discussion.

During the session Shumlin complains that he and Hochhuth were not informed that Oesterreicher would be present at the Overseas Press Club meeting.

Audio courtesy of the NYC Municipal Archives WNYC Collection
WNYC archives id: 70402
Municipal archives id: T206
Transcript
This is a machine-generated transcript. Text is unformatted and may contain errors.
It's a great pleasure for us of the Overseas Press Club to. To invite discussion today of a topic which has made theatrical history in the Western world in the last few days and we have with us Ralph Hall couth the author of the deputy who's play is now being performed in some fifteen theatres and through Europe and under Mr Linn's direction here in New York City. There is no need to give a long introduction to Mr Hope we know that this is his first published work and that it has excited a a dramatic controversy which often has degenerated into physical brawls. In Paris in Switzerland. And happily not here in New York alone we did we did. Have to have the the revulsion of seeing the Nazi uniform appear on our streets and for some hours at the theater in which the play was performed here in New York. Also with us today is Herman Shumlin who is the producer of this play and who over the past twenty to thirty years has produced some of the most controversial works of the New York theater and all of us are familiar with the history of his various productions and Mr Shovelin tells me that certainly. No play that he has ever before produced has created such a reaction as the deputy has and no other player ever received so much publicity no other play ever spawn should so much public discussion and controversy also with us today is month senior US director the director of the Judeo Christian Institute at Seton Hall University. And in North. The recent the recent recipient of the Brotherhood award from congregation I got death came in Taunton Massachusetts. And one who lived the drama of. The persecution of the Jews and some part of the Catholic role in in the resistance against this persecution starting in Vienna in the one nine hundred thirty S. where the guest up O. tried to get him he is a convert from Judaism to Catholicism and and is now a Vatican staff member as a consultant on the congregation for Christian reunion his escape from the gas stopover in Vienna was only one to escape when he was on the Paris radio in the early forty's preaching against racism and anti-Semitism. He again had a narrow escape from the get stop and since then has been here in the United States. We feel that all of us know the the dramatic issues of dramatic freedom and the historical fact which have been aroused by this play and so without any set speeches we invite any questions and that anyone here in this audience will have we limit the questions to members and to the working press. Members and to correspondents please identify yourself. Slightly. And we'll missed a whole could come at this is a question for the New York Post will have Mr Hope with comment on the charges that Cardinal Spellman made about the play is to look at going to Mike. That's very excuse me Mrs Foley is the translator of Mr BOWKER probably for only. Gonna. Bite said sleaze Niemand him on talk to them and stick on Clift. In hot. Doesn't wish to say anything about it on principle because he does not answer anybody who has not read or seen the play. But you want to every question. You've all heard the answer is is there any further clarification or do you want to go to the next question. You want to comment or question. I would I would like to ask the lady who asked the question what specific charge should you have in mind. The lady from The Post says that Cardinal Spellman accused Mr Holcombe of attempting to exculpate to excuse the Germans from the war responsibility and that was what she wanted Mr Hope with the comment upon I don't remember. Mr Sherman and months in us to record say that neither of them remember anything like that in the statement Are there any further questions I can tell you what to expect Cardinal Spellman statement said I can remember almost specifically that. Was the microphone is that. Cardinal Spellman statement can you hear me now. Did say that the play accused Pope Pius the twelfth of the Nazi crimes. That's what it did say not what miss my cousin said. And of course the play does makes no such statement I can speak for Mr Hall but for that I think. You answering aren't asking questions months and months in your own direct ask permission to to make a comment on that. No it isn't. My thing this may be a very strong statement but Mr Hope. Makes the Trog shift charge is the right word in his sight Lloyd's history perhaps never before in history have so many people lost their lives because of the passivity of one single politician no doubt this pretty strong and I think I mean there are other. You know endos in the play. Put a large share under tremendous loss of life. Of Pi as to what. Mr Hall could in its place. You know don't need to discuss to examine to explore. Silent. Of. No you cannot ask me you are not. Me please do come here. Because. You came in late. Discussion. I think I mean this is freedom of speech isn't that I mean this is America is this America or no. I'll be very brief. I was invited here as guests because of this occasion and my letter says it very clearly it also adds that if Mr Harcourt can be here they would like you would like him to be here nothing was said about them being another speaker about this being a debate I was just talking. Before this luncheon before this began I was told for the first time by your president that it had been arranged that Mr Hauck what would speak for ten minutes and I for five and my senior for fifteen I objected to that and said that we had no prepared speeches and that would be quite willing not to speak at all but be here to answer any questions we are here for that purpose. Not to hear a speech by months when you're out of a striker this is the invitation I have right here in front of. Me and I don't think that they charge that this is America and not Russia and not Germany is a tall act under the current under the circumstances. I have my say I don't know what Mr. I'm sorry Mr Shulman and read. Invited first over the phone and then. To appear here with Mr Schumer and as a matter of fact the offices of the club will remember that I said I would not want to appear with Mr Sherman because some time ago he had called for the criminal and not withdrawn the charge but I was then invited to speak I accepted which was quite a burden for me but I think. Mr Hope Mr should have had their hearing and. Man seeing what he has to say in answer to the theme of the play but if they do not one to hear an answer from another man I withdraw because Does saw it lend. Me his answer. I would. The the offices of the club were called in question here we did in organizing this program as we organize programs every week work up to the last minute trying to organize a serene public discussion of a burning issue which concerns all New Yorkers we did ask Mr Lynn to be the guest speaker when we heard of the possibility of having Mr Hope we did urge him to have Mr whole court with him we did not feel that this made it necessary for this to be a closed forum to hear one side of a two sided issue we did invite him months senior us to write also to appear here today at the request of Mr Lynn we changed the format of this program to make it merely a a a a discussion in which the floor would ask questions to any of these three or indeed to anyone else here in this in this audience who can serve as a north already on subject what can switch concerns every lover of dramatic freedom and every lover of his stark truth. If we can proceed on that basis are there any further questions. You are you sir are not a member of the club nor a member of. The questions are limited to the members and to the end of the working press are there any questions from members a working press the question is Is there anything much senior director would like to say about the play obviously there's a lot of Yes to say about it that's been played I would like to say once more and very clearly and I do not mind at all what the result is that we are here. To answer any questions anybody here wishes to ask I think clothing Monsignor Ostreicher I thank you Mr Sherman and I wanted. To have a minute to reply to the question that has been put to him I was invited year to speak. Out my speech for everyone to see to read and do you is so I have spoken you can have this if you will how well there are any other questions. There's a question from. Sacred Shilts one of our veteran correspondents from Berlin. It's being she speaking in German will be translated to us in a moment. When you come to the microphone something like. This one in the magazine Spiegel Mr Hall. Was asked whether he was in the parade that if the pope had spoken. To some of the Jews who were hiding in the longest to raise an integral would be in danger to this minister would reply he was sure or he believed that the S S Would not storm the monasteries because after all. History did not always run amuck. No I wonder what is your feeling about this. Do you still believe that Hitler was not a man who could run amok. Run Amok. In. The seventy's and eighty's. Any time. And closed its Lojban. And Italy no monastery was ever examined by its people drove over to Safaga damaged. But I do not believe that was this the question has been answered in Italian food and fuel tolls and from front to Jordan from the kill shot often kill shot at your own in the void and there kuya for sticked in Italy four thousand to four thousand five hundred people where hidden in buildings of the true monastery etc. Oh sorry. Love with us Monday as for this travel to the Christiane you can hit on a vital spot that is these a few thousand from front of you that you wouldn't break in the. Deal off the departed but. I do not believe that a man who is certainly a representative of Christ has a right to balance the life of those people who are hidden against the life of those who have been deported and cannot come back. Yes Wonderful require one point to question the question. That question you never have dared to speak. Mr Sherman says that that is not true much in your last record ask to be able to reply to that question also. Where I ask some questions here once more Mr. One of. Mr Sherman did do you refuse to permit and months in you're also directed to answer questions at the same time we were asked here to speak I to answer questions while. Mr I'd like to ask any question. He's offered if you want to. Know this is an answer to this particular question. I will limit myself to. The question I would make so as not to arouse the anger of Mr Sherman in any furder were. Not say anything and. Mr answer quite a few comments could be made. Just. A few passages. The first is April nineteenth. If to day. Broke out somewhere in the right. This is all he would take immediate measure. A and the very day of the first report you would right away order the arrest from their homes and execution of all leading man a leading man of opposing movements are those of political cost dollars is the within three days he would have shot all the inmates of concentration can see Likewise within three days he would have under bases of existing list. All criminal elements and you know what that means man and in this is my comment in nasty language that means all opponents are criminal elements whether in prison are at liberty gathered for execution and then shocked there is a similar entry entertainer talked of August nineteenth forty two where he veterans again to crush all opposition there is no. Remark on monasteries and so on it just goes to show that Hitler's. Hatred knew no bounds. Prior. There would be great. Because in his last. Testament. Most of all I quote most of. The leadership of the nation as well as the fellowship. Of observing the race last. If you know what this means I think you can have no doubt. That there would have been no. Would like to comment on this. Toda. I'm sorry what. Happens all the time I'm sorry what Hitler wrote in his testament a few would. Certainly no bearing on. A few years ago. But he would like to say something about very often quoted. To. Not only break quite a lot when he was among his friends I can believe all of you. What actually did he do when the church. To get fuel by speeding in a few clicks Yeah he would like to quote for example from four years of the whole. Business what he tried to say on Channel thirteen the other day but unfortunately time ran out he was almost in the fields he had a passion for. The sum of nine hundred forty one the betrayal of man object to them protested against the killing of the mentally retarded and insane with fully my goodness with a following. That wouldn't. Understand the half that he wasn't in Casa rated for one hour every day for the rest of us to sleep is full of high Hood he was permitted to speak during the remainder of the war he'd likely other instant guys who couldn't be on the screen. When stopped to. Hitler said in the inner circle that they couldn't afford to have any differences there and he stopped. And he stopped the destruction of the mentally retarded the so called use a navy a program you know into food and beautiful to follow from is. Gone so I'm of biggest Then he also would like to explain to you. He also would like to. Know Is this an exert any good that's gone maybe I can shout How is this. I mean. You know. The buffalo. Writes about. This Mr would like to explain to you what happened when one. Was from the V.A. to the South Pole. Is farms on talk not to kill. It was Sunday afternoon so I guess tabloid to fool them that I am Voc and for that I'm causing Vokoun. Live out host a special summons. For you for the ride and the home of the big guy named things he made involved ones eat some cotton Garland. And that's all it was do you wish to see Tom Gardner or do you wish to see the Bishop of Munster because tabloid stuff. It's not and said they wish to see the vicious Dolphin so gun safes all look like design to me top stop in the hunt. Be the info impish efficient all the Najat good on the gun with proof for a moment and then yet again he had put on his gown with the staff and he appeared and for a visual bill again you know that's not to give him it. And if you had to fool skin he said I would go with you but not in your I fell wall. Dimension for men stuff as I meant on the outside quite a number of the people the inhabitants of monster had descended around the bishop the palace guest I would. Not be in this constantly just the most going to the behavior of the good stuff always grew within the policy and never tried to contact me again young and. By speed I'll see me on once and that's why until now from from nine hundred forty kilometers and. Then once you. In place for cool to dust Monday I was just pulling departed and you wouldn't by opening fog. Nunzio embrace the. Rule