The Takeaway
Trump Advisor Roger Stone: 'I Really Have Nothing to Hide' on Russia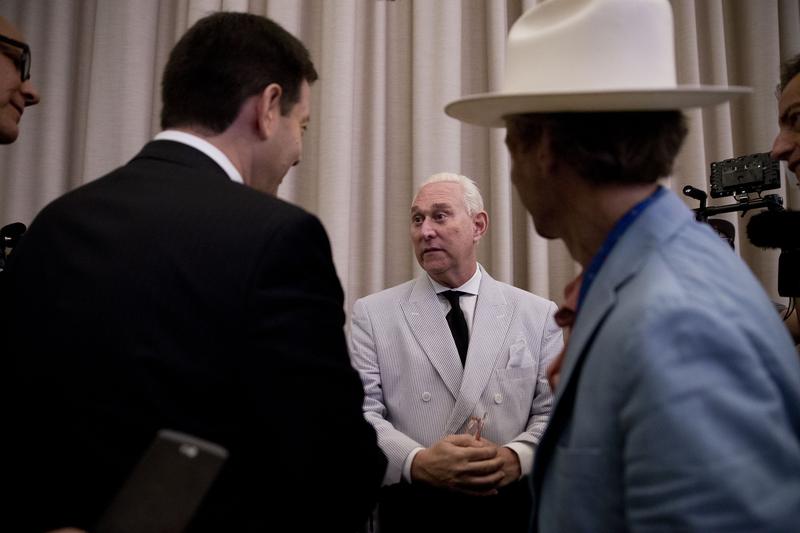 Click on the 'Listen' button above to hear this interview. 
President Donald Trump's son-in-law and adviser Jared Kushner agreed to testify yesterday before the Senate Intelligence Committee over his undisclosed meetings with the head of Russia's state-owned development bank. Others associated with the Trump campaign are also seeking to clarify whatever contact, if any, they had with Russian officials.
On Friday, Roger Stone, the self-described dirty trickster of the Trump campaign, sent a letter to the House Intelligence Committee offering to testify on any ties between himself, the Trump campaign, and Russian state operatives.
The Trump Administration is now saying that Stone played a minimal role inside the campaign.
"Mr. Stone is someone the president has known for a long time," White House Press Secretary Sean Spicer said last week. "He worked briefly on the campaign until August 2015 from recollection. But they have talked from time to time, but not recently." 
In conversation with The Takeaway, Stone says that he's still in touch with Trump, though not necessarily over the phone, and he wouldn't disclose the content of any communications with the president.
But that communication only matters if Stone indeed has something to hide about any ties to Russian operatives during the campaign. The most damning evidence presented by Democrats implicating Stone is his mid-August communication with the hacker known as Guccifer 2.0, who is allegedly behind the hack of the DNC. But Stone claims all communication happened after the hack took place, and that the Russia hearings are nothing more than a well-orchestrated smear campaign.
Click on the 'Listen' button above to hear the full conversation with Roger Stone.