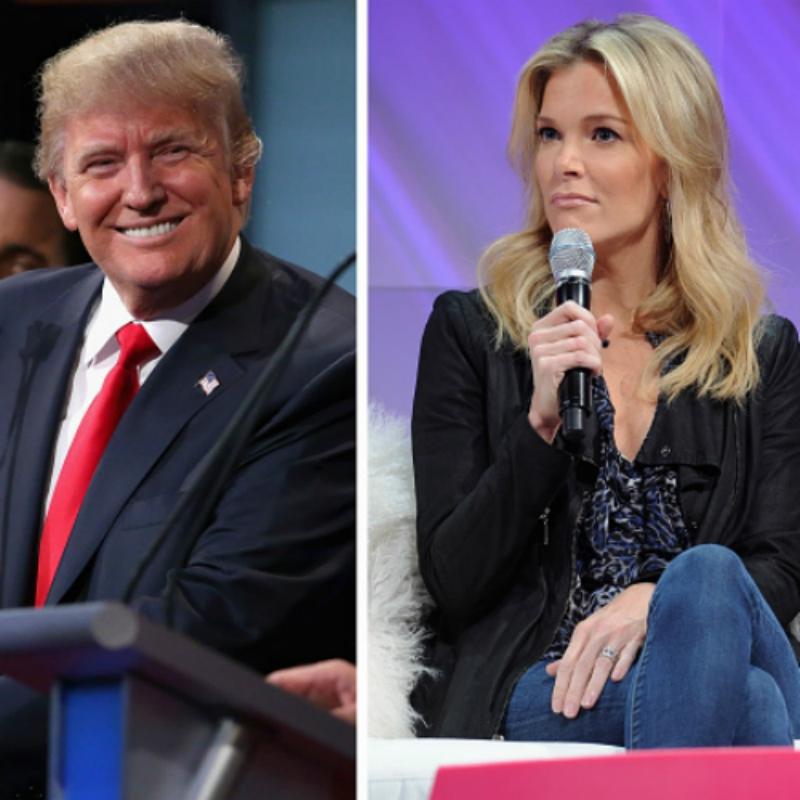 Summary
The first Republican primary debate of the 2016 election cycle was the most-watched broadcast in the history of the Fox News Channel. Network president Roger Ailes was thrilled...until he realized he had a PR crisis on his hands. Current GOP front-runner Donald Trump was so infuriated by Fox's tough questions - in particular Megyn Kelly's sharp criticism of his history of misogynistic diatribes - that he spent the weekend following the debate trashing Kelly and the network. As New York Magazine's Gabriel Sherman tells Bob, Ailes had two options: stick up for his star anchor, or keep Trump happy and preserve his ratings bonanza. Guess which one he chose?
Transcript
************ THIS IS A RUSH, UNEDITED TRANSCRIPT **********
BROOKE: From WNYC in New York, this is On the Media. I'm Brooke Gladstone.
BOB: And I'm Bob Garfield. The vulgar spectacle of Donald Trump's presidential run has yielded at least two benefits. The first is the refreshing sight of a candidate so rich he needn't prostrate himself before the checkbooks, and agendas, of Sheldon Adelson and the Koch brothers. The second benefit has accrued specifically to one institution: Fox News Channel.
MEGYN KELLY: It is 9pm, and the moment of truth has arrived.
BOB: With twenty-four million viewers, last week's Republican primary debate was the most-watched program in Fox history. Not only does Trump have a sort of demolition-derby appeal -- you know there will be wreckage -- his brand of bellicose bigotry happens to overlap with Fox's overwhelming aging, angry, white audience.
But Trump is a double-edged swordsman. Just one night after the debate, during which Fox's moderators peppered him with tough questions, Trump called in to CNN Tonight and complained to host Don Lemon:
TRUMP: I'm here in front of all these people, I'm doing Fox a favor by doing this show, and what am I doing? And then they, you know, come out with these vicious questions.
TRUMP: I'm very disappointed in Fox News I think they probably had an agenda. ..But certainly I don't have a lot of respect for Megyn Kelly.
TRUMP: You know you could see there was blood coming out of her eyes, blood coming out of her wherever.
BOB: By leaning in on Trump, debate moderator Kelly turned Trump's blade against Fox...and according to New York Magazine national affairs editor Gabriel Sherman, Fox News chief Roger Ailes faced a grave choice.
SHERMAN: They were desperately trying to sort of make a political calculation of whether they staunchly back their star anchor, or appeal to the angry audience that Trump seems to be building a political coalition out of.that just happens to dovetail with Fox viewers. And we saw in the end the value of the audience exceeded the value of protecting and defending Megyn Kelly.
BOB: They did try to head off the possibility of some kind of anti Fox sentiment in the arena with the first question that Bret Baier asked all of the candidates,
BAIER Is there anyone on stage, and can I see hands, who is unwilling tonight to pledge your support to the eventual nominee of the Republican party and pledge to not run an independent campaign against that person? Again, we're looking for you to raise your hand now, if you won't make that pledge tonight.
Mr. Trump?
SHERMAN: The moment Trump's hand shot up, the entire audience started booing him and these are Republican faithful, the people who turn out to watch primary debates live, and this was treason to them. The arena was electric, but the strategy backfired because inside the Trump campaign that first question was viewed as a political hit, calculated to turn the party against him, and that is what fueled his anti Fox news crusade over the past week. it wasn't just Kelly's comments about women, it was that first question as well. and so Roger Ailes may have scored a kind of a tactical victory in the debate by getting the moderators to ask that question, but the strategic failure is that it turned Trump against Fox.
BOB: So what did Ailes have to do to appease the Donald and the extremists in his own audience?
SHERMAN: Well the process took days. I mean, Ailes was reluctant to get on the phone with Trump. There was a fear that Trump was so unpredictable that he might leak the conversation or somehow damage fox news by publicizing it in some way.
BOB: And it wasn't a baseless concern because Trump had revealed the private cell phone number of Lindsey Graham at a campaign event.
SHERMAN: Yes so it was left to others, Shawn Hannity had a conversation with Donald Trump over that weekend, in which Trump declared that he was gonna boycott Fox, and on Monday Ailes decided to pick up the phone and call trump. And he offered Trump a one hour special with megyn Kelly to clear the air, but Trump threw that offer out the window, and so Ailes frantically offered Fox and Friends, a venue that has been especially friendly to Trump's campaign, and hannity as well. Trump in the end agreed after exacting confessions from Ailes in which he guaranteed him Fox would cover him quote "fairly", now the best part of this exchange is that Roger Ailes then called Trump several other times this morning and asked him to tweet out to his millions of followers that all was okay between his campaign and the network. That shows you the desperation Ailes felt to smooth things over with Trumps audience.
BOB: This raises the question of what constituted the supposed unfairness, what Megyn Kelly did was ask Trump to account for his nakedly misogynist statements
KELLY: You've called women you don't like "fat pigs", "dogs", "slobs", and "disgusting animals". You once told a contestant on Celebrity Apprentice it would be a pretty picture to see her on her knees. Does that sound to you like the temperament of a man we should elect as president, and how will you answer the charge from Hillary clinton, who is likely to be the Democratic nominee, that you are part of the war on women?
TRUMP: Honestly Megyn if you don't like it I'm sorry. I've been very nice to you although I could probably maybe not be based on the way you have treated me, but I wouldn't do that.
BOB: It's perfectly reasonable journalistic pth to explore, but...
SHERMAN: Fairness is in the eye ofthe beholder, and as anyone who watches Fox news knows, the network is built on being the voice of a segment of the population that feels the culture is out to get them. And the fact that Megyn Kelly seemed to be siding with that other side of the culture was too much for the audience to bear.
BOB: What if Donald trump does make good his threat to run as a third party? Fox news's become the institution it is by being the defacto house organ of the right wing and the republican party. Does this mean he will throw the republicans under the bus in order to focus on a Trump third party run for the president?
SHERMAN: Well I think that would be the biggest test that Roger Ailes will face as a chairman and CEO of the network. It would force him to choose between his angry, loyal audience, and a broader Republican electorate, that will be turned off by a Trump candidacy. Now, my gut tells me that there is no way he would abandon the Republican party to back a Trump third party urn. Roger Ailes is a creature of the Republican party, he's been involved in Republican politics since 1968, but I think it's going to be a test because his audience is much further to the right than Jeb Bush or any of the other candidates that eventually will win the nomination.
BOB: ANd you just said "will win the nomination"... My questions assumed precisely the same thing. But maybe we're missing something that Roger Ailes may himself know. as someone who has written a book about Ailes and who has like everyone else been in full Trump immersion for the last number of weeks. Do you think the outcome here could be unexpected?
SHERMAN: I am loathe to make any predictions when it comes to Donald Trump, I think thats what makes him both so powerful and so unpredictable. I sort of make this comparison to Sarah Palin. You know Sarah Palin was a kind of right wing phenomenon. and yet sarah Palin's star faded because at the end of the day she was dependent upon larger, more powerful interests to keep her relevant. Donald Trump is not dependent on anyone, he can get on his jet, fly around the country, give speeches. If we learned anything this last week, Fox News is more dependent on Donald Trump at this point than Donald Trump needs Fox News.
BOB: Hm. Gabriel, thanks so much.
SHERMAN: Godo to be with you.
BOB: Gabriel Sherman is national affairs editor at New York magazine. And also the author of "The Loudest Voice in the Room: How the Brilliant Bombastic Roger Ailes built Fox News and Divided a Country."
TRUMP: You know talking about a lot of leverage, we want to win, and we will win!