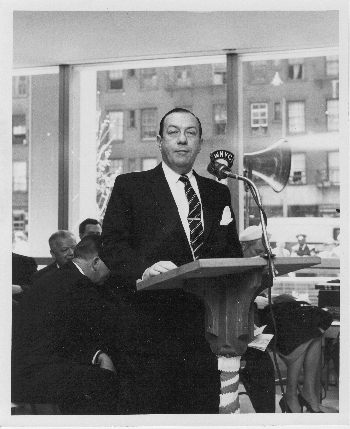 Summary
This episode is from the WNYC archives. It may contain language which is no longer politically or socially appropriate.
From card catalog: Mayor Robert Wagner speaks about the Democratic primaries that occurred the previous day. He makes a political talk against bossism and about the "new" Democratic party. Question and answer.
On the 300th birthday of New York, 25th anniversary of OPC. Wagner: A new feeling about politics. Younger people out voting, doing their part for the Democratic party. Importance of voting on primary day. Brief mention of newspaper strike.
Question and answer: Setback in Brooklyn? His plans for the future (Mayor, Senator?)? Other politicians' support for Mr. Buckley? Republican primary results in California? Lenny Fobstein (?)? Safety in NYC Subways? Can Mr. Buckley be ousted from Democratic leadership in the Bronx?
Audio courtesy of the NYC Municipal Archives WNYC Collection
WNYC archives id: 70483
Municipal archives id: T591
Transcript
This is a machine-generated transcript. Text is unformatted and may contain errors.
It's a very great privilege for all of us here at the Overseas Press Club to have Mayor Wagner here with us today. It's the three hundredth anniversary of New York and. One of many reasons why we're delighted to have the mayor here. It also happens to be a coinciding anniversary it's our twenty fifth anniversary and it's the mayor's tenth anniversary as as mayor of the world's greatest city. We feel here at the Overseas Press Club that the efforts we make for ourselves and giving ourselves a good home for all the foreign correspondents of the United States is also a a service in a way to New York City the communications capital or in providing for the foreign correspondent a great press club we also simultaneously are giving New York its first great great Press Club and during the course of the past year the mayor and his staff have given us many signs of. Appreciation and the help and what we're doing it's a great pleasure to thank the mayor personally for the proclamation which he gave us several weeks ago up several weeks ago. The Clarion Overseas Press Club week on the occasion of our twenty fifth anniversary. We are well aware of the of the busy demands made on every moment of the mayor's time and it is always a real joy for us to to have him spend some of that time for us with up rather ado I present marijuana. Thank you very much that and ladies and gentlemen I. First of all I laughed out of Jais for being late sometimes and. So many things on the schedule and I get behind time and. Had some. Press and T.V. and radio are interested on topics that took place yesterday. My day and then I also had some constituents who vote and I had seen them too and I got here just as rapidly as possible we got tied up in the traffic and. I didn't know whether I was going to make it in that for you know the anniversary of the three hundred the president of Israel but we did get here but first of all I have a very pleasant. Past of to perform for an old friend of mine has been on on the important occasions that is at City Hall our Islam and has the beautiful and wonderful pictures here that he has taken and I have great honor and declaring the exhibit opened my eyes and want to congratulate. You for. This said Barrett I thought that by five a. More interesting part of these programs are the question and answer period and I believe that the time is late that make my remarks very very brave I asked him what I might comment on briefly and rather than the three hundred anniversary of the city on the twenty fifth anniversary of the Overseas Press Club my tenth year eleven P.M. now as mayor that. A little bit of what took place in the city last yesterday afternoon and evening. And I said by and large I was. Delighted we had some disappointments but that always sell in some areas of the city and I believe the. Results showed once again that there is a new feeling about politics I talked to some of the people who had. Voted it up and the two congressional areas in the Bronx they said they were amazed to find so many younger people coming out to vote which was a sign that they were out to play their part to see that the Democratic party internally was. Expressing my feelings about the need for making the party much more democratic to reflect the hopes and the aspirations of the rank and file and I think that did take place in the two congressional districts I had helped. Post Buckley and Jim Haley are friends of mine personally feeling one way or the other there and. Personal regard for them but it was too bad that they decided to run again and I think the younger people. Came out and played an important role in that change I also feel that people now resent some of the tactics that we used years ago and that we used in the Buckley Begum campaign to play to race prejudice and the other night I spoke up and I thought the real one was that they had a path for distributed that said. The Daily Worker opposes Congressman Buckley and they forgot to say a number of the other papers the tyrants to the N.F.L. And then these were distributed in front of the Catholic churches there apparently I think people now just resent that I've had it used against me in the campaign and sixty one and I think it's a good sign when people who use those tactics are not elected and find that it doesn't work you and I city and I sincerely hope that the would work anywhere in the United States and I think that is a reflection on the good judgment of the people of our city and I think too that by and large it was a victory for. Those people who feel that the party must move ahead much more dynamically much says much less reflect the hopes and the aspirations of the people in a more concrete way and some people have been kind enough to say that. Because I said some words about some of the candidates at least they weren't hurt that they were assisted and some small way. I think it does show too that the Democratic Party the Republican Party had some contests too I read and. There was a good deal of interest good deal of the voting in one thing I've strongly felt that sell important for all of us who are interested in government and interested in the party and say as to come out and vote on primary day and I know in my experience in one thousand nine hundred sixty one we just had to hope that we can arouse enough interest to get. A good percentage to come out because we know that the more we can get out the greater opportunities we had to win and I think that showed itself yesterday in the areas where they were lodged the more independent and more progressive than the younger candidates prevailed and I I'm sure we'll have some questions on other aspects of this situation but I do want to say that I appreciate the fact that we have the Overseas Press Club here in this lovely building I said Neva forward to seeing it become an even more important part in our life not only for the press T.V. and radio but a center for ideas and communications between those of us in public life and those of us of the mass media I still believe in the mass media very much and. I as I said I see some advice friends like now and the others here. I stayed up long nights on the newspaper strike a little over a year ago after the strike was over I said I wondered why I work so hide to have it settled. Because a lot of people are reading the Philadelphia paper in the Boston paper and they were realizing when they read those papers that maybe the government in the city wasn't quite as bad as they thought and they had. And it is a great institution and I'm delighted to be here as I said I think the most. Interesting part is to have made try to answer the questions that you may have for me and I began I know way back thank you Mr Mayor thanks for those kind words too about the obesity you see. For the sake of the radio broadcasts this all of this will be broadcast is being broadcast we will what the questions repeated will start as usual with priority to the press day but other any questions from the president will how I account for the setback in Brooklyn and the fact that we had a good average at the places where I suppose no one can always battle thousands and I would say. A number of reasons one is the pact that the. Leaders who are. Subjugated with are associated with Stanley Stein that there have roughly about sixty percent of the. Of the Democratic and role. I was associated with sampling and trade forty percent I would say that the candidates were not able to excite. Enough of the rank and file people to come out and we just didn't get enough out there that there's no excuse for it except that they're still keep on trying. And we're gratified in the other. Of the other questions. I think I've stated position and I hope clearly I'm glad do it again that. I have a very high regard for the position of the United States senator and I actually because of the position itself that my father was after some twenty three years I would say that the number of years ago I was much more interested in it than at this time I am not now and I stated my position clearly well ahead of time so that nobody can fail that tempting the call right. I am not a candidate I am not a candidate for it under any circumstances I say with all due respect to the position that I feel the mayor and city and the office is more important than the junior senator. And that. Things being equal I hope to be able to run for a fourth term as mayor I think a lot of things have to be done here in the city still to be done a lot of progress to be made some of the commitments that I've made to be fulfilled and I've said very frankly that I think there are very few members of the Democratic Party who would not. Highly honored to be asked by the president of the United States who after all and will make the choice to be a candidate to run for vice president I'm not a candidate I've never been top to the president about it already and people associated with him I have discouraged any of my friends who've been kind enough to say they want to do anything because I feel that this must be left entirely to the president who will then make his recommendation to the convention and I assume the conventional self out of that recommend. There's a question here from a broken call city editor of the time. From them I. Wondered if you would care to comment on the fact that since you feel that the issue in the Bronx was so clear cut to the racial charges and so on that what do you think of the fact that two of the most important leaders of the Democratic Party present at the United States need twenty general support Mr Buckley. Well I would say that certainly before the president. Issued his letter the campaign had not gotten underway so a lot of these issues weren't involved I would say that just this isn't really my own judgment that it is that the president has. Sent letters to members of Congress who are up for election who have supported his program and having them of their good work and his gratitude for their support and and. I. Would say that that was done and quite a number of cases throughout the country and Mr Buckley is chairman of a very influential important committee a committee has been helpful I'm sure to the president and and. Over the past months and legislation that he has sought So as Mr Buckley I would say that as far as Bob. Canada has concerned I think that's a personal relationship people. A price of friendship with them Mr Buckley and I'm sure I would and I Shall we all would understand that I a feeling of gratitude for the support that Mr early support that the most probably gave Jack Kennedy in his seeking the Democratic nomination. Charlot or the Cup What took him a John. To merit like to ask if you could be persuaded to comment on the Republican primary results in California. Well I was glad to comment on it. Diane I'm not in the councils of the Republican Party I can I hope really. But I don't know what the results are as yet I don't think the governor is conceded as yet to govern Iraq and. The last I heard was that. Thirty seven thousand of our water was ahead with the thousand precincts we heard from. I think it surprised a good many people because the general feeling was up to a short while ago few days ago that said that in Iraq I would win rather handily and apparently Senator go on to made a last minute surge and I think my only comment would be that I know they had a poll a recently in a child that forty percent of the enrolled Republicans would vote for Lyndon Johnson and I think they've gone through an exercise of frustration. With prostate high. Now and Lenny fired Steen good while he and I said in the state legislature I. Believe that. I know from the record that he has the best in my opinion the best voting record of any. Congressman in the entire city of New Yawk I felt that as I said that they tried to attempt to tie him up with the sappy L which he is divorced from South completely from that some time ago and I think a person like this who has that good voting record I'm not just talking about. Occasionally coming down on some of the major legislation which is a criticism leveled at kind of Buckley but on. A very good attendance record and as I said CONSIDERED from my point of view as a liberal Democrat the best voting record of any congressman in this entire city of the UK and I felt that was the type that should be there and that maybe there's some others who could be removed and to be much more helpful than. Ready for the questions. That we have and I didn't wait until the question is safety on the subways. Well a number of steps had been taken and now we're Excel writing them we did at the request of the transit authority some time ago. Have with the city administrators officer surveyed made on the conditions there we had sheep Birmingham and we just retired as one of the top men of our police department so very well over the years to make that survey and he came up with a recommendation of an increase in the force of the Transit Authority police of some two hundred and also a better communication system to be worked out so that. The Transit Police through walkie talkies could be in communication with. The main offices that the each train would be provided with communication to certain points so they could transmit information immediately of any difficulty and be able to meet them at the next station I want to say the people don't realize that within every six hundred feet in our transit system there is a telephone call on the way so that the modem men can stop and and call as they often do on any emergencies or. The other employee on the on the train. And watches the doors he can do that too so there has been communication it hasn't been as good as it should be. Authorized transit authority to go through with this on March under the normal procedure for training transit police. Just as in the police department to a take some time to have examinations they must be. Take physical exams as well as metal examinations they then have to be checked as to their background and record and processed and trained I just can't say we need two thousand more police and we're going to put them on tomorrow this is impossible to do what we did yesterday was work out with a personnel department transit authority to expedite the. Physical exams and they've already taken the tests expedite the. Check on them and also use them as part of their training beginning July first to ride with the more experienced officers in the transit authority we also at the Transit Authority agree that they would the bill comes back to the city but. They would put all of that present for us on over to. Time which means an additional two hundred men a day in the subways and expedite also the new communication system and just as well as the po