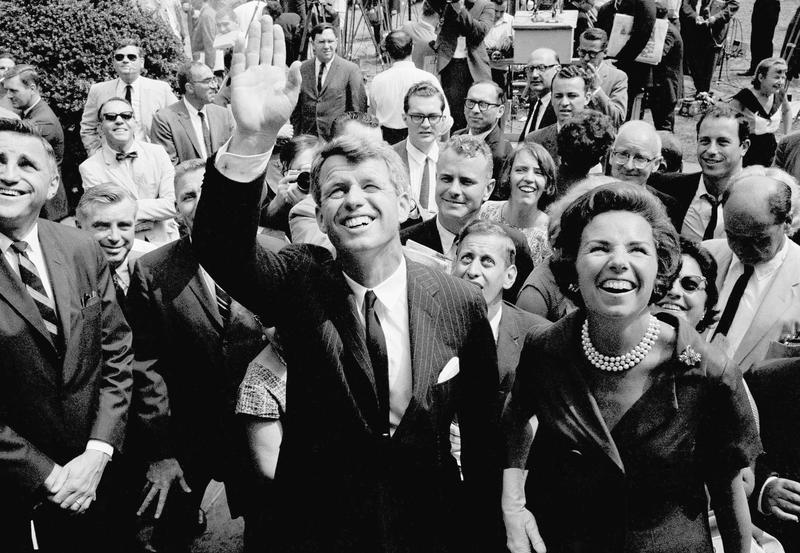 Summary
This episode is from the WNYC archives. It may contain language which is no longer politically or socially appropriate.
From card catalog: Robert F. Kennedy announces that he will accept the Democratic nomination to run for US Senator from New York. He talks about the candidacy and why he wants to run.

Appeals to New Yorkers to vote for him even though he left the state to be a cabinet member.

Question and answer. Mayor Wagner and Mrs. Kennedy speak briefly about the campaign.
Audio courtesy of the NYC Municipal Archives WNYC Collection
WNYC archives id: 70412
Municipal archives id: T574
Transcript
This is a machine-generated transcript. Text is unformatted and may contain errors.
It was hard because it looks to me. Like. Like. A wag not a. Search for enduring peace and for enduring prosperity begun by President Kennedy and continued by President Johnson as successfully taken our country through many new frontiers in these years we have made steady advances in human rights and economic growth and in leadership of the world toward peace over the past few weeks many members of the Democratic and the liberal parties here in the state of New York have talked to me about being a candidate for the United States Senate. I deeply appreciate their encouragement and their support and particularly that of a wag. I have decided to make myself available for the nomination of the Democratic State Convention I have made that decision because I think our country faces a fundamental political choice. Our traditional aspirations for peace and for prosperity for justice and for decency are being called into question. All that President Kennedy stood for all that President Johnson is trying to accomplish all the progress that has been made is threatened by a new and dangerous Republican assault no one associated with President Kennedy and with President Johnson No one committed to participating in public life can sit on the sidelines with so much at stake. And this struggle New York has a special role to play. A role which transcends the question of electoral votes for the presidency but New York is the supreme testing ground for the most acute national problems of our time the problems of racial harmony of employment of youth of education and the quality of urban and suburban life as attorney general of the United States I have been deeply concerned continuously with all of these problems as a member of the cabinet and of the National Security Council I have also been concerned with all of the questions dealing with peace and security which have concerned our country it is my familiarity with these matters and my strong convictions regarding them matters which are of the utmost concern to every New Yorker that leads me to believe that I can effectively represent the people of New York in the United States Senate I recognize that some voters have misgivings about considering a man for high office who has left the state and its only recently returned I understand this but it is appropriate to point out that my candidacy would fulfill the requirements for membership in the United States Senate which were set for solemn consideration by the men who drafted the Constitution of the state of New York as well as those who drafted the Constitution of the United States there may be some who believe that where a candidate voted in the past is more important than his capacity to service the state. I cannot in fairness expect those people to vote for me even though my mother and father have had a home here in the state since one thousand nine hundred six and I attended New York schools for six years before my father was appointed as ambassador to Great Britain and that I have once again establish residency here in New York but I do not base my candidacy on these connections I base it on the belief that New York is not separate from the nation in the year one thousand nine hundred sixty four I base it on the conviction that MA experience and my Reckitt he quit me to understand New York's problems and to do something about them I base it on the fact that the greatest state of the Union must play a leading role in the federal level in solving these problems and I wish to play a part in that effort New York is not now playing its full role and the reason is plain for too long political control of the state and its voice in Washington have been Republican and in the minority who York has not had a voice in the counsels of the Senate majority since the retirement of herbut Lehman when Sen Lehman when Senator Wagner spoke in the Congress the whole nation listen election of a Democrat in the Senate of the United States is an essential step in regaining for New York the influence that it must have in the nation Also I agree with me away in a statement last week that all of us working together to bring you vitality and dedication to the Democratic Party can be extremely important for all of the people of this state and I will give the full measure of my energies to that task. So if nominated by the Democratic State Convention I shall resign from the cabinet to campaign for election I should devote all of my effort and all whatever talents that I possess to the state of New York this I pledge that. I'm not going to copy my brother even though he was successful. None. Was. Not a bed no not a bit what you want. And not a bed and I've been in Washington now for the last three and a half years I was campaign director for President Kennedy I worked closely with Mayor Wagner over this period of time in matters involving the state of New York I have the highest regard and respect for him and I don't know of any matter in which we were in disagreement. Even you think that I would read. That. And that's correct Mr little you know what are you going to give us a record and I'm going to run what I can do for the people of the state of New York. In the areas that which I describe I have strong feelings that the role that the United States Senate United States government and the people of the United States should play in the field of foreign policy I've had the experience of looking down the gun barrel of nuclear war I'm concerned about what happens to our children as the people of New York are concerned Mr Crewe Sheff said that there was a nuclear exchange. That the living will envy the dead and that is my judgment also so I'm going to work on behalf of New York a piece of this country I'm going to also work on behalf of New York for the major problems that are facing the citizens of this day field of civil rights various groups working together the problems of youth the problems of the point the problems of education. And. By going to run and in a positive way let a candidate you know if you are late. When you are New York and you. Know I have that the two years I'm going out let me say this land called Let me say this that I'm bad whether I'm successful in getting the nomination or not I'm moving to New York and I'm going to stay in New York Mr Grant you know when you're ready you know. You would be. I think you have probably have to ask them I think that. I don't think that was resentment you know I don't think so I they have a they're I think the way bad be going to make the mail on the vice presidential nomination possible when you get back with Lennox Well I'd be very interested in seeing him as vice president with a full support during work then you would do what whatever is felt appropriate I am not going to be on the I'm not a delegate and so I don't know what I'm I'm glad to see him as vice president and. Shay this I've never discussed with the attorney general I don't plan the sky. I think it's going to be very difficult I think that I have a. Obvious problem of. Coming in from another state even though there are the connections that I've described in my statement with the state of New York I think it's going to be a very difficult campaign I'm going to campaign here in the city of New York but I'm going to campaign all over the state I think it's going to be very tough to when. You're on the run and I haven't really done any I've had people that were interested in my candidacy let me say as far as Congressman Stratton is concerned I have the highest regard for him I worked with him in the campaign one thousand nine hundred eighty I was very anxious that he went in one thousand nine hundred sixty two and I think he's an outstanding campaigner. Well I think that the. I think that Congressman Stratton would be well qualified to represent the state of New York I think that whether I am better qualified is up to the delegates when they meet next week. Again I would say that I've had some experience both at the International and the national level as well as working for them in the problems of New York here in the city of New York as well as upstate for instance in Syracuse where I think I know what the problems are and I have a dedication to attempting to do something about it you know you're going to. Have no plans to. Do it. But I'm studying them talking about them working on them I think there are problems that exist now in the state of New York that I hope that we'll be able to not perhaps solve but at least make some progress on and I will develop my views on those matters that during the course of the campaign. Were. No I don't think so I'm committed to the state of New York I'm going to work for the state in New York let me say I think a lot of the problems and quite frank about a lot of the problems that are facing the people in New York same problems that are facing the people of Massachusetts I think what happens in Cuba what happens in Vietnam what happens which way the youth of the world go FEX the people of Massachusetts is to the people of New York I think whether race is in get along with one another whether we're going to do something about education whether we're going to be able to answer the problems of automation what we're going to do with Fars employment is concerned they face the problem people of New York they face the problem people of Massachusetts and many of our problems are identical their state of Albany's is closer to places in Massachusetts and it is close to the places here in the state of New York I think that with. Tremendous advances that have been made on communication the tremendous advances that have been made in the field of transportation that we're much closer together now and we were one hundred eighty five years ago and. Yes a whale and I'm going to dedicate my future to the state of New York when I arrive here whether I'm nominated are not mistaken whether I'm elected on a district. Against. Buying a majority. Well I don't know if it's the biggest hurdle I think that it's a problem and I think it's a matter that needs to be discussed and should be discussed I'd also like to point out if you look back at this is not something new for the state of New York if you look back to the first senator who came from the state of New York he was from Massachusetts Rufus King So there is a precedent for I would encourage others but you. Know I think that the. People. Representative of political party of the state should just make a determination or decision as to what would be best for that's date me. Well I think that the it's going to be made by the delegates on next week as to to decide I mean I just like to say that I took myself out of this consideration back in June there was ample opportunity for anybody to come in come and. Have the support of the Democratic Party here in the state of New York I took myself out and they had anybody else who could achieve the support of Mayor Wagner and the other delegates that was. Let me could I just finish that so that any they could make that choice there was ample opportunity now it's these men are coming to meet in convention they can select any candidate they want it's not as if the Senate of the United States got a great deal of patronage of that I can make a lot of promises to people here in the state state of New York or to the Democratic delegates and they're open and free and they can decide themselves what they want to do now if they decide for me I'm going to campaign for the office if they decide somebody else I'm going to live in New York dedicate my future in the state of New York and working in public service that's what I want to do no matter where I live. I think he's going to be very difficult to beat I think that. I think there are I think he'd be very difficult to beat and I think that require all my energy and all my effort and those who believe in the Democratic Party and believe in the importance of this election and I believe that this far for the state of New York to have this kind of a voice at the federal level so that the state can be heard and civil so that it can make a real difference I think that I need all their help and support over the period the next two months otherwise I won't win here in this state you are relying. More on the. Well I would hope that day I would hope that all elements within the Democratic Party that the and and for me to win in November I need the support and help of all elements within the Democratic Party just are going to be going to have to. Get enough contributions that depend on those in the neighborhood just. As. We had discussed it in general terms a. As far as the his feelings regarding my candidacy I think you'd have to paint that information from him so he would come out again and I'd tell you. Yes he did. Not. Respond. That's right. Yes Right like. Well the. First place as I said I'm only going to remain in the Cabinet through November through the election period and then will give an opportunity that's correct my residency in my future will be here in the state of New York. Not saying that I have some time in the future I might also go to work in Washington again. As we go the way we do about what are your primary motive I mean you're right no I'm right. But I don't think I said obviously I can say that all I'm interested in serving is the state and now that is true and I think you have to look at what the record is what I've done over the period last eleven twelve thirteen years as the you know why I say that this is what I'm going to do I'm going to work on behalf of the day New York I have some pride if I get elected I want to do a good job and I'm sent def I'm sent to Washington I'm sent on behalf of the people of the state of New York if I don't serve them if I don't feel my responsibility as I don't. Do what is that I should do and then I think about I think I'll as the United States Senate so I have no political future. I am not just I want to just be a senator from the state of New York City with your official residence be. In Glen Cove Yes Monday but we're going to there I understand there are going to have to fit in by any chance you get. Your eye on any other like you. Know I guess I'm going that way if I do not receive the nomination I will finish up in the Cabinet through the election or through January and then I will make a decision what I'm going to do in any case I'm going to. I'm going to work for and do some work in public service I don't know but it will be we're going to do. Well I think the New York Times has anybody here they can report that we're standing side by side. With. Them that we're going to complain. How do you feel about. That but I would support whatever their position is of the New York delegation on that matter what you're going to yes. I did not now I have. I did