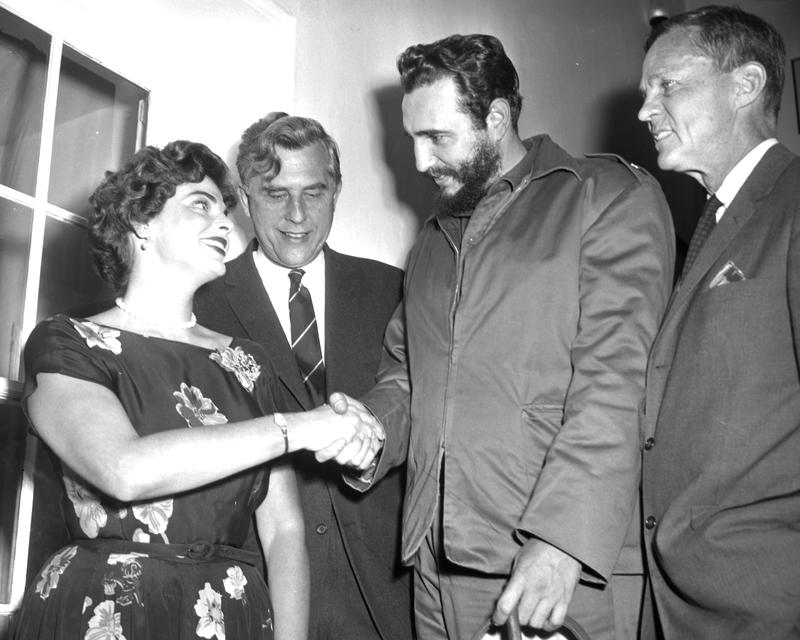 Summary
This episode is from the WNYC archives. It may contain language which is no longer politically or socially appropriate.
Meyner, Governor of New Jersey, answers questions.

Marvin Sleeper moderates.

Panelists: Ken Simmoninger, Jim Farrell, Bob Fisher, Bob Feinberg

Questions:

The top Democratic candidate for President currently seems to be Adlai Stevenson. Indictments in Bergen County. Local governments' refusal to enforce certain statutes. State government can't go around and make sure all county governments are enforcing laws properly. Inherited prosecutors.

Regulation of work on piers. Longshoreman is an honorable man; he'd like to get as much of the money back as he deserves for working on the pier.

Suggestions for public transportation in the Jersey Meadows.

Avoidance of sales and income taxes. Highway income. Adoption of Federal program to receive Federal Aid.

State funding for education has doubled.

Business of seeking peace in the world is the responsibility of all people, not just the President.

New Jersey doesn't fare well on Federal aid programs. Poultry farmers had a bad year last year. The markets come back on their own, and they're doing better now. A grain support program doesn't help New Jersey.
Audio courtesy of the NYC Municipal Archives WNYC Collection
WNYC archives id: 72293
Municipal archives id: LT7083
Transcript
This is a machine-generated transcript. Text is unformatted and may contain errors.
Governor minor can the Democrats win in one thousand nine hundred sixty four if your crime prevention program progressed into taking off or has the Boston waterfront commission been achieving its toughest change inaugurated or your candidate for the vice presidency or the answers to these and other questions listen now to the campus press conference in which college editors interviewed prominent personalities in the news here by transcription do introduce the members of the panel and their guest is your moderator Marvin sleeper award winning reporter for The New York drown a lot Merican Good evening welcome to another edition of campus press conference tonight our guest is from across the river the governor of New Jersey the Honorable Robert B. minor that's a well known name today not only in his home state but here in New York and as a matter of fact throughout the nation and yet until he was elected governor he was practically a political unknown despite the fact that his political activity started when he was twenty at that green age he was campaigning for Ralph meddlers presidential bid twelve years later Bob miner age thirty two was running for office himself and almost made it he was defeated by fifty votes in the race for state Senate following service in World War two as a naval officer he returned to the political wars Jay Parnell Thomas beat him out for a seat in Congress but then in one nine hundred forty seven Mr Minor ran for state senator and made it but no reelection but he lost out by sixty one votes. And one hundred fifty three New Jersey's Democratic organization cannot find a willing candidate for grand of governor to be led to the slaughter following President Eisenhower's sweeping victory they finally settle on Bob minor and are terrific upset he beat Republican Paltrow is by one hundred fifty four thousand votes for the first time in ten years the state had a Democrat as governor so let's find out how he's been faring over there and is with complete Republican controlled legislature here to ask the questions our campers press conference reporters can summon Dinger of the Columbia Graduate School of Journalism Jim Fowler the Fordham RAM Bob Bob Fletcher of the Rutgers Targum and Bob Feinberg of the Hunter College Al How about the first question from you Bob for governor minor league here is also presidential election year I'll be going to find a Democrat in the White House come one hundred fifty seven. I think we can elect a Democratic governor so that I mean a Democrat. Democratic president of course I think it will depend upon the candidate it will depend upon economic conditions at the time it will depend upon how the issues are presented to the people but he think the Democrats will put up well all I can say is the leading contender at the present moment appears to be at least even some with the keep off or strike and numerous other candidates are following in the various orders depending upon which pollster you observe who's been up. To which column would you find a New York New Jersey delegation income potential time. I'm headed to I've talked with some of our political leaders and our attitude is that we should make a commitment prior to the time our delegates are elected our delegates are elected in the April primary by direct vote of the people and after conferring with them. We should try to ascertain who they're for and go to the convention with an open mind or. Decide on who they want just prior to the convention. Personally Who is your choice Governor I want I think as later of a party in New Jersey as leader of the party of that I should try to let public opinion gel I've said that I was very favorable to Stevens in one thousand nine hundred two and always held him in high regard I've also got along very well with the senator key fall for he came in the state and he was the only person who came in the state during my campaign largely because he had exposed like a law enforcement in certain areas and he came back to point out that the Republican Party hadn't made those corrections so that we have problems here. Just like we have over here in New York at the moment do you think the question of whether or not President President I did not run for reelection will have any effect on the democratic choice. I don't think too much according to the present standing of the contenders. Governor minor you referred to a lack of law enforcement and certain counties in New Jersey during the Republican administration in your inaugural address you promised to say that this program was pushed forward could you tell us how far ahead it is gone since that time I think we've made some real progress in line with the campaign promises and the statement I made in the inaugural address we've. There were a great many. Prosecutor any great number of indictments in Bergen County which had not had which had not been prosecuted and there was a great deal of question as to whether there was a lot adequate law enforcement there sent a special deputy attorney general and some assistance up there through the attorney general's action and the they put in a new system of taking care of prosecutions of cooperating with the local police after they had finished we appointed a remember the name of guy Cholesky who has been doing an excellent job with some capable assistance from that county I think Bergen County is has an excellent law enforcement presently and I think it's largely the result first of the deputies set up there and some of his assistants and then by the choice of a competent prosecutor who is doing an excellent job in state government we conducted a number investigations we have a criminal investigation section and where constantly trying to alert our prosecutors throughout the twenty one counties as to the need of trying to apprehend gamblers trying to eliminate or to and force the law impartially Well Governor minor nineteen fifty three you made the statement that you would see that the remaining vestiges of the Hague Dynasty would crumble into dust and that recently we have seen in the newspapers a report of wastage found in Jersey City. A gentleman who was present. In the state of Florida was said to a pocketed nineteen thousand four hundred ninety nine dollars. He was a member of the office's machines and he quote think operating Could you tell us that anything about that I think you're referring to the results of an investigation which was carried on by a Mr Lerner and who was appointed as a result of a. An order by a superior court judge we have many areas in New Jersey where you have complete local government or vice touchup they have the right to operate their own government now if they don't observe the provisions of particular statutes the matter is turned over to a prosecutor and the prosecutor is expected to carry out. A count to present matters to the grand jury of any wrongdoing given to him now as I understand it with respect to this Lerner probe some indictments have already been returned in these matters which have been reported upon and I would assume that the prosecutor who happened to be a Republican appointee of the previous administration I would assume that he would do its job there as a matter of fact I try to replace him I tried promoting him to the court and wanted to appoint a prosecutor of my own choosing there but the Republican legislature said we'll leave him there and we won't put him in the courts. And a perfectly good qualifications for the court in this matter fact he was. Previously had been a district court judge now many of these things are called for. Responsible citizenship at the local level when state governments can't go out and see that each county government on parade statically on that each local government operates adequately were responsible for enforcing for certain state laws and we try to carry out our our our job in that regard but we we cannot be a substitute for responsible citizenship. Putting into office the right people in counties in this polity I don't know if Ken was talking about the same thing but last month a Democratic administration the Jersey City was accused of passing the public payroll was with well paid jobs a little never showed up for work as an instance can the state come in here and supersede local government to find out where that generally the prosecutor will not prosecute them at a deputy attorney general or a deputy attorney general can be selected by the attorney general to present the matters for instance we had some scandal with respect to the board of elections which was called to our attention we turned it over to the prosecutor he said I can't I can't because I used to work for the election board and I think he said My father is now working there so we sent a special deputy attorney general who sat with a grand jury and a large number of indictments were returned and they will be tried by a deputy attorney general at state government but any of these other matters they go to the prosecutor and of course where I have to select the prosecutor I feel I bear the responsibility but if there is a prosecutor who was there by reason of a previous administration I have to accept him and work with him and unless I can show he's guilty of culpable wrongdoing I can supply a name that proved a pretty tough problem working with people from the previous in the scouts and generally corruption generally the prosecutors we that we've inherited we call them and we have meetings with them and we've been getting pretty good. Operation. They're basically lawyers and they're basically acquainted with their responsibility Well what about this payroll padding and now what stage of the investigation is that and at the moment while I understand there's been some indictments returned you say the Lerner. Made this investigation as a result of an order of the scary Court heard a lot of testimony now he's making his report and I believe ten installments one each week that method I assume is being used so that he'll get more proud less than even if he has just one report your newspaper man would know something about that and that the same time these matters have been presented to the grand jury and there's been some or at the indictments returned they will be tried by the prosecutor not by they have stayed attorney by the attorney general or a deputy attorney general unless the prosecutor says I can't do it or unless we have some evidence that he's not doing it adequately moving back to the east side of the Hudson River for a while you mean a suburb of major I think both of. Them. The waterfront of the Port of New York has had consistent labor problems which have resulted in. Threats of loss of shipping you and Governor Harman have appointed a by state authority to deal with these problems and regulate work on a PH Are you satisfied with what's been done so far I want to call your attention Bob that. The legislation which sets off the by state commission gives us no authority gives the commission no authority to regulate labor relations the employer on the employee and the absolute right to set up their conditions of employment and that sort of thing they also can go before the National Labor Relations Act to have any dispute settle in that regard we have the power or at least the by state commission has the power to license the people who will work it's appear as if they have a criminal record and if they show signs of not being a. BT I'm citizens we can bar them from the waterfront but we can't and are into the negotiations between employer and employee so that the power of the by state commission is a somewhat respected in that regard this commission I was sent up originally by Governor Gus going governor doing and the legislation was in a Republican administration in both states I inherited it I've tried to follow up the policy set forth in that statute and I try to put on there the best lawyer I know how often the best lawyer I know just so foreign from who I think as I approach the problem with with a. Understanding and with intelligence and has tried to carry out the purpose of the loft you're not going to change the situation overnight but I think they have been improving the situation by borrowing from the peers those people who are obviously interested in their own selfish interest and who have had bad backgrounds someone with familiarity with dirty politics asked me to ask you this question do you think that it's going to hurt your vote getting in Hudson County the fact that you've got a sided with the waterfront Commission against the longshoreman well or there's a plus and minus in every move you make I think that the longshoreman the fellow who does the work is an honorable sort of a fellow he's got his wife and his children and he's a chart scholar he's interested in the community would like to get as much back. The money he deserves for working on the pier I think he is going to respect the people who are trying to do this job and if he hears our explanation of it I think he's going to be with us they're going to be some hope profit by the kickback or profit by help rage of profit advice. By favoritism they won't like it and some of their friends might vote again it's against us but I think the real longshoreman and they were for responsible citizens and we're beyond our. Side so I think it'll be a net gain for us speaking about things I gather in Europe in your county I just talked to receive increased revenues from the Port Authority that's a problem that's often been discussed not only by what some by it but by people in Essex as well they suggest that sense that the Port Authority is a public body and doesn't pay taxes that there should be payments made to the municipality where their activities are located in lieu of taxes. Now for instance when we took over the Brooklyn here. With the prime New York and some of them right up all the time there's them some arrangements made by which they're going to get some payments in lieu of taxes but the amount will increase that will probably remain the same as it was at the time the Port Authority put over the pier. If you make substantial payments and lower taxes you only increase the need of additional revenue the charge is vital for the target to pay for those like activity there if the municipality really reiners a basic service by reason of that activity being there then you can consider the need of it but I think generally if you have an extensive practice of paying money to the municipality that you've got to realize the martyr's there's going to pay for the people in the use of facilities and parts are going to have to pay for Gov you believe that regarding travel between New Jersey and New York a rapid transit system possibly located somewhere in the jersey matters is a necessity for easing traffic congestion and there have been subje