A Rise in Anti-Semitic Tweets, and a Lack of Action from Twitter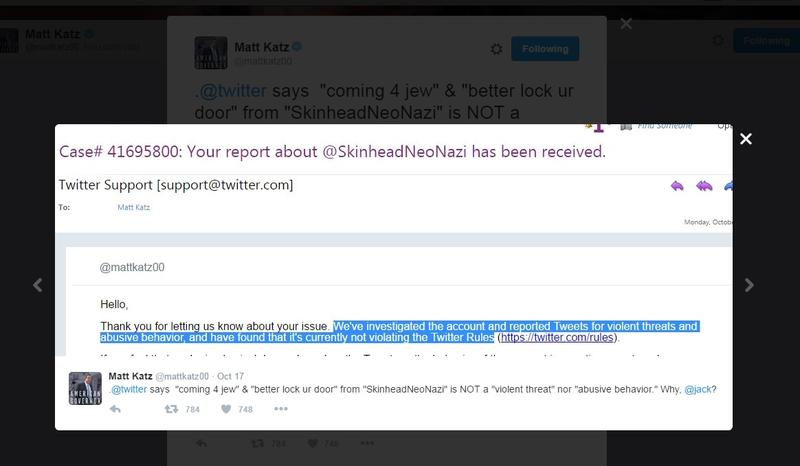 One of the unfortunate phenomena of this election has been the rise in anti-Semitic online attacks against Jewish journalists from self-proclaimed Donald Trump supporters. 
As I reported over the summer, some tweets are conspiratorial: Jews control the media and the Holocaust is a fiction. 
Others are more threatening. Just this week, someone sent me an anti-Semitic poem that including the lines: "1, 2, coming for Jew...3, 4, lock your door." I promptly reported the tweet to Twitter and got a message back that the tweet was neither threatening nor offensive, and therefore didn't violate the site's terms of service. 
I then tweeted both the anti-Semitic message and Twitter's response. After hundreds of retweets and supportive messages, Twitter suspended the user's account.
.@twitter says "coming 4 jew" & "better lock ur door" from "SkinheadNeoNazi" is NOT a "violent threat" nor "abusive behavior." Why, @jack? pic.twitter.com/MM9OU2jx2E

— Matt Katz (@mattkatz00) October 18, 2016
A new report out this week from the Anti-Defamation League analyzes and quantifies these attacks: 2.6 million anti-Semitic tweets have been viewed 10 billion times in just one year of this campaign. Eight hundred journalists were targeted by thousands of users, but 10 reporters received the majority of the tweets. Most of the offenders avoided suspension from the website. 
The ADL found the offending twitter bios contained these words most often: "Trump," "nationalist," conservative," "American" and "white."