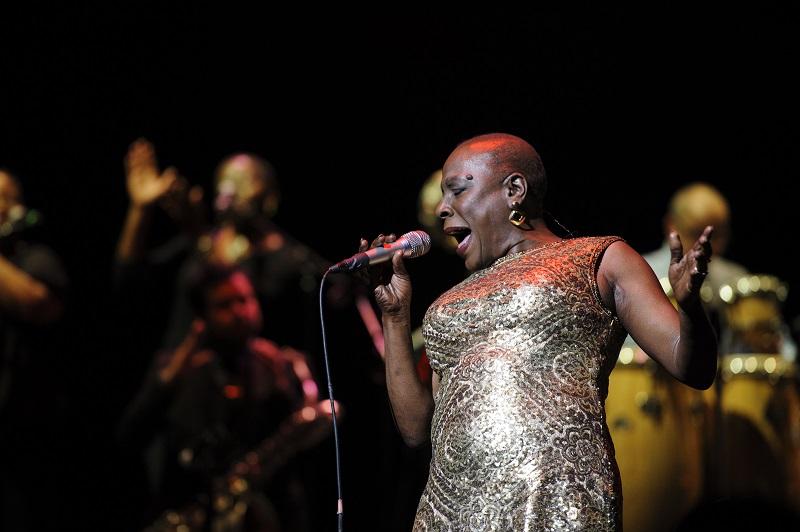 RIP Sharon Jones (May 4, 1956- November 18, 2016)
If you ever saw Sharon Jones and her band The Dap-Kings, you know that she was a larger-than-life figure. And for once, that phrase is not a cliche - it's the literal truth: Jones was a pint-sized dynamo at somewhere south of 5' 0" but man, was she huge onstage. Some of that was natural talent, but some must also have been a combination of the pride, resolution and defiance that enabled her to overcome decades of disinterest and even disdain from the music industry. Told she had the wrong appearance to be a star ("too short and too black"  is how she quoted one record company exec), she sang when and where she could while supporting herself through odd jobs. And again, that's a cliche that was in her case literally true, as she had some truly odd jobs, like being a security guard at Riker's Island.
Jones' battle with pancreatic cancer played out in public, especially through the documentary film "Miss Sharon Jones," which chronicled her fight and her triumphant return to the stage at the Beacon Theater in 2014. Here she is on Soundcheck, just this past July of 2016, speaking to the recurrence of her cancer and her measured hope for the future:
The explosive soul singer Sharon Jones worked for many years as a corrections officer before finding her performance persona, at 40. Soundcheck was lucky enough to have had her in the studio back in 2006:

She and her super-tight band, The Dap-Kings, would make multiple records, garnering a Grammy nomination in 2014 for her record, "Give the People What They Want,"
which was also her come-back record from the cancer treatments: 
Beloved by anyone who has a pulse, her shows were roof-raising, inclusive, celebratory affairs. Sharon Jones and the Dap Kings set our ground-level performance space afire back in 2010: 
Sharon left the planet this past Friday, Nov. 18, 2016, and is hopefully shimmying and shaking in the hereafter, perhaps with Prince.