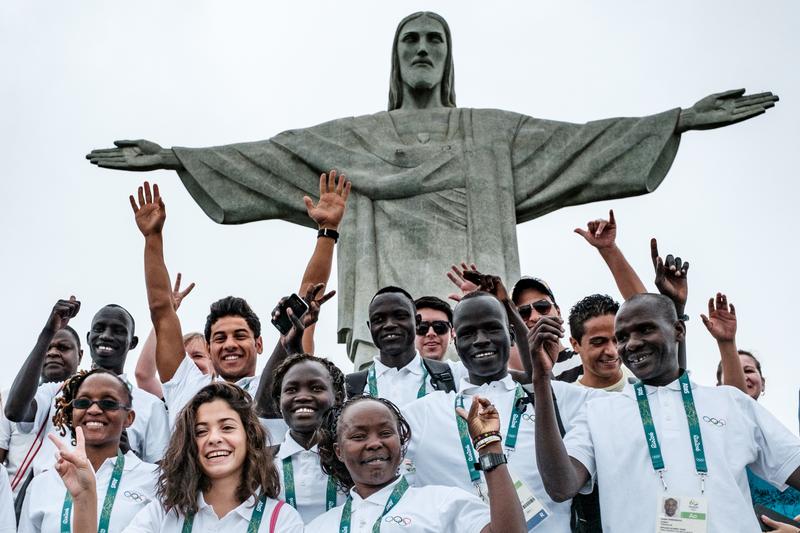 Click on the 'Listen' button above to hear this segment.
If the Olympic Games are indeed a proving ground for both athleticism and national identity, the opening ceremony will certainly be a poignant moment for one swimmer.
"I think I will think about my family, my coach, my friends and everyone who helped me actually and I will think how proud I am of what I did," says 18-year-old Yusra Mardini. 
Mardini, who was born in Syria, has a lot to be proud of. She went from swimming in a pool in her homeland, to swimming for her life. She and her sister, Sarah, helped push a sinking dinghy with about 20 Syrian refugees aboard from Turkey to the Greek Islands of Lesbos as the families escaped the conflict at home.
"Me and my sister were in the water," said Mardini. She adds: "My sister told me, 'If something happens, don't help anyone.' And then she gets in the water and she helps them, and it was quite hard to think that you are a swimmer and in the end you are going to end up dying in the water."
Mardini had already been a top swimmer when she and her family were forced to flee. Now she is one of 10 athletes who make up the first all refugee Olympic team.
There have been athletes who have previously competed independently, but never before has there been an entire team made up of displaced athletes. They originally hail from countries like Syria, Ethiopia, and South Sudan, but in Rio they will walk under the official banner of the International Olympic Committee and will stand to the Olympic anthem if they medal.
Mardini now lives and trains in Germany, a country at the center of the refugee debate and anti-immigrant sentiment.
Michael Schirp is with the German Olympic Sports Confederation. He's been closely involved with Mardini and her story as the young Olympian began training again and became an international press sensation. He says the Olympic Refugee Team is a great opportunity for both the refugees and the International Olympic Committee.