A Rift Among Jews Over Trump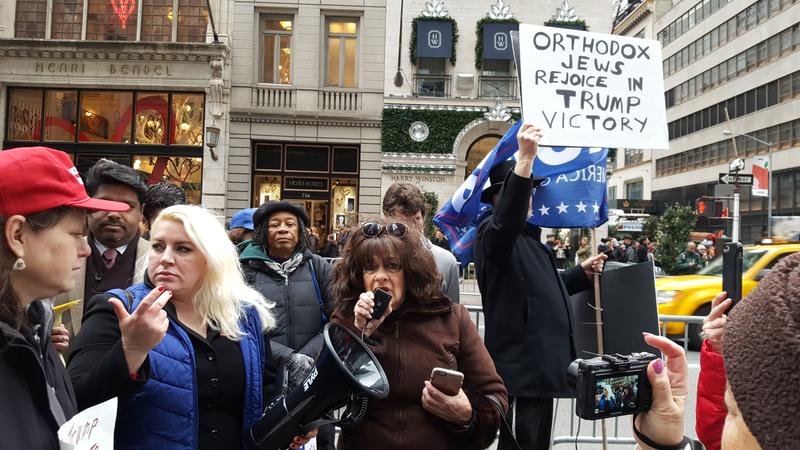 Two events in midtown Manhattan on Sunday exposed a deep rift among American Jews when it comes to president-elect Donald Trump.
Rabbi Nachman Caller organized an afternoon pro-Trump rally below Trump Tower, which drew about 20 people.
Janine Vigterman from Philadelphia stopped to snap a photo. She said she's on the outs with her congregation, and seeing pro-Trump Jews made her feel good.
"I got into a lot of trouble for voting for Trump. People told me I was uneducated," Vigterman said. "People said that they were surprised at me, that they had to reevaluate me as a person. And I told them I felt like I was in Nazi Germany walking around without my Jewish star."
Exit polls indicate the vast majority of Jewish voters chose Hillary Clinton in the Presidential election.
On Sunday night, masses of Jews opposed to Trump were on East 42nd Street outside the Grand Hyatt Hotel, blocking sidewalks and protesting against a close advisor to Trump, Steve Bannon, who was invited to a gala there held by the Zionist Organization of America. Bannon runs the website Breitbart, which has been a platform for white nationalists.
ZOA President Morton Klein dismissed concerns that Bannon and Breitbart provided a forum for anti-Semtic views.
"Look, when Trump — almost every major aide around him — Gingrich and Giuliani and Mike Huckabee are the most fervent pro-Israel people I've ever seen with respect to aides around the president," Klein said. "If this guy were hostile to Israel or Jews, they wouldn't want anything to do with him. So it's absolute rubbish."
Klein said Bannon was invited to the gala because he asked to be. A hotel security guard said he was not expecting Bannon to show up.