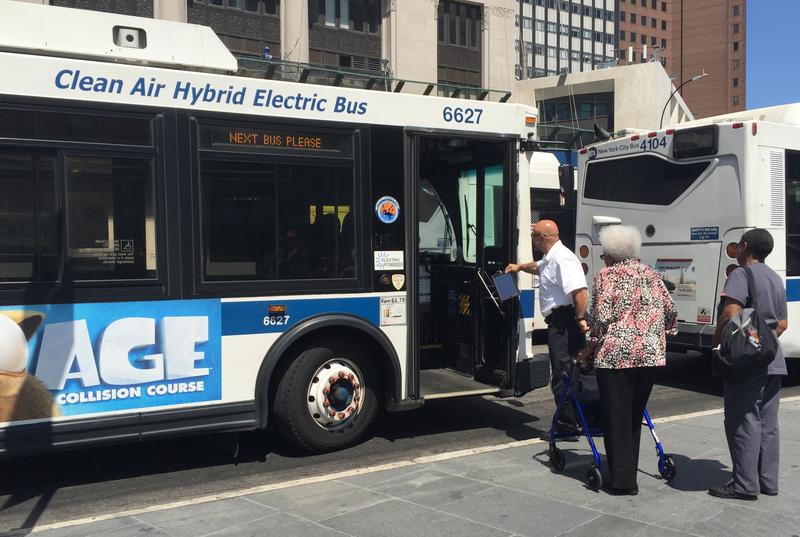 New York City has been losing bus riders for years. Now a coalition of transit advocates is offering up a blueprint to help turn that trend around.
"Our buses are traveling at an average of 7 miles per hour," said Tabitha Decker of the group TransitCenter, which released a new report laying out ways to fix the under-performing bus system. "New Yorkers have been voting with their MetroCards."
According to the New York City Department of Transportation, last year there were 46 million fewer bus trips than in 2010.
The coalition, along with elected officials, rallied in downtown Brooklyn Wednesday to draw attention to what advocates call a "crisis" in bus service.
"The bus should be a way to get around," said State Sen. Daniel Squadron, "not something you're forced onto when you have no other option."
Squadron pointed out that many parts of the city are not served by the subway system, and that many riders are elderly or disabled.
The coalition wants the MTA and the city's Department of Transportation to improve service by simplifying bus routes, speeding up the boarding process, and design streets to prioritize buses.
Veronica Vanterpool is the head of the Tri-State Transportation Campaign — and a newly appointed MTA board member. She said the group's suggestions were a combination of sweeping changes and easily achievable goals. "It's really about wiping the slate clean, thinking fresh about what to do. And that doesn't always have to involve a lot of money."
"It's about a reengineering, a reimagining of our bus network," she said, "which needs an overhaul."
That was music to the ears of 57-year-old bus rider Gloria Jones. The Flatbush resident says she relies upon the B12.
"Most of the time the wait is too long," she said. "And when the buses do come, they come in, like, threes and fours."
Gov. Andrew Cuomo said he hadn't seen the report, but that his sense was that slow buses were more of a Manhattan problem. "If people in Manhattan are choosing to jump on the subway because the subway is faster, because there's traffic that a bus has to deal with, I mean, that's not an imprudent choice, right?"
MTA spokesman Kevin Ortiz said that "many of the recommendations in the report are actions the MTA is already taking."