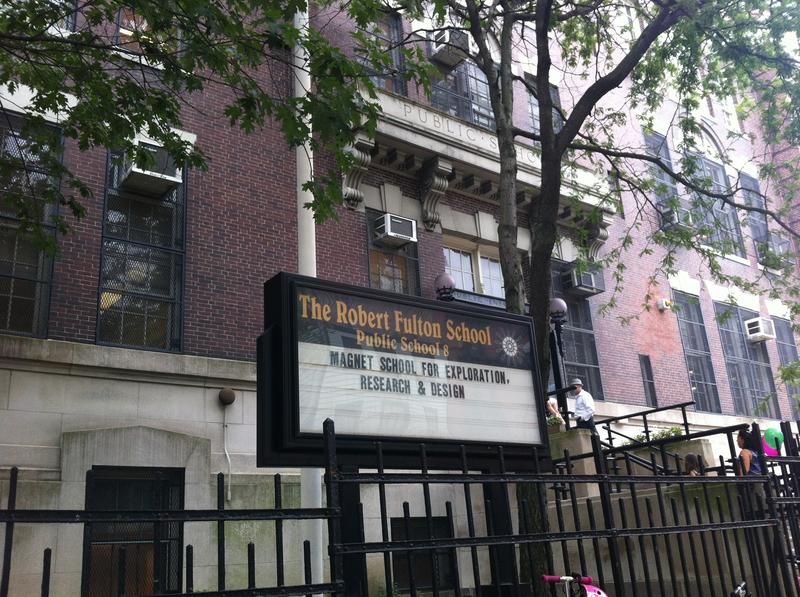 In order to address overcrowding, the Department of Education is planning to issue a re-zoning proposal for two schools in Brooklyn's DUMBO & Brooklyn Heights neighborhoods that would inadvertently integrate one of the schools.
Yasmeen Khan, WNYC reporter who covers education, and Pamela Wheaton, managing editor for Inside Schools, discuss the proposal and the controversy.
→ Read more: PS8 and PS307 in Brooklyn aren't the only schools grappling with issues of overcrowding and rezoning. Yasmeen Khan has reported nearly 500,000 New York City public school students attend overcrowded schools as the city struggles to keep up with booming neighborhoods.
.@jilltataraworld Yes, it's happening in a lot of areas - largely due to overcrowding, as reported by @yasmeenkhan: http://t.co/gzOuHyNdBs

— Brian Lehrer Show (@BrianLehrer) September 30, 2015
PS 307 PTA leader says schools need families to get to know a school and community. How liberal are you, he asks other parents. @BrianLehrer

— patricia willens (@pwillens) September 30, 2015
.@BrianLehrer I am a proud product of P.S. 307! It has consistently been an incredible learning environment for over 30 years.

— ibrahimSalih (@ibrahimSalih) September 30, 2015
Caller afraid that kids at PS 307, by the projects, wouldn't have "preparedness" if PS 8 in BK Heights is rezoned @BrianLehrer @WNYC

— Beth Fertig (@bethfertig) September 30, 2015
BK Heights dad defends avoiding PS 307: when he lived in Harlem, lots of kids went to charters instead of district schools @BrianLehrer

— Beth Fertig (@bethfertig) September 30, 2015
"It's not enough to integrate institutions. You have to be integrated in your mind," says Faraji, PTA co-president at PS 307, Vinegar Hill.

— Brian Lehrer Show (@BrianLehrer) September 30, 2015