Review: 'The Wolves' Showcases the Passionate, Ordinary Teenage Girl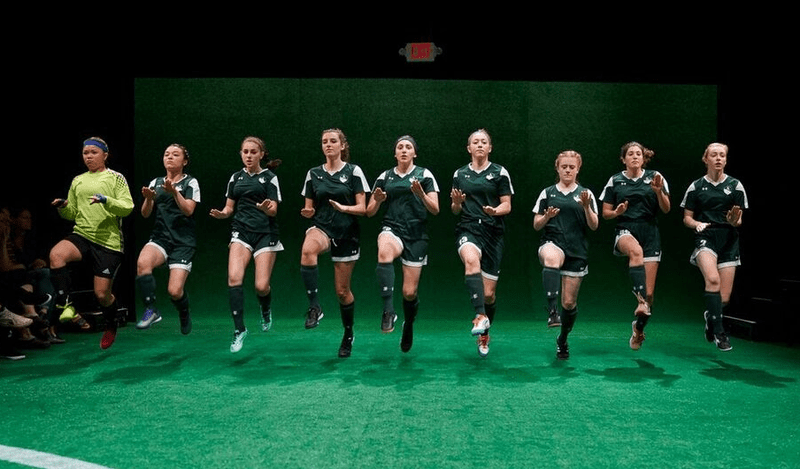 "The Wolves" by Sarah DeLappe, does something completely unexpected: it shows us teenage girls without cliché.
We see these nine high school members of an indoor soccer team warming up before their games. And yes, they want to make the championships. But the drama isn't about that. It's about the confusing world of girls who are on the cusp of adulthood, a time when everything seems equally important — from international atrocities to whether someone uses tampons or pads. Their dialogue overlaps, fragments, rises to a chirpy roar. There is action, but we don't see it. What we witness is all their talk, which is how they are figuring out the world.
These aren't "mean girls" or come-from-behind sports underdogs. These are just girls who are sometimes mean, sometimes kind, sometimes brilliant and accomplished, sometimes just plain dumb. There are no types here. There are just people.
Which is why it's such a raging disappointment that a tragic event comes from nowhere at the end. It is deeply affecting — I cried and you likely will, too, if you're also a parent — but it felt like a betrayal. It's as if DeLappe didn't trust that her characters were big enough, important enough, to not need a "big crisis," to not need outside circumstances to spike the play with meaning.
So let me say: The girls are enough.
The shift at the end turns it into a different play. It's heavy handed and not necessary. But it doesn't discount the wonder that DeLappe has created in the beginning, of girls in their element being themselves, wrestling with the world that they have found themselves in.
"The Wolves," produced by Playwrights Realm, is at the Duke, 229 W. 42nd St., though Sept. 24.