Review: A Hip-Hop 'Where Did We Sit on the Bus?' Never Answers the Question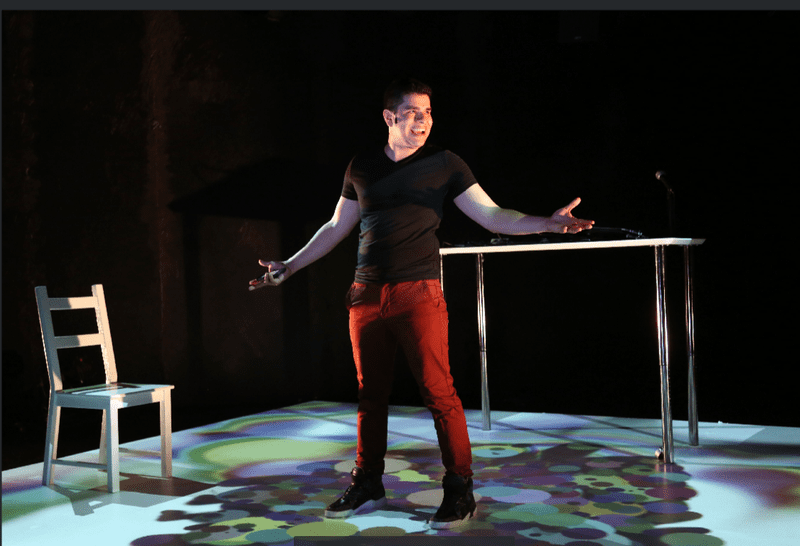 Brian Quijada is a vivacious talent. He raps. He beatboxes. He dances like Michael Jackson. He plays an electric ukelele. And he is brightly, cleverly charming.
In one of the most moving parts of his one-man show, he re-creates his own conception. Which might seem strange. But he uses his hands and body to portray a swimming sperm that spears itself into an egg, becoming an embryo, which flutters into creating his own, human heart. It's the kind of lovely moment that can only happen in theater or dance.
But the show is called, "Where Did We Sit on the Bus?" based on a question Quijada himself asked when he was in third grade in the suburbs of Chicago. He had learned that before the Civil Rights Movement, black people sat in the back of the bus in certain cities, and white people sat in the front. But where were Latinos? And what is their role in social justice movements?
A show exploring that question is something I'd really like to see. Quijada doesn't do that, focusing on autobiography and his struggle to become an actor. He hints at micro-aggressions — being called quesadilla in school, for example — and breezes past tension that arose between him and the other Latinos in his school when he started having mainly Jewish friends. But his message is mainly: America is a crazy mix of colors, and we're all going to get along.
It seems a particularly tone-deaf dispatch in our current, racially-charged political moment. And surprisingly shallow for a performer who clearly has sparkling depths.
Written and performed by Brian Quijada; Directed by Chay Yew
Ensemble Studio Theatre, 549 W. 52nd St.