Review: Thrilling 'Great Comet' Lights Up Broadway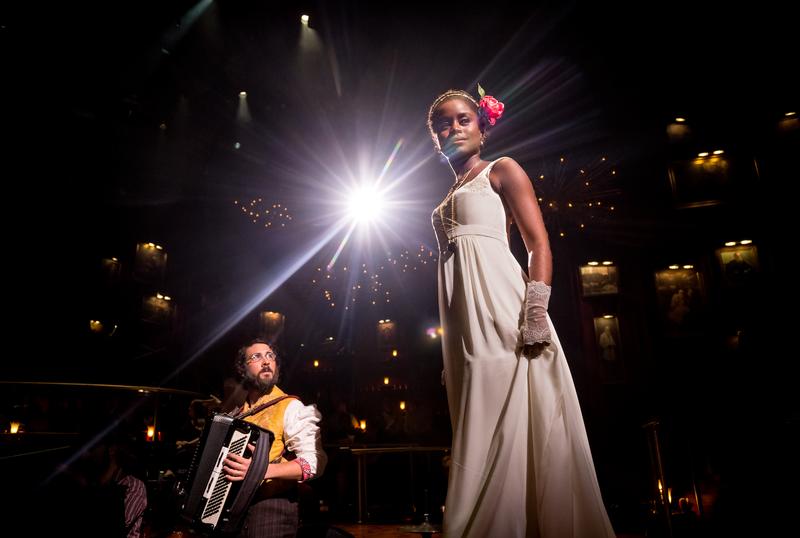 A musical unlike anything else on Broadway is burning up the Imperial Theater.
At "Natasha, Pierre and the Great Comet of 1812" — based on a 70-page section of "War and Peace" — only some of the audience sits in traditional seating. A couple hundred are on stage, either on risers or around cafe tables. The large, multiracial cast of about 40 swirl around them, gallop up and down stairs, sing to them, and pass love notes, shaker eggs and even a flaky pirogi in a box.
That doesn't mean the rest of the audience is left out. As part of Mimi Lien's ravishing set, a catwalk snakes through the orchestra seating; another two performance spaces are up in the mezzanine. This redesign of Broadway's Imperial Theater recreates the intimate, immersive feel of the original production at the innovative Ars Nova and the spaces created in the Meatpacking and Theater Districts in 2013. It's like being in a lavish Russian cabaret, with long velvet curtains lined with oil paintings on Russian themes, warmed by the light of Sputnik-like chandeliers. 
As incredible as the set is, though, it's not the star.
That billing belongs, not to the velvet-voiced pop star Josh Groban who plays Pierre, but to Broadway newcomer Denée Benton. Benton sparkles as Natasha, the young countess who is seduced by a scoundrel in early 19th century Moscow. She radiates both a purity and a ferocious independence. That's important, because in lesser hands, Natasha might seem shallow or fickle — after all, the first thing we learn about her, at the very beginning of the show, is that she is engaged to a man she loves, but her fiance, Andrey, "isn't here." (The part was originated by Phillipa Soo — Lin-Manuel Miranda saw her in that show and cast her in Hamilton.)
Natasha's best friend (and conscience) is her cousin Sonya. Brittain Ashford has a throaty, Indie-pop voice and brings a sorrowful kindness to lyrics that could otherwise be dismissed as sentimental.
Pierre, played with deep thoughtfulness by Groban, is in the title because he's the show's moral center, and the only character to truly change. He's trapped in a loveless marriage to a woman who's cheating on him; he doesn't realize until he watches Natasha's odyssey that love is something that's passed him by. His solo number "Dust and Ashes," is haunting: he mourns the emotions he's never experienced. 
The plot is, yes, somewhat complicated. But don't worry. The first song, a rollicking Slavic number, straightens it all out, begging the audience to read their programs for a guide to who's who. That sort of whimsy and wit permeates "The Great Comet." It's a dazzling production. Like the comet it's named for, the show brings wonder in its wake.
Natasha, Pierre and the Great Comet of 1812
Written by Dave Malloy, directed by Rachel Chavkin
Imperial Theater, 249 W. 45th St; open run