Review: 'Sweat' Is the New American Play We Need Right Now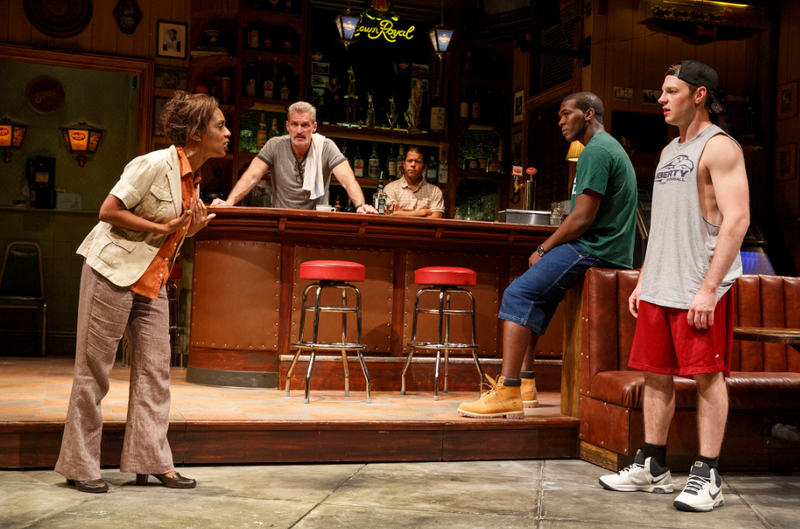 Confused about why both Donald Trump and Bernie Sanders have such a loud, angry following?
Pulitzer Prize-winning playwright Lynn Nottage is here to break it down for you.
Nottage has written the great American play we need right now. It focuses on a group of factory workers who haunt their local dive bar in Reading, Penn. The set by John Lee Beatty is so authentic, you can practically smell the Budweiser. They're of different races and they're all friends — or at least collegial — until their jobs are threatened. 
Cynthia (Michele Wilson) and Tracey (Joanna Day) and their 20-something sons are friends, gathering to celebrate every birthday in the bar with their third musketeer, Jessie (Miriam Shor, in an underwritten part). The script flips between 2000 — before the factories start closing, when a union worker can hope for a good retirement — and 2008, when we see the after-effects of losing, not just jobs, but also dignity. Two of them, in their fury, commit a heartbreaking crime that shatters their families and the last threads of friendship remaining.
Nottage leaves a loose plot thread or two, but she captures something important: when factories start closing, people in this close-knit, economically-depressed place turn on each other, often in race-baiting ways, instead of turning on the political and economic system that failed them. We watch their humanity draining away before our eyes, to be replaced by rage or despair. That's because the system feels too big, too untouchable to fight. We see evidence of it only on the flickering blue screens of televisions, where newscasters intone more bad news about NAFTA and are quickly turned off.
"Sweat" is even-handed, nuanced and empathetic. There are no bad guys here, but there are certainly bad outcomes. And they're felt by everyone in this little bar — and in the audience, who leaves reeling.
By Lynn Nottage; directed by Kate Whoriskey
At the Public Theater, 425 Lafayette St., through Dec. 4.