Review: 'Last Black Man' Is a Stylized Paean to Black Lives Matter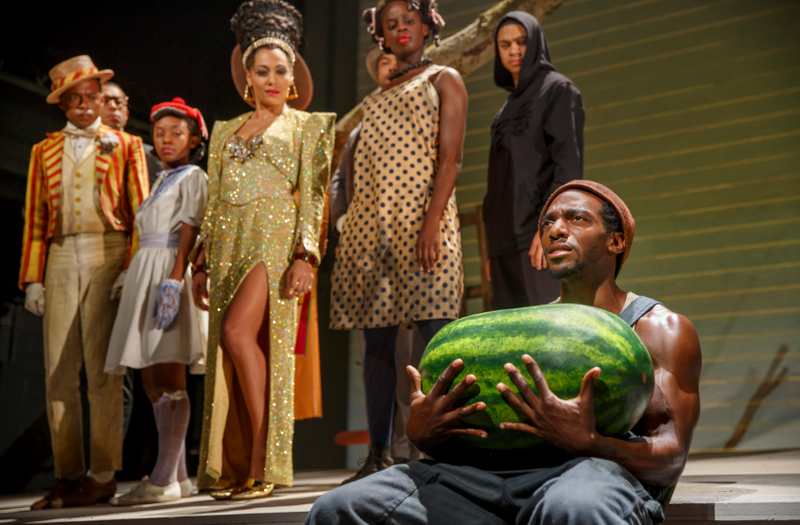 One of Pulitzer Prize-winner playwright Suzan-Lori Parks early works is now playing at the Signature Theatre, and it is eerily prescient.
In "The Death of the Last Black Man in the Whole Entire World AKA The Negro Book of the Dead" there is a line in this fever dream of a play that is particularly arresting. The last black man (known as "Black Man with Watermelon" and played by Daniel J. Watts) has a rope around his neck and he keeps saying, "Can't breathe." Anyone who follows the news will be immediately be reminded of Eric Garner who died at the hands of police in 2014.
But "Last Black Man" isn't a polemical riff on the headlines. Parks wrote this piece almost 25 years before that tragedy on Staten Island, and as directed by Lileana Blain-Cruz, it has a timeless quality, more like a dance piece or a symphony than a traditional narrative story. Actors representing iconic figures — the newsman, the pimp, the Egyptian queen, Little Topsy, the good Negro — talk in rhythm together and separately, sometimes hand-jiving to the traditional song "Hambone," sometimes step-dancing. 
Parks' play was first produced in 1990 and at the time, it seemed to express a worry about cultural assimilation: if no one writes down African American history as it is being lived, then black identity will become only that series of caricatures (the criminal, the young woman who makes good) that white society uses to keep black people in their place.
That still boils up beneath "Last Black Man's" jazzy, fragmented poetry in this current production. But now, the last black man's series of highly-stylized deaths from falling, electrocution and hanging all also read as a blistering condemnation of society's physical brutality to African American bodies and a paean to the Black Lives Matter movement. Few works have ever seemed more relevant in our political moment — or as worth seeing.
"The Death of the Last Black Man in the Whole Entire World AKA The Negro Book of the Dead"
By Suzan-Lori Parks; directed by Lileana Blain-Cruz
Signature Theater, 480 W. 42nd St., through Dec. 18