Review: Robert's Rules of Disorder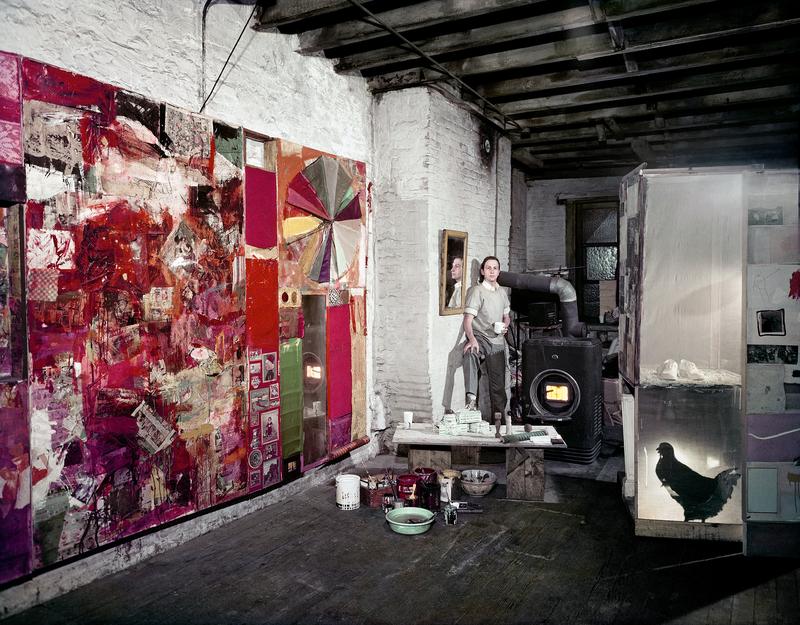 The best museum show in New York right now is "Robert Rauschenberg: Among Friends," at the Museum of Modern Art. It re-acquaints us with one of the deities of post-war American art. Rauschenberg, who died in 2008, at the age of 82, was a master of inclusion. He remains best-known for his early "combines," a phrase he coined to describe works of art that mingle the flatness of a painting with the bulky mass of a sculpture. Among the objects that surfaced in his art were newspapers, bed sheets, socks, a bucket, a wooden ladder, and a stuffed goat – in other words, he re-invented art with objects that look nothing like art.
Although Rauschenberg has long been a household name, he has never been given his full due. He influence on younger artists is enormous; he certainly helped spawn our current generation of mix masters. Mark Bradford, for starters, who is representing the U.S. at the current Venice Biennale, is known for a collage-plus-paint approach that owes a debt to Rauschenberg. Oddly, a long, embittered review of the Rauschenberg show appears in the current New York Review of Books. It was written by a conservative critic who dismisses the artist as a junk collector prone to empty gestures of defiance. But look closely at his work and you will find compositional rigor – there are geometric grids galore! – as well as a rhapsodic urban poetry.
Rauschenberg was born in Port Arthur, Texas, and he died in Captiva, Florida, but it is easy to think of him as a New Yorker. In 1966, he bought an old loft building at 381 Lafayette Street, a former orphanage with faded gold letters over the door that said "Mission of the Immaculate Virgin." His studio was a hopping place that provided shelter to a shifting retinue of friends and stray animals. In 1969, a fire broke out and, according to the New York Times, firemen "found 10 whimpering animals – seven cats and three dogs – in a third-floor kitchen."
No, there are no pets in the MoMA show, but there are certainly hints of the artist's inordinate sociability and extroversion. The exhibition has been brilliantly curated by Leah Dickerman as an "open monograph," as she says. What this means is that works by Rauschenberg's deeply talented friends (the artist Jasper Johns, the choreographer Merce Cunningham, the musician John Cage, among others) are folded into the installation at telltale moments, and you come away with a sense of art as a collective undertaking. It is probably time to retire the myth of modern artists as tormented loners, sitting alone in a room. Rauschenberg made it okay for an artist to be a social being and even to be intermittently happy, and in that sense, he was radical, too.