Review: The Quiet Power of 'Man From Nebraska'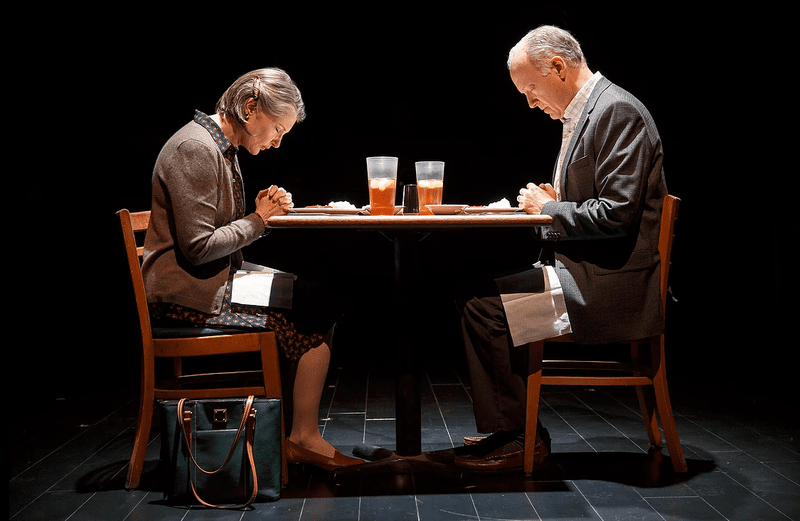 Director David Cromer has a way of elevating the ordinary (His final, breathtaking scene in his 2009 version of Thornton Wilder's "Our Town" forever changed that play for me). And actor Reed Birney brings complexity to the common man — he won a Tony Award for best Featured Actor in a Play last year for his roles as the father in "The Humans."
Together, they highlight the richness of Tracy Letts' drama about a Midwestern man who goes to church with his wife (Annette O'Toole), has dinner at a fast-casual sort of place, and then, that night, breaks down in tears in the bathroom, weeping alone. He no longer feels the presence of God — and so he no longer believes. And because his whole life has been built around his faith, he no longer knows who he is or what he is supposed to be doing.
So after his pastor tells him to take a trip alone, he heads to London. He is searching — for something, though he's not sure what.
This should feel like a cliche, but there is a startling freshness here. None of the characters are stereotypes; not his wife, who in O'Toole's hands is forthright and strong, if baffled. Not the British bartender (Nana Mensah), who reluctantly takes him under her young wing. There is no sentimentality, no overwrought confessions or dramatic angst. Just the bite of true emotion and the message that no matter how lost someone is, there is always someone waiting to find them.
By Tracy Letts; directed by David Cromer
At Second Stage Theatre