Review: Jake Gyllenhaal Stars in 'Sunday in the Park with George'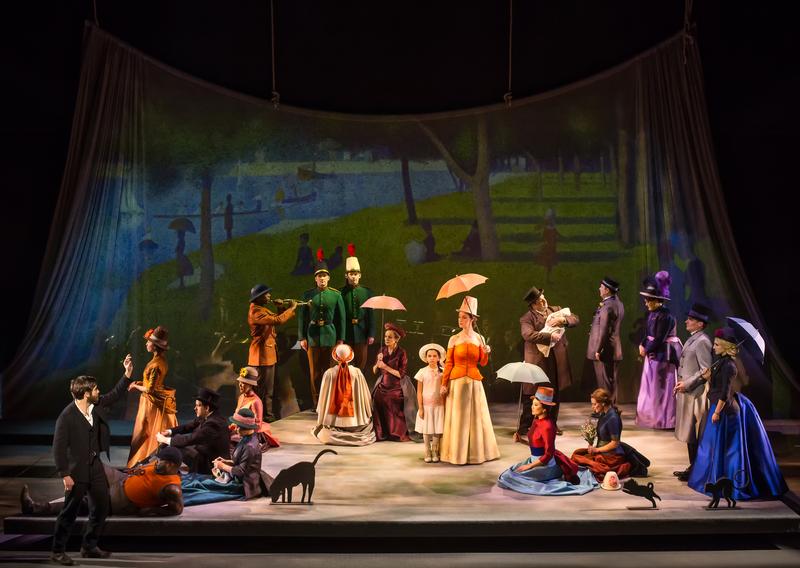 Thirty years after its premiere, Stephen Sondheim's "Sunday in the Park with George" still asks a gut-wrenching question: If you're an artist, can you have a normal life?
Or are you doomed to be like the George of the title in Act I — that is, the real-life pointillist painter Georges Seurat who, in Sondheim's fictional take, is so obsessed with painting the dots on his masterpiece A Sunday Afternoon on the Island of La Grande Jatte that he loses his love and their child.
It's a strange, compelling musical that ruminates on this grand theme over two very different acts (the second takes place mostly at the Art Institute of Chicago in 1984 where the actual painting can be seen). But unfortunately, under the tentative direction of Sarna Lapine, niece of book writer and original director James Lapine, we get a muddle that lacks an organizing vision.
Lapine's stage at the newly restored Hudson Theatre is alternately too crowded and too empty. Sometimes, the cast of 20, most of whom play figures in the painting, are crammed hither-and-thither. But when it's just Jake Gyllenhaal as George and Annaleigh Ashford as his mistress Dot, their emotional connection feels so tenuous that the bare-bones set is too vast, even with the orchestra on stage, half-hidden behind a scrim.
Ashford is a bright marvel, bringing precision and a fresh, funny clarity to her songs. Gyllenhaal, however, plays George in the first act as someone who's unhappily obsessed with his art, his gaze fixed to the pad on his lap or the painting on the wall. He's unlikable and almost misanthropic. In other words, he doesn't actually seem to see the people he's painting (ironic, since looking at them is all he does), or find joy in his work, which completely undercuts the arc of the play.
It's only when he's allowed to open up his performance in the second act as George, a descendant of the painter, that we see what we've been missing. That looser Gyllenhaal connects easily both with the other actors and the audience and brings heft to a production that otherwise skates on the surface of things.
There's a lot to like here: sumptuous costumes; a dazzling, second-act light show that left audience members gasping, and tremendous talent on stage (Robert Sean Leonard and Penny Fuller both appear in secondary roles). But without a unifying vision, it all just falls apart into shiny dots of color instead of combining to become art.
Sunday in the Park with George
Music and lyrics by Stephen Sondheim, book by James Lapine, directed by Sarna Lapine
At the Hudson Theatre through April 23