Review: The Forgotten Expressionist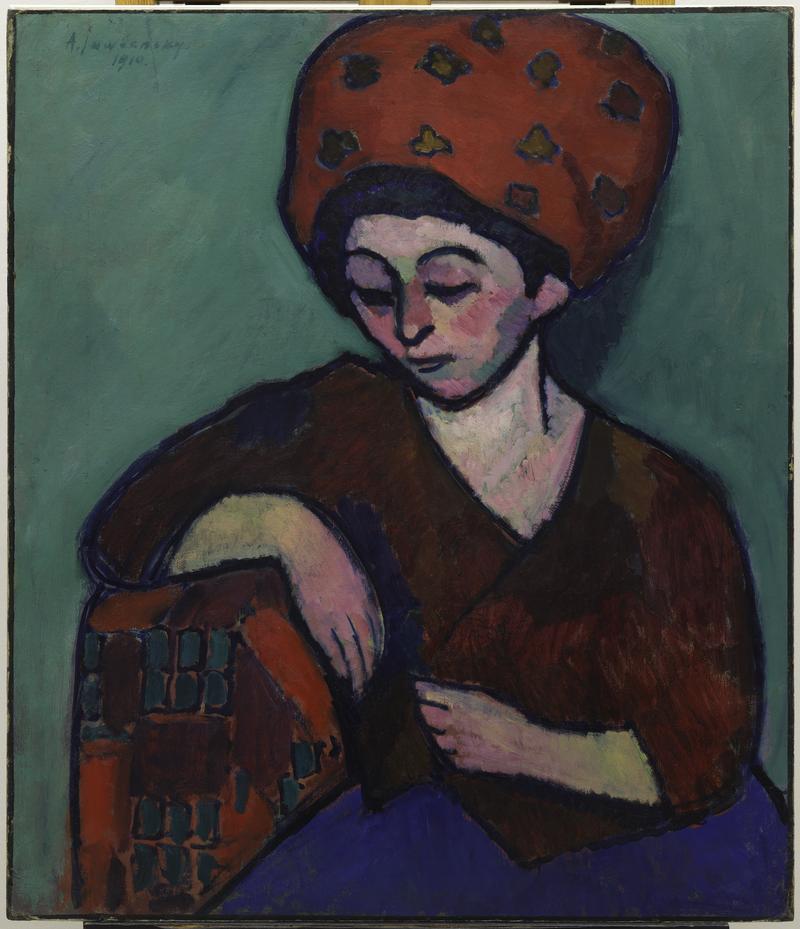 Alexei Jawlensky was one of the pioneers of modern art, but he remains less known than many of his artist-friends. He died in Germany, in 1941, and he is just now having his first full-dress retrospective at an American museum. The Neue Galerie has gathered some 75 of his paintings into a stirring and illuminating survey that will not travel to any other museum.
Russian by birth, Jawlensky left his homeland in 1896 and settled in Munich, which rivaled Paris as a center of avant-garde art. His companion was Marianne von Werefkin, an accomplished painter who was a few years old than him. Together in Munich, they became close to their fellow Russian, Wassily Kandinsky, and his German lover Gabriele Munter. Double-dating doesn't get any cooler than that, and the foursome practically invented Expressionism. Judging from the current show, Jawlensky got off to a brilliant start, painting portraits and landscapes that have a raw power. He simplified his lines and went for flat planes of high-key, Matisse-like colors. "Dark Blue Turban," of 1910, is among the standouts, a portrait of a woman in a red ruffled blouse, set against a sizzling pink ground.  It hasn't dated at all and compels our attention despite the awkwardly disconnected left forearm.
The odd thing about Jawlensky is that his best paintings look like Matisse's or Kandinsky's or even Munter's. When he finally broke free of his artistic influences and found his own voice, his art was less interesting.  After the adventure of his wonderful portraits, he began painting heads, faces devoid of distinctive features or any noticeable personality. The show culminates with his so-called "Abstract Heads" — a group of paintings from the 1920s that feature the same mask-like visage. They can put you in mind of Modigliani's elongated faces, but their colors are their own, a complement of pinks and lavenders brushed on like so much makeup. The painting "Abstract Head: Inner Vision – Rosy Light" seems especially heavy on the blush. For all the candied colors, Jawlensky liked to emphasize his spiritual aspirations. His last works, the small-scale "Meditations," were undertaken when his hands were aching with arthritis. They distill the vectors of the human face into stark Christian crosses.
It is hard to know why Jawlensky was so obsessed with painting heads. Perhaps he was channeling the Russian icons of his childhood, those age-old faces of saints and martyrs, aglow in red and gold hues. In his statements about his art, he insisted that he was looking for the face of God, and it is true that circles (i.e. head shapes) have a perfection that can suggest the heavens. A psychological reading of his work might suggest that Jawlensky was looking for the face of his absent mother – a face to mirror his own and to assure him of his basic worth.
The catalogue for the show is unusually readable. We learn from it that John Cage, of all people – the experimental composer and painter manqué – was among Jawlensky's collectors. In 1935, during his student days in California, Cage purchased one of the "Meditations" for the grand price of $25, with a down payment of $1. It's one of many fascinating details to be gleaned from the show, which is probably stronger on historical anecdote than it is on painterly power.