Review: In "Fade," Two Immigrants Square Off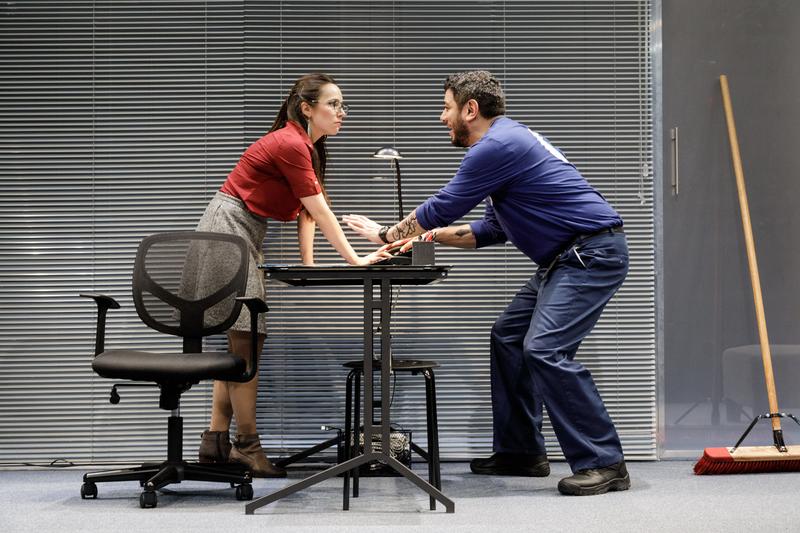 Lucia (Annie Dow) is really, really unhappy. She just moved from Chicago to take a job as a TV writer and she doesn't know what she's doing; nevertheless, she doesn't understand why she isn't taken seriously in the writer's room where she works. She needs someone to vent to and she chooses the quietly capable Abel (a solid Eddie Martinez), a janitor who vacuums her small office. 
She speaks in Spanish to him because it makes her more comfortable, though though he prefers not to. They're both Mexican, though she immigrated recently and her family is wealthy; his family, on the other hand, immigrated a couple generations back (he's insistent that "Mexican," not "Mexican American" is the right term).
They become friends. Kind of. 
Playwright Tanya Saracho has big ambitions here: "Fade" is built around issues of race and class and immigration. She herself is a TV writer ("Looking," "Girls," "How to Get Away with Murder") and the early scenes have a delicious, insider quality that smack of the autobiographical. Those early scenes are too short, with blackouts between them that are too long. But they're sprightly and intriguing — and infuriating, especially when Lucia talks about the casual racism in the all-white writers room. At one point, her boss asks her to talk in Spanish to his maid.
But the dialogue can veer into lecturing, which is hard to take from the irritating Lucia. We're not meant to like her — it's clear quickly that she's only interested in people if she can use them as a stepping stone to get ahead. And as the play goes on, and the scenes become interminably long, it becomes less and less credible or engaging.
The problem, at its base, is that Lucia is just not that interesting of a character. She's a cardboard, cutout villain, who pretends to have sympathy for someone who's nominally like her because they share an ethnicity. But the play is never that clear about what Lucia really wants (she doesn't seem to care if she becomes a good TV writer or not). And she's not SO evil that she's delicious. Instead — she's just boring.
Worse is that Lucia and Abel are never equally matched. It's clear fairly early in the show that she's a danger to him, but he's no danger to her. We want him to fight back, get angry, get revenge, something — but he never does.
By Tanya Saracho, directed by Jerry Ruiz
Primary Stages at the Cherry Lane Theatre, through March 5