Review: 'Escaped Alone' Captures the Current Political Moment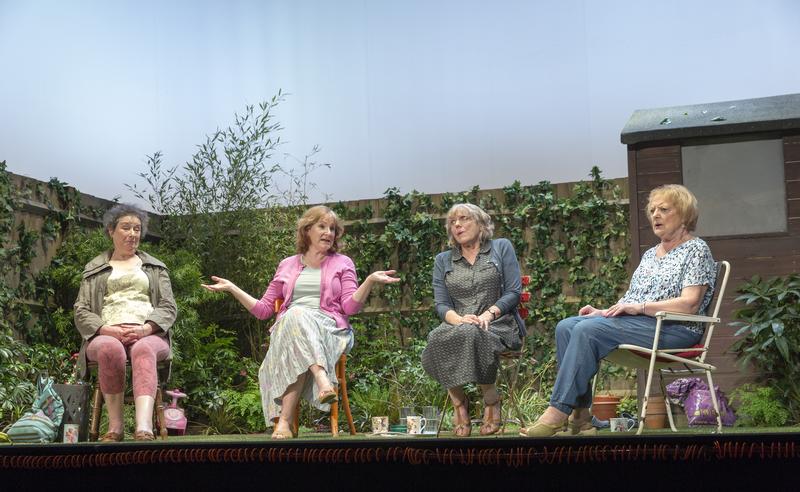 Four women in their 70s sit in a small, fenced garden in Britain, talking about nothing much: family, the antique shop that formerly was a cafe, the soap opera they follow on TV. They are working class and a bit frumpy. 
But then, out of the disjointed detritus of their conversation, surprises emerge. A little quantum physics. A little speculation about alternate universes. 
And once in a while, the stage goes dark and is rimmed with a red, menacing box of light. One of them, Mrs. Jarrett (a sly Linda Bassett), steps out and addresses the audience. She's an oracle of sorts, detailing ludicrous horrors that, in our age of "alternative facts" seem, well, possible.
"The hunger began when 80 percent of food was diverted to TV programs," she says. "Commuters watched breakfast on iPlayer on their way to work. Smartphones were distributed by charities when rice ran out, so the dying could watch cooking. The entire food stock of Newcastle was won by lottery ticket and the winner taken to a 24-hour dining room, where 50 chefs chopped in relays and the public voted on what he should eat next."
It's apocalyptic. We don't know if she's describing something that's happened, or about to happen, or is happening, or is imagined. But there's a sense that there's a darkness underlying everything — the sunny garden that slowly clouds over, the idle chatter. This sense is only heightened as each woman (Deborah Findlay, Kika Markham and June Watson round out the cast), in monologue, describes a secret that darkens her life. The secrets are expressed so vividly that we are right there with them, feeling their internal claustrophobia as they wrestle with themselves.
Caryl Churchill wrote "Escaped Alone" before Donald Trump became President — and before the Brexit vote, for that matter. But she perfectly captures the roiling anxiety of our current strange days. Yet it's not a dismal play. The women are wry and funny and smart and tough. There's a bright, lovely moment where they sing "Da Doo Ron Ron." They're good companions; not wise, exactly, but struggling with what many are struggling with: how to find happiness when the world seems to be shaking apart.
By Caryl Churchill; directed by James MacDonald
The Royal Court Theatre at BAM through Feb. 26