Review: Kindness After 9/11 In 'Come From Away'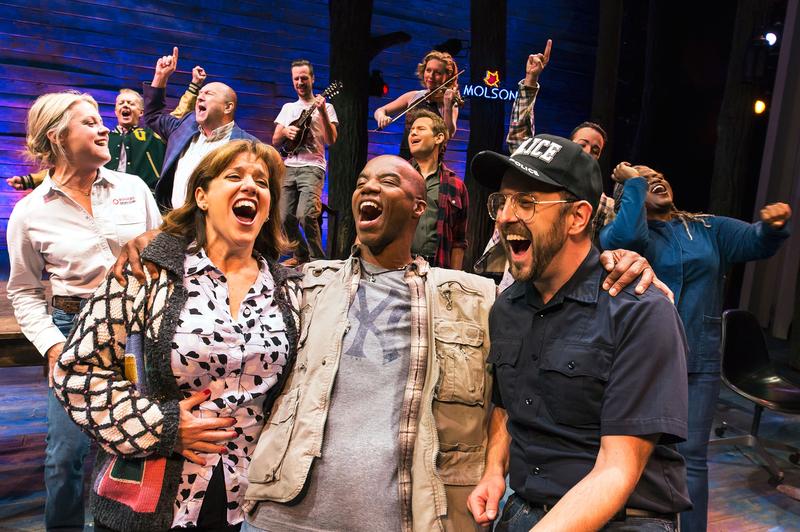 On Sept. 11, 2001, 38 planes from around the world were diverted to Gander International Airport in Newfoundland, Canada. The FAA had closed U.S. airspace after planes crashed into the World Trade Center and in Pennsylvania; every other plane aloft was suspect.
"Come From Away," a delightful new musical from Irene Sankoff and David Hein, tells the story of what happened after 6,500 people from those planes suddenly descended onto a town of less than 10,000. People opened their homes; stores handed out goods from their shelves. The locals turned away from the tragedy unfolding on their televisions and pitched in to help.
This is a story about kindness and coming together, which feels like a balm in today's bitter, divided age. A cast of 12 plays multiple characters, local and "from away." There's the mother of a New York firefighter who's desperately trying to track down her son; a gay couple who wonder if people in the sticks will be hostile to them; and a Muslim man who's viewed with suspicion, especially when he starts speaking Arabic to loved ones on a public phone. All of them are (eventually) welcomed with joy.
The music is fierce and lively and sometimes poignant. Director Christopher Ashley pulls the magic trick of keeping all the characters straight, as they whirl in and out of different characters. 
"Come From Away" is a love letter — to Newfoundland, to New York, to what people can do if they set aside fear and hate. Don't miss it.
Gerald Shoenfeld Theater
236 W. 45th Street
Open Run