Review: Cate Blanchett Is Explosive in "The Present"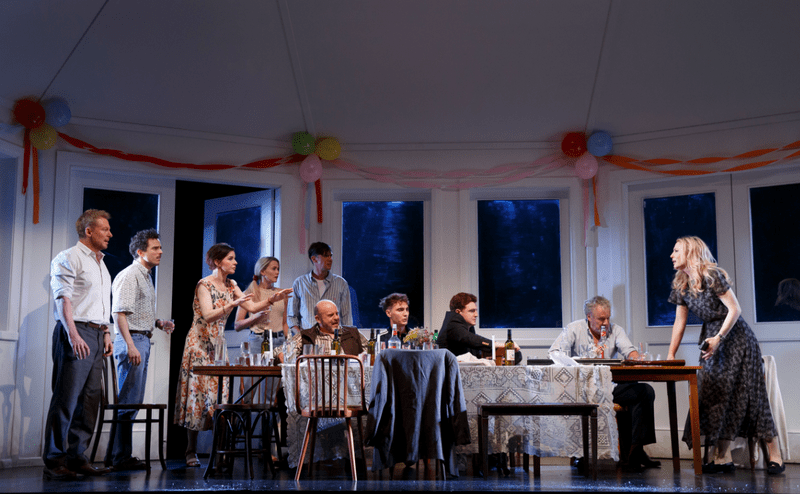 There's a moment in the first act of "The Present" when everything in this adaptation of an early Chekov work comes together.
It's the 1990s in post-Soviet Union Russia and friends and family are celebrating Anna's 40th birthday in a small summerhouse in the garden. They are philosophizing, talking aimlessly about regrets and politics. They are drunk. 
Anna (the luminous Cate Blanchett) has planned celebratory fireworks; she's had the summerhouse where they're eating wired with explosives as part of the festivities. Now she wants to play a game of truth or dare. To up the ante, she takes a shotgun and shoots into the walls. Twice.
"Why don't we all go boom?" she asks. "What exactly have we here to live for?...Everything looks great in the catalog. Everything looks fabulous and wonderful until you get it home and take it out of the package. And the fingerprints, and the scratches, and the chips, and the dents, and the slow betrayal of time. Not even that slow, it turns out. These things, this world, this life. It's nowhere — nothing even remotely near — as good as the idea you have when you first set out."
Chekov wrote this "unfinished" play in his late teens and early 20s, and it's interesting to hear an early iteration of themes — death, disillusionment — that will appear again and again in more familiar, later works, albeit in more complex ways. Fans of his work will find a lot to chew on.
Blanchett's gutsy, jittery performance makes clear that Anna feels so stuck and lost that she's trying to blow everything up — the summerhouse, sure, but also her own relationships with her friends and family and their relationships with each other. Truth or dare is followed by drunken dancing and unwise declarations, with Anna playing her friends off each other, egging them on to infidelity and disloyalty. 
That party scene perfectly captures the louche feeling of the carousers. But Upton's adaptation — at three hours, considerably shorter than Chekov's five — bumbles along afterward, trapping them in hours of misty talking (literally, in one overlong scene), circling around what-might-have-beens and maybe-I-shoulds, before ending with a sharp scene that almost veers toward farce. 
There's a lot to like here, including clever references, poetic monologues and cagey wit, but it doesn't always feel like the same play.
And yet. Try to take your eyes off Cate Blanchett. You can't. No matter who's talking, she has Anna simmering at a boil, her frustration and anger ready to explode.
Adaptation by Andrew Upton after Anton Chekov's "Plantanov"; directed by John Crowley.
Sydney Theatre Company at the Ethel Barrymore Theatre through March 19.