Review: Finally, a Whitney Biennial You Can't Bash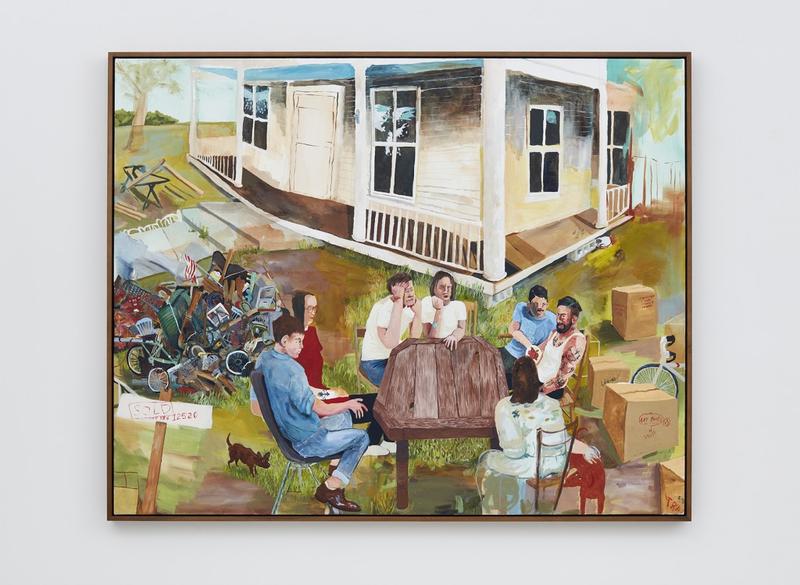 The Whitney Biennial has traditionally been known as the show that everyone loves to hate. But the current edition, which opens today, deserves to be regarded as the show that everyone loves to love. It goes out of its way to spurn fashion, slickness and unearned celebrity. Of the 63 artists tapped for the show, most are unknown. Many are given their own rooms and the chance to show perhaps three or four works. As a result, the show offers you a genuine acquaintanceship with new art, rather than just some lame buzz about who's in and who's out.
If any one media dominates this year, surely it is painting. Unlike new media, paintings don't move or make noise, and they encourage reflection. Henry Taylor, a Los Angeles painter in his fifties, is among the obvious standouts. "The 4th"—as in July 4th – is a towering, two-panel painting of an African-American woman grilling chicken and hot dogs on a barbecue. It can put you in mind of the social realism that flourished in the1930s, when artists like Ben Shahn took up left-wing politics. Their work was often dismissed as provincial and faulted for ignoring the new formal language of modernism (i.e. abstraction). But today's social realists do draw on formal innovation, and they move easily between the realms of figuration and pure painting. It is telling that Taylor's barbecuing woman is missing her facial features and suggests a state of Francis Bacon-like psychic disintegration.
American figurative painting has never looked better than it does in this well-chosen show. Dana Schutz confirms her reputation as America's leading German Expressionist with paintings that explore the subjects, respectively, of claustrophobic elevators, female shame and the tragic lynching of Emmett Till. Celeste Dupuy-Spencer, a newcomer, displays a sharp talent for social satire—and amusing titles, such as "It's A Sports Bar But It Used to Be A Gay Bar." Shara Hughes creates fantasy landscapes that evoke both the visionary, early-20th-cenutry paintings of Charles Burchfield and the psychedelic posters of hippiedom.
There is also first-rate photography in the show, most notably by An-My Lê, whose hyper-clear images of Louisiana swamps and surroundings make New Orleans feel like the emblematic city in America right now, haunted by environmental catastrophe and the stain of the Confederate past.
Any new trends? I do discern a dissolving line between art and living-room couches. Furniture serves as the inspiration for arresting sculptures by both Jessi Reaves and Kaari Upson. Moreover, furniture – especially of the dreary nursing-home variety – is the impetus for a brilliant installation by Samara Golden in which beds, desks and the rest are mirrored into infinite reflection to create the defining image of high-rise high-anxiety.
Yes, there are duds – you can skip Jordan Wolfson's "Real Violence," a deliberately grotesque video in which the artist, wielding a baseball bat, bashes a man to death on a sidewalk as melodic Jewish prayers are sung on an accompanying soundtrack. The piece is both offensive and clueless at a time when the KKK has renewed its campaign of violence.
But the piece is an anomaly. Taken together, the new Biennial suggests that the artists of America are serious citizens looking for ways to express their sense of social grievance. The show attains a high level of aesthetic quality, and proves that making fun of the Whitney Biennial has become an obsolete sport.