Review: 'The Babylon Line' Looks at the Secret Vibrancy of Postwar Long Island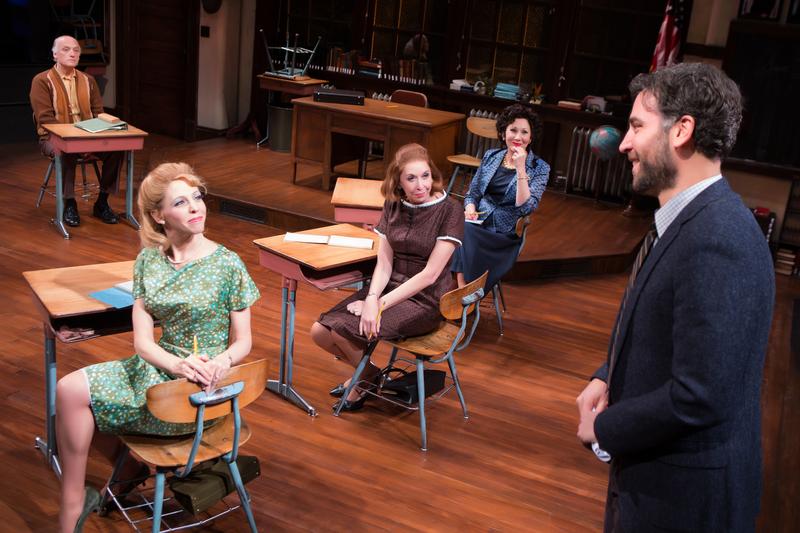 I've long been a fan of playwright Richard Greenberg. Even when his plays are firmly grounded in reality (like last year's Broadway show "Our Mother's Brief Affair") there's something slightly magical about them, a nostalgic whimsy fueled by swooping monologues.
This is definitely true about his latest work, "The Babylon Line," now at Lincoln Center Theater.
It's 1967 and a group of Levittown housewives (and a couple of men) have stumbled into a creative writing class almost by accident — their first choices were filled up. The teacher, Aaron Port (Josh Radnor) is kind of there by accident, too, or at least he'd rather be anywhere else. He's a writer who reverse commutes in from Greenwich Village and has so little respect for his students that he has no lesson plan. They can write what they want, and he'll comment — but as briefly as possible.
The one bright spot in class, at least for the teacher, is housewife Joan Dellamond (Elizabeth Reaser). She's shut herself away from the town and is looking, like Sleeping Beauty, to be woken up — maybe through writing, maybe through a kiss. 
Reaser plays Joan like a lesser Tennessee Williams character. She has a slight drawl, a seductive shimmy, and a yen to seduce the teacher. She wants to feel something, to be admired. Aaron does indeed admire Joan, but they don't spark much heat. He's a mouse. She has a slight undercurrent of brutality (she may or may not have kicked a baby). We're never worried the married teacher might end up with the married student — which stalls the narrative engine of the play.
Happily, it doesn't much matter, because Greenberg's eloquence and sly wit translate into scenes of biting beauty when the students start reading their writing. Most notably, Anna Cantor (a sharp Maddie Corman) describes how mowing a lawn  — that is, taking an action she wasn't expected to take — changes her life. It is the first step to other, bigger transgressions. (Theater fans may get a thrill from knowing that she is the same Anna Cantor — the mother — in "Our Mother's Brief Affair.")
But the real star of this show is the sublime Randy Graff as Frieda Cohen, Levittown's queen bee and the keeper of its values of community and decency. She rules her neighborhood through pointed questions and sly jokes. When Frieda meets Joan, she circles her like a panther. Why hasn't she seen her before? Why hasn't she come to any PTA meetings? If she doesn't have children, why would she live in Levittown? Joan is flustered, but doesn't balk. They are equally matched: the haunted outsider and the woman whose own sorrows prod her to keep everything (and everyone) she meets under her control.
The character of Frieda  — and the sparse, deep beauty of the writing — make this Levittown a more complex and less repressive place than it originally appears to be. We're used to thinking of the suburbs, especially the suburbs in the 1960s, as cookie-cutter places filled with white women who suffer under "the problem that has no name." 
Bur Frieda helps us see things differently. In her eyes, the suburbs are a place where people build community through casual conversation, and use that community to construct a place of mutual help, where neighbors attend PTA meetings together, and walk with each other through the snow to class. Frieda believes in creativity — she's famous for her garden — she's not trying to squelch it. Instead, she is upholding norms of decency as a shield against the memory of Pogroms and the Holocaust.
This is not necessarily how the play would have read a few months ago, before the Presidential election. But now, after it, Joan's world of the outsider — who, when she's released from self-imposed exile, says and does whatever she wants, from physical violence to seduction, who operates, she says, entirely from fear  — no longer seems that appealing. We are beginning to understand what a world without social norms looks like; and it is not the gentle place of 1967 Levittown.
By Richard Greenberg, directed by Terry Kinney
At Lincoln Center Theater 150 W. 65th St., though Jan. 22