Review: Alone Together in "Dear Evan Hansen"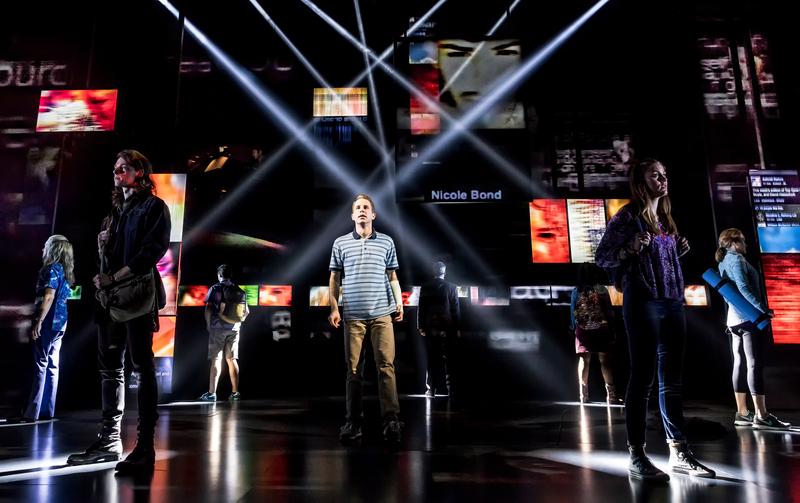 We've all felt like outsiders; we've all felt alone. In those moments of our most severe disconnection, what might we do to feel like we're part of the group, to feel we're celebrated, that we're loved?
That's the question facing the lonely Evan Hansen (Ben Platt), the teenager at the center of this wonderful musical. He has no friends. His mother (Rachel Bay Jones) is warm but absent — she's attuned to his growing anxiety and distress, but she's raising him alone and she's always working or in class. As he sings in one of the soaring songs by Benj Pasek & Justin Paul, he feels like he's on the outside looking in, "waving through a window" and no one else can hear him. 
Evan writes pep-talk letters to himself on the advice of a therapist (he always starts them "Dear Evan Hansen,"), and one of them is grabbed off a school printer by Connor Murphy (Mike Faist), an another student outcast.
After Connor commits suicide, the student body rallies — around Evan. Because his letter was found on Connor's body, and his family thinks it's a suicide note. And they think it means Connor was his best friend. 
Evan could choose to tell the truth about the letter — that he wrote it himself, that Connor didn't write it to him — but he doesn't. That lie spirals into bigger lies until Evan finds himself at the center of a national, social-media-propelled movement of kindness toward everyone. Events rush forward without him; he becomes just an @ in someone else's feed.
Everything he says or does is amplified by Twitter and Facebook: posts stream incessantly down the walls of the set. This is brilliant, because it is a sharp reflection of our current moment. An event happens (someone dies, a provocative video is released), the twitterati decide we should all feel a certain way about it, and then suddenly the lives of ordinary people are turned upside down by a national conversation.
But more importantly for Evan, he's also embedded himself into Connor's family. Finally, he has everything he has always wanted — attention, a purpose, a girlfriend, a stand-in dad (really Connor's father).
Platt starts out as excruciatingly vulnerable and then slowly, as his status rises, becomes stronger and a bit cocky. But he always retains a soft center and, as Evan struggles with whether he should stop the madness by telling the truth, we're always on his side. 
Dear Evan Hansen Book by Steven Levenson; Music and lyrics by Benji Pasek and Justin Paul
At the Music Box Theatre on Broadway, 239 W. 45th St.; open run