Review: 50 Shades of White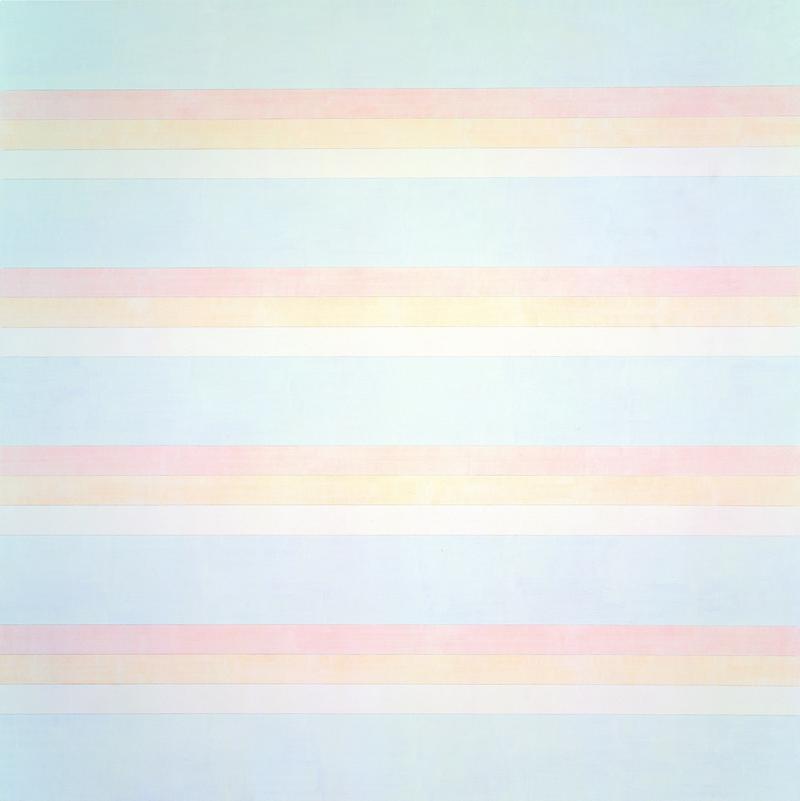 The Agnes Martin retrospective at the Solomon R. Guggenheim Museum is one of the two or three best museum shows in New York this season. It makes you aware, among other things, of a clumsy art-historical mix-up. Martin, one of the great mystics of American art, has had the misfortune of being grouped with the Minimalists. Granted, her work had much in common with theirs. She favored pared-down geometric forms and the color white. But while the Minimalists claimed that "you see what you see," as Frank Stella put it in 1964, Martin treated visual incident as a point of departure into a higher meditative state.
In this regard, she was close to the Abstract Expressionists of the '50s, or rather to the Judeo-spiritual wing of that movement. Some of the earlier paintings in the Guggenheim show, such as "This Rain" (1958), look like bleached-out versions of Rothko's floating rectangles. "Heather," with its white stripe pulsing upwards between two yellow blocks, is reminiscent of a Barnett Newman "zip" painting. As the show progresses up the Guggenheim's ramps and Martin comes into her own, her paintings seem to generate a sense of radiance with increasingly less infrastructure. Her striped paintings from the '70s, with their super-pale bands of pink, yellow and blue, are the highpoint of the show. They're like images espied out of the corner of your eye – there, but just barely. They give you nature not in its sensual fullness but stripped of everything except for the subtlest shifts in atmosphere and light.
As a personality, Martin was a prickly original. Born in 1912, and raised in western Canada, she came to art late. She was in her mid-forties by the time she got around to exhibiting her work at the Betty Parsons Gallery, in New York. A decade later, in 1967, she abruptly left the city and lit out for New Mexico, where she remained until her death at the age of 92. Compared to Georgia O'Keeffe, her fellow desert dweller, Martin had no flair for self-promotion. While O'Keeffe painted scenes of red hills and skulls, and posed for her celebrated photographer-husband, Alfred Stieglitz, Martin (who never married) wasn't trying to become an American legend. And while O'Keeffe's paintings always look striking on posters, Martin's paintings lose everything in reproduction. The only way to see them is in person. Go. Look. They offer a welcome encounter with quietude in a season of incessant political noise.