Hillary Clinton's Comeback Story. Again.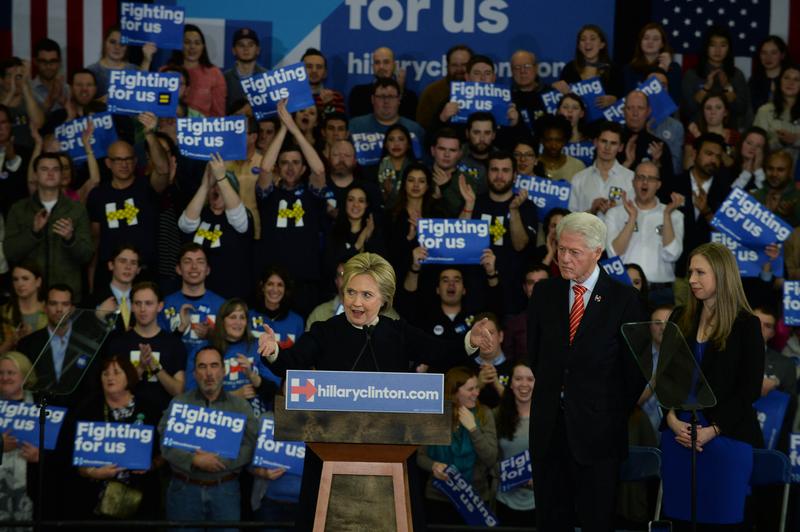 Any way you look at it, Tuesday night was a bad, bad night for Hillary Clinton. "A shellacking, a total route, a Sanders landslide" went the television commentary. Clinton lost by a lot, among all demographic groups, even those who made up the backbone of her 2008 campaign: women, low-income workers, people who have been left out. And that's exactly who she spoke to in her concession speech.
"I know I've had a blessed life," Clinton told the crowd at Southern New Hampshire University, as supporters cheered like they'd blocked all the bad news coming through their phones and television screens. "But I also know what it's like to stumble and fall. So many people across America know that feeling and we've learned it's not whether you get knocked down that matters, it's whether you get back up!"
Eight years ago, she occupied exactly this rhetorical space to win New Hampshire. That race was a lot like this one; she was "inevitable" until she came in third in Iowa. In the week between Iowa and New Hampshire, 2008, as we followed her all around an ice-encrusted Granite State, we thought we were watching her unspooling. With two days to go, she was 13 points down.
Putting together a live show with Brian Lehrer, we programmed an hour, expecting an early night. Three and a half hours after polls closed, we were still live. Clinton's then-spokesman, Howard Wolfson, came to talk to the media in a ski sweater: a man all-but-certain he'd be fired that night.
As the votes came in, the story-line turned upside down. "Over the last week I listened to you and in the process I found my own voice," a (truly relieved) Hillary Clinton finally came out to say, to sustained applause, audibly exhaling. "Now together, let's give America the kind of comeback that New Hampshire has just given me."
Throughout her entire history in public life, Clinton is never better able to connect with voters than when she is fighting back from adversity. This goes all the way back to 1992, in her first major public appearance ever, on the television show 60 Minutes, after her husband had been accused of an extramarital affair. There were just days until the New Hampshire primary.
Sitting next to Bill Clinton on a sofa in front of a fire, wearing a teal blazer and turtleneck, Clinton fairly spat out, in full Arkansas: "I'm not sitting here as some little woman standing by my man like Tammy Wynette. I'm sitting here because I love him and I respect him and I honor what he's been through and what we've been through together. And heck, if that's not good enough for you, don't vote for him."
She was mercilessly ridiculed for that Tammy Wynette remark, but the 60 Minutes appearance worked: Bill Clinton stopped his slide in New Hampshire, became the comeback kid, and went on to become the nominee, then President. But Hillary Clinton would soon be caught on the twin points of an investigation into an obscure Arkansas land deal and the health-insurance industry's backlash against her universal health care plan. The maddening crowds were clamoring.
In a 72-minute White House press conference in a room full of women reporters, Clinton batted all that down. "Is there a fundamental distrust of the Clintons in America?" one reporter asked. 
"I hope not, that would be something I would regret very much," Clinton said, about as patient as she's ever been. "I do think we are transition figures, if you will. We don't fit easily into a lot of pre-existing categories and let me speak just about myself. You know, I came to this role having worked my entire life...Having been independent, having made decisions, it's a little difficult for us as a country to make the transition to have a woman, like many of the women in this room, sitting in this house."
"With lines like that," Time Magazine marveled, "it's a wonder she waited so long to deliver them."
This was not, of course, the end of the pattern. Remarkably, the biggest, biggest boost for Clinton's popularity? Something that everyone thought would be the end, for both Clintons. In late summer, 1998, after seven months of denying a sexual relationship with intern Monica Lewinsky, Bill Clinton acknowledged that he had one.
Hillary Clinton did not leave Bill. She did not speak publicly. She stuck it out. Her approval ratings soared to 67 percent, the highest they've been, before or since. On the heels of this she ran for Senate in New York, and won. Known as a workhorse Senator, for poring over the fine points of legislation rather than holding regular Sunday afternoon press conferences, she never quite attained her post-Lewinsky favorability rating, but she came close.
Until she ran for president, and all the negative images of her came back.
Though the delegate math looked very bad by late February, Clinton stayed in the race until the very last primary, in South Dakota. As the economy soured, Clinton racked up states where working people felt particularly threatened, like Ohio.
Her victory speech in that state encapsulates her connection with rust-belt voters. "For everyone here in Ohio and across America who has been counted out but refused to be knocked out, for everyone who has been stumbled and gets right back up for everyone who works hard and never gives up, this one is for you!"
In April of that year, she was still running hard, in the former coal country in Northeastern Pennsylvania where her father was born. On the Acela corridor, she had lost. Here she was still fighting, and the crowd was loving it. 
"Good luck Senator! Don't quit!," one man called out on a rope line. "She's got coal dust in her veins! She's not going to quit!" admonished another. "That's right I got coal dust in my veins," a laughing, joyful Clinton responded.
Even this week, in New Hampshire, where she lost so badly, there were plenty of voters, like Bruce Arnt, a Londonderry auto body mechanic, who told my colleague Matt Katz that yes, he admired Hillary Clinton's grit in the face of adversity, right back to the Lewinsky scandal days. "I don't think Hillary has really changed in that respect," he said. "And that's the part that really stuck with me."
But what also sticks with Clinton, is that question about honesty. Ninety-two percent of New Hampshire voters who wanted a trustworthy candidate voted for Bernie Sanders. Just this week, MSNBC's Rachel Maddow asked Clinton, almost verbatim, that same question that a reporter asked back at her first White House press conference, in the 1990's: why don't many Americans find her honest or trustworthy?"
Clinton's answer was forthright — and epic. "People who see me in action, people who count on me, people who say if I tell you if I do something, I will do everything in my power to make that happen — and then President Obama turns to me after that hard fought campaign with all sorts of accusations flying around and says 'I trust you, I want you to be my Secretary of State' — When I'm holding office I get along well with Republicans. I will always have the right wingers who are never going to give up on trying to push me down and push me out. They view me as a threat and I accept that but when I get to work with people, we get things done and that's been my pattern."
A look at Gallup polling going back to the 1990's shows Clinton is popular when she's doing a job, unpopular when she's running for one.
"I see her more as a 'rolling up my sleeves' kind of a person," said Ruth Mandel, Director of Rutgers Center for American Women in Politics. "'I'm rolling up my sleeves and I'm getting into this. I'm going to try to win this, I'm going to try to fix this, I'm going to try to solve this problem.'"
Clinton's campaigns have always been formulated around the argument that she fights for those who have been knocked down: women, children, people without health care, poorly-paid workers. Except voters only believe this when she herself is knocked down.
Perhaps Clinton's best formulation was when she conceded the 2008 campaign, on a steamy June day at the National Buildings Museum in Washington DC. "Although we weren't able to shatter that hardest, highest glass ceiling this time, thanks to you it's got about 18 million cracks," Clinton thundered. "And the light is shining through with the sure knowledge that the path will be a little easier next time. That has always been the history of progress in the United States!"
A case Clinton could make, in defeat, to deafening applause. An argument she has yet to make to carry herself all the way to victory.