Residents Split On City's Safer Public Housing Promise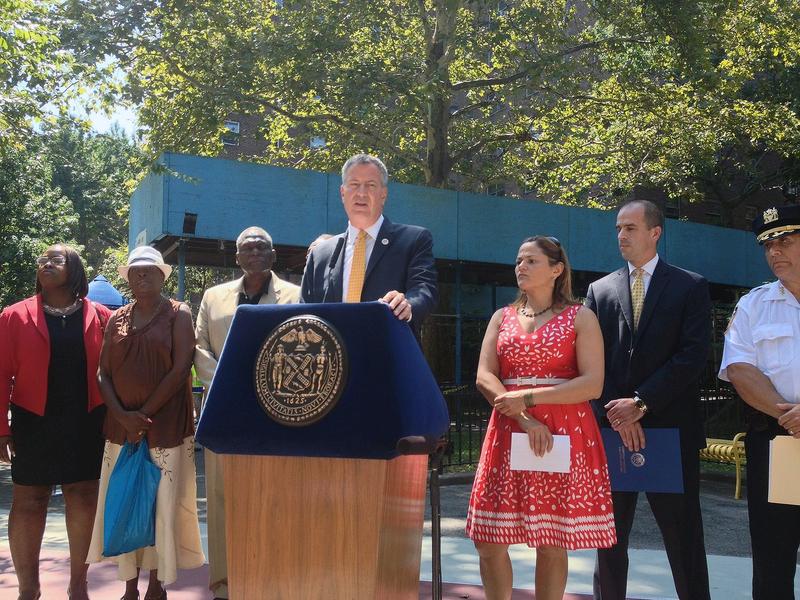 Mayor Bill de Blasio pledged to remove thousands of feet of unused construction scaffolding from public housing developments on Wednesday in what he calls another step towards improving public safety and quality of life.
At the Lincoln Houses in East Harlem, de Blasio said the scaffolding, which is often unlit, has become a permanent fixture in too many places. By Saturday, he said, it would all be gone from that site, and the administration would make sure it was removed at other complexes by the end of next year.
Tenant president Patricia Herman praised the work the administration is doing.
"Right now we're getting more attention than we ever had in my past 13 years of being president," Herman said. "We're getting cameras. They're doing the brick work. We have more police presence, which is great."
Still, she says more work is needed.
While crime is down more than four percent across the housing bureau, crime at the Lincoln Houses is up more than five percent year-to-date with an increase in rapes and felony assaults.
Alga Blanco, who has lived there for 17 years, stood at the periphery listening to the mayor's event and was not impressed.
"They come to talk, talk, talk and they not doing nothing," Blanco complained. "Same thing, same problems. You have to call and say, 'my toilet's blocked and you never come to fix it.'"
The mayor said change takes time. But he cited the improvements made by his administration, like assigning more police to housing developments, adding cameras and lights, and extending the hours at the community centers.
He also noted that there have been 29 fewer murders this year than there were at the same point last year. "That means some people are alive today that wouldn't be otherwise," said de Blasio. "Some people are safe today who wouldn't be otherwise. That's progress."