Residents Say High-Rise Has No Place Near Brooklyn Bridge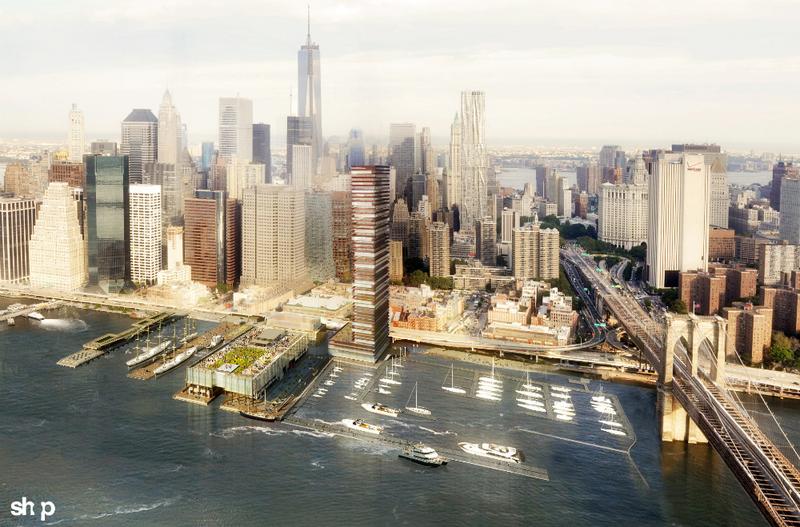 Residents of the South Street Seaport area voiced strong opposition Tuesday evening to a proposed redevelopment plan that would result in a high-rise in the neighborhood.
Attendees at the raucous Community Board 1 meeting, filled with catcalls and interruptions, waved signs reading "NYC Is Not for $ALE" and "Don't Block the Bridge!" the latter a reference to the impeded views, should a 50-story tower be built.
But executives at the Howard Hughes Corporation, which controls the site, said a revenue-generating high-rise is the only way to pay for badly-needed repairs to adjacent properties, including historic buildings that connect the neighborhood to its maritime past. Gregg Pasquarelli of SHoP Architects, which is leading the design process for Howard Hughes, said the restoration of the buildings would cost the company between $125 and $150 million.
"It's a huge amount to sort of save the district from what's happening," said Pasquarelli.
Some area residents voiced skepticism at that logic.
"Howard Hughes knew it was a historic district," said John Fratta, a member of the Community Board's Seaport & Civic Center Committee. "So they didn't come into this blind. They're a very smart corporation. They knew what they were getting. And now to come back to us and say, 'Well, it's not economically feasible,' well, that's not our problem."
The developer said it was early in the design process and that it would attempt to bridge the gap in the coming months.