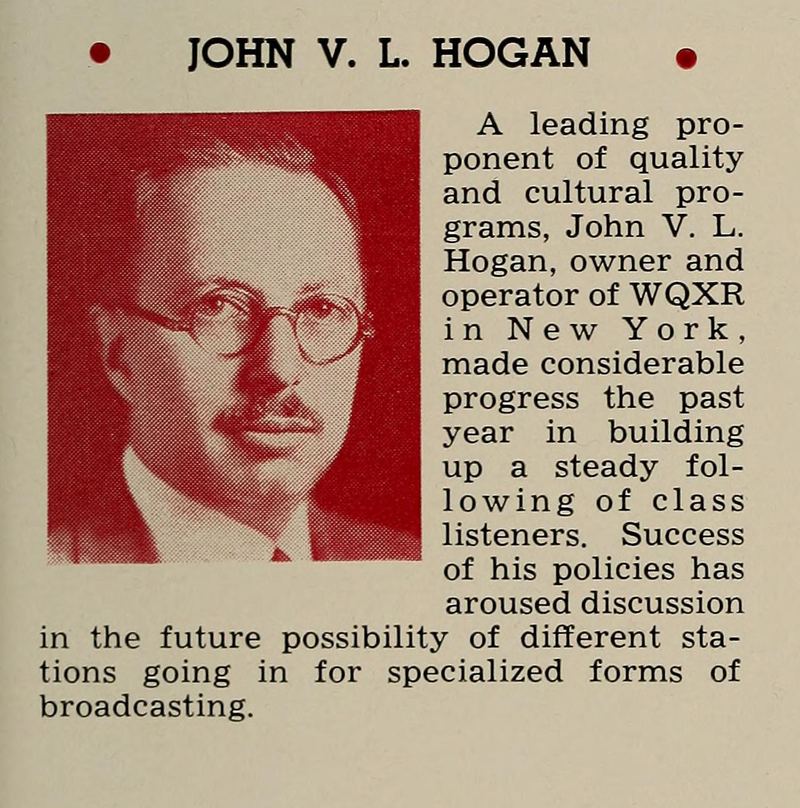 From the June, 1941 WQXR Program Guide:
The first issue of the WQXR program booklet was dated June, 1936, just five years ago. The station was called "W2XR" then, and was on the air only four hours a day. The printed program was not really a booklet at that time, but a leaflet of four pages.
In those five years, we have kept everlastingly at it to give you a radio service in which we attempt to consider rather than disregard your likes and dislikes, to inform and to please you rather than to exploit you. And by sticking to these simple policies WQXR has grown rapidly and, we hope, soundly. Our growth is reflected in many ways. Among them are the recent power increase to five thousand watts, the expansion of this program booklet to twenty-eight or thirty-two pages, and its increase of "net paid circulation" to 13,782 copies last month. For your part in the three-way cooperation that has resulted in this growth of our services, we are profoundly grateful.
Perhaps I should tell you exactly what I think I mean by this "three-way cooperation" that I think is fundamental to WQXR's work. I mean just this: first, you listeners, and second, our advertisers, and third, we at the station --all have a genuine community of interest. If we recognize that each of us can do something for each of the other two, and that in return for an honest effort to do our share we will each receive something we want from the other two, this American system of broadcasting can be made the framework of a really fine activity.
More specifically, you listeners want to hear the kind of programs that you like. We at the station can help to that end by studying your likes and dislikes and by doing our best to send to you programs that will please you. That is the WQXR policy. And our sponsors can help by paying the costs of running the station and of producing those programs. There is no other way in which they can be paid for.
Again, you listeners are all consumers. You buy all kinds of products and services. You want to know where and how you can buy the best, and you want to be sure that every dollar you spend gets for you a good dollar's worth. Well, we can help to that end by refusing to advertise catch-penny schemes and merchandise or services that we know are shoddy or disreputable or dishonest. That is the WQXR policy, and I think the list of sponsors published on the back page of this program booklet shows that it is succeeding. [Please see page below.]
Now, what does the sponsor want? It's easy to say "he wants to sell his goods," but there's more to it than that. The really good sponsor, the kind we try to have
on WQXR, wants to give you good service and good value. WQXR's advertisers are not of the hit-and-run variety. They don't make their living by "first and only" sales, but by building up sound businesses in which their customers are and remain pleased and so continue to use their products. And, of course, WQXR helps the sponsors by providing a medium through which they can reach hundreds of thousands of listeners, most of whom have a better-than-average appreciation of good things and good values. But what can you, the listeners do to help the sponsors, and through them to help WQXR, and through WQXR to get for yourselves still more and better programs? You can, and I hope you will, do something more than merely buy what is advertised on WQXR. If you mention WQXR when you buy what our sponsors advertise, it will show them why you are buying.
We at WQXR pledge you to keep on with our "all-out" efforts to do our part of this cooperative job. Our sponsors are doing their part in a splendid and increasing way. And most of you listeners are doing yours. So this is not an attempt to cudgel you into a flurry of activity--it is more a report of progress and an attempt to tell you a little more of what WQXR is all about. Just bear in mind that the more each one of us does along the lines I have explained, the more both he and the other two will get back. And let's see what the program booklet will look like next June, on its sixth birthday!
  WQXR advertisers page from June, 1941 program booklet. (WQXR Archive Collections)